ANNIVERSARIES

Aitkin County, Minnesota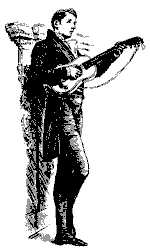 Mr. & Mrs. Alex Frederick
Mr. & Mrs. Clarence A. Green
Mr. & Mrs. Clarence A. Green, 2nd account

MR. AND MRS. ALEX FREDERICK'S GOLDEN WEDDING

Mr. and Mrs. Alex Frederick kept open house
in memory of Golden Wedding

A memorable occasion was celebrated by the Alex Frederick family April 8 when Mr. and Mrs. Alex Frederick very happily observed their golden wedding day. Open house was held in the afternoon and evening when about 150 friends called at their home. In the rooms there were cut flowers and plants, the gifts form relatives and friends. Cards and other congratulatory messages arrived daily all week.

In the dining room a large four tier wedding cake decorated in white and yellow with a bride and groom, tiny golden slippers and golden wedding ring, formed the centerpiece on the dining table. Yellow candles were placed at each side of the cake. Light refreshments were served. The honor guests received a number of remembrances, including fifty dollars in gold from their children.

At 2:45 p.m. rev. Elsie Hartman performed the golden wedding ceremony in which Mr. and Mrs. Frederick renewed their marriage vows. This was very beautiful and impressive. Miss Lufi sang a solo, Gail Bull and Lois Wilkins sang a duet. Mr. and Mrs. Alex Frederick, who are 72 and 74 years of age respectively, have 13 children, 27 grandchildren and one great grandchild. With the exception of Mrs. Anna St. Louis and Mrs. Margaret Brown of San Francisco all the children were present for the occasion.

Those present were: Mr. and Mrs. C. J. Hershey, Mr. and Mrs. R. B. Whitaker of Litchfield, Mr. and Mrs. C. O. Bagstad, daughter Ruby, Benson. Mr. and Mrs. Wm. Frederick, St. Paul, Otto Frederick and family, Mr. and Mrs. Ben Frederick, Duluth, Mr. and Mrs. O. R. Frederick, Appleton, Wisconsin, Arthur bull and family, Henry Wilkins and family, Mr. and Mrs. Al Gramer and June and Ernest Frederick.

Miss Rosena Wasmer and Alex Frederick were united in marriage on April 8, 1889 in Bern, Switzerland at her family home.

GOLDEN WEDDING OF MR. AND MRS. GREEN



From the front page of the July 12, 1935, issue of the Aitkin Independent Age

Another of Aitkin County's most estimable couples was honored on their golden wedding anniversary last week when about one hundred relatives and friends met at the home of Mr. and Mrs. C.A. Green in Balsam township and congratulated them upon arriving at fifty years of married life. A sumptuous dinner was served on the lawn followed by games and visiting with dancing in the evening.

On July 5th, 1885 at New Buffalo, Mich., Clarence A. Green of Green Garden, Illinois, and Emma Reizer of New Buffalo were married. Ten children were born in the family. Wilford, Ralph, Mrs. Ed Hamel and Howard Green; Mrs. David Tweedy, Minn; Ed Hamel of Mack, Minn; well, Mrs. Cecil Booker, Hazel and Irma Green. There are twenty-three grandchildren.

Among those coming home for the reunion and gathering of friends from a distance were: Mr. and Mrs. Wilford Green and family of Orr, Minn.; Ed Hamel of Mack, Minn.; Howard Green of Tamarack; Mr. and Mrs. Erwin Brand and Mr. and Mrs. Ernest Elwell of Milwaukee; Mr. and Mrs. Sundberg of Grayling, and Misses Hazel and Irma Green of Minneapolis.

Mr. and Mrs. Green have may friends in Aitkin county as well as their home community who join in extending their heartiest, good wishes for many more wedding anniversaries.

Contributed by Laura Soleta

GOLDEN WEDDING OF BALSAM TOWNSHIP OLD SETTLERS



From the front page of the Aitkin Republican on July 11, 1935
Mr. and Mrs. Clarence A. Green, who have resided there since 1905, honored by family, neighbors and other friends

About 100 relatives and friends gathered on Friday, July 5, at the home of Mr. and Mrs. Clarence A. Green in Balsam township, to help that estimable couple celebrate their golden wedding anniversary. Dinner was served on the lawn under the shade of immense old trees, and two wedding cakes graced the table, each bearing a miniature bride and groom as decoration. Family pictures were taken, and games were played during the afternoon. In the evening, dancing was a diversion.

Clarence A. Green of Green Garden, Ill., on the fifth day of July, 50 years ago, took as his bride Miss Emma Reiper of New Buffalo, Mich., the ceremony being celebrated in the home community of the latter. Five years later they moved to North Dakota, where they lived for 15 years, coming to Balsam township in 1905, and making their home here ever since. In the happy family circle are 10 children and 23 grandchildren, and no deaths have occurred in either generation to cause sorrow and bereavement. The children are: Wilford, Ralph, Mrs. Ed Hamel, Howard, Mrs. David Tweedy, Mrs. Erwin Brand, Mrs. Ernest Elwell, Mrs. Cecil Booker, Misses Hazel and Irma Green. Those coming from a distance to attend the celebration were Mr. and Mrs. Wilford Green and family of Orr, Ed Hamel of Mack, Mr. and Mrs. Erwin Brand and family of Milwaukee, Wis., Mr. and Mrs. Ernest Elwell and family of Milwaukee, Mr. and Mrs. Sundberg of Grayling, the Misses Green of Minneapolis.

Contributed by Laura Soleta



I welcome your contributions to this page.
Aitkin County Coordinator