BIOGRAPHIES
Aitkin County, Minnesota

See also the Biographies Project for Aitkin County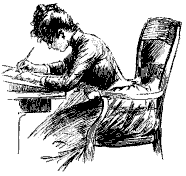 Tobias Gustafson
James Wright and Mary Matilda (Lozway) Larkins
Fred and Minnie (Wallin) Lindman
Daniel and Mary Anna (Hart) Lozway
Peter and Mary (Jensen) Nelson
Richard and Orlie (Ward) Thompson

PETER & MARY (JENSEN) NELSON

Contributed by Teri Gregg
Written by their son, Henry Nelson


Peter Nelson and Mary Jensen were born in Denmark in a town about 30 miles from Copenhagen, a town named Ringstad. Mary's father was a coachman for some nobleman. Peter's father died when he was quite small and he was raised by foster parents.

Mary Jensen was born October 19, 1861 and Peter Nelson was born July 10, 1862. They came to America in 1883. Peter worked on farms out of Brewster,

Minnesota and later sent for Mary to come to America. She did housework for several families there. They were married in Worthington on March 28, 1885. They moved to Chandler where Peter worked on the Section. He was promoted to Section Foreman and moved to Edgerton, MN where they lived for about eight years.Born to this couple were eight children, Andrew, William, Laura, Clara, Henry, Albert, Walter, and Arthur. Arthur died as an infant.

They moved to Tamarack, MN in 1902. He got citizenship papers in Aitken County in 1903. They lived there until Peter died in 1951. Mary died in 1953 at the age of 92.

THE FAMILY HISTORY OF
PETER NELSON & MARY JENSEN
by Donald W. Nelson, June 1987


Peter Nelson and Mary Jensen were born and raised in the town of Ringstad, about 30 miles from Copenhagen, Denmark. We know almost nothing about their early life except Mary's father was a coachman for a Danish Nobleman. Peter's father died when he was quite small and he was raised by foster parents.

Peter came to America in 1883 and worked on farms around Brewster, Minnesota. Then he sent for Mary to come to America. She did housework for several families in the Worthington area. Peter and Mary were married in Worthington, Minnesota ion March 28, 1885.

They moved to Chandler, Minnesota, where Peter worked on the railroad section. Later, he was promoted to section foreman and they moved to Edgerton, Minnesota. They lived there for eight years.

Eight children were born to this couple. They were William, Andrew, Laura, Clara, Henry, Albert, Walter and Arthur. Arthur died as an infant.

Peter came to Minnesota in November of 1901 to locate some land. He was able to get an 80 acre homestead north of Tamarack , Minnesota. The following spring, on March 6, 1902, Peter and two sons, William and Andrew, arrived in an Emigrant car. They unloaded two horses, two cows, two pigs, two sheep and household goods.

They moved all of this out to their land and began to clear land, cut logs and build a house and barn. Mary and the other children arrived a short time later on the passenger train. The house was not finished when the family arrived so they ate their first meal, using an overturned tub as a table. The meal consisted of molasses and bread.

They cleared land, planted crops and worked in the woods. In 1903 they were granted U.S. Citizenship. In 1904 they built a new log house. It was two stories high, chinked with moss and had a hand split cedar shingle roof. That first winter they got our 40 railroad ties, much cordwood and many saw logs. They made $400.00 that first winter.

In three years they had helped organize the township, named it Haugen after Chris Haugen, the Aitkin County Sheriff. Peter Nelson and Frens Jacobsen got up a petition to establish a school district and built the first school house on Section 29.

The first meeting of the town board was held in Peter Nelson's home, and he was elected the first chairman. He also served for many years as the town clerk.

Peter and Mary lived out their lives on their farm. Peter died in 1951 at the age of 89. Mary died in 1953 at the age of 91. They are both buried in the Round Lake Cemetery, a few miles from their home.

In going over the Nelson family history, I found something quite interesting. Of the eight children, Arthur died as an infant William lived only 30 years, Albert only 33 years, and Clara but 45. But, those that lived to middle age went on to live very long lives. Andrew was 86 at the time of his death, Laura was 86, Henry was 82 and Walter was 87.

Then we look at their grandchildren. Mabel lived to be 72, Ruth is now 70, John is 67, Donald is 66, Clyde, Gerald and Dorothy are 63, Leone is 58,l Jean is 56 and Darlene is 53.

Edward was killed in action in France in World War II. He was only 27. We don't know how long he might have lived under normal conditions. Arthur died at 24, Robert was 49 and Vern at age 52.

It is a long way from Ringstad Denmark to Edgerton, Minnesota, but they made it in 21 years. It is also a long ways from Edgerton to Tamarack , but they made that in only eight years. They came a long way from such a humble start as eating their dinner out in the woods on an overturned tub to living on a complete farm that they built themselves. They were able to spend a half a century in the land of their own choice, building the community. They knew food times and bad times, joy and sorrow, some failure but mostly success. Theirs was a full and rewarding life.

The Nelson family will be remembered, along with the Bergs, Greens, Devlins, Andersons, Jacobsens, McGarvies, Hedstroms and Johnsons as the original pioneers that opened up that wilderness soon after the year 1900.

TOBIAS GUSTAFSON
Contributed by Richard Gustafson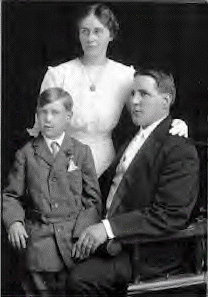 Tobias, Cecelia and her son Walter
ca. 1910-1912

Tobias Eurenius Gustafson was the second oldest of a family of five, born in Karlstad, Varmland, Sweden on 2 November 1876.

Tobias went to sea working on a ship on 25 June 1890, then again 5 June 1892, eventually settling in Minnesota. The first record of his doings in this country appears when he was in business in Duluth, Minnesota. He is listed in the 1907 Duluth city directory as a "Broker"(stocks?) under the name of Boden & Gustafson. This is the same year he married Signe Cecelia Holmberg, who had a 5 year old son,Walter, from a previous marriage. After that, he is found in the 1915 Duluth directory, listed as a real estate dealer, this time with his residence given as Bain, Aitkin co., Minnesota.

In 1918, Tobias ran for County Commissioner, and lost the election by a vote of 202 to 211, in favor of a Mr. Heft.

In 1918, Tobias had a home in Palisade, which was totally destroyed by the 1918 fire which swept through the area. In his campaign advertisement in the Aitkin Republican newspaper, he states:

"Owing to the serious calamity that has befallen the people of this immediate community, I deem it unwise to at this time embarrass them with any extended political campaign for the office of County Commissioner for the first commissioner district, so I am taking this means of calling your attention to my candidacy. But even would time to permit, I still would be unable to solicit your support, because in the fire that swept over this county I was one of the heavy losers. My home, together with it's contents(sic), which is located about one-forth of a mile east of Palisade, was completely destroyed, and I shall be busy for the next month or so in rebuilding it.

"In seeking this office I have but one purpose in view, and that is in being of service to the people whom I represent. Therefore, before I ask for your support I believe that I should briefly state the position I shall take in the handling of the county's business, if elected.

"I am of the opinion that during the duration of the war that no new expensive undertakings should be commenced by the count, but that we should try and confine ourselves to finishing up work which is now uncompleted. In other words, I believe that owing to the extra duties and burdens imposed upon the people of this county by the war and our recent fire, that taxes should be kept as low as possible. It will always be my purpose to see that every dollar that is spent shall be in the best interests of the county.

"I believe that my business experience amply qualifies me for the position, and I wish to say that I shall at all times carefully listen to suggestions from my constituents and try to be honest, faithful, and courteous in the performance of my duties."

Tobias' business as a real estate agent was apparently quite profitable, as he owned several homes and pieces of land around the state. His work ethics also was taught to his step-son, Walter. While Walter never knew the financial success of his step-father, he always believed in self-sufficiency and hard work. This trait was passed on to Walters sons as well.

There does, however, seem to be a bit darker side to Tobias. He and 3 of his friends were not especially liked in Palisade. It is not exactly clear who the other three were, but one of them is believed to have been the bank president in town. Anyway, Tobias was shot and killed on 10 August 1922 by a local farmer, Eli Corey, over a land dispute, as Tobias sat talking with another fellow in front of the blacksmith shop owned by Axel Franzen. One newspaper article says it was Axel that Tobias was talking with, but two other articles say it was a Mr. Lester Berglund. Eli had come into town that morning with his family in the car and stopped at the gas station across the street. He saw Tobias across the street in conversation, walked across the street, said "good morning, gentleman", then pulled out his gun and started shooting. Tobias was killed instantly with the first shot in the chest, the second shot hitting him in the arm. Then Eli shot at the other man, who had taken off running after the first shots,but missed him. Eli then walked across the street to the gas station where he had been fueling his car, reloaded his gun, stepped out on the sidewalk and shot himself in the head. Eli lived for a few hours afterwards, but then passed on.

According to the Corey family descendants, there's another reason that Eli was after "the four." One of Eli's sons had gotten some bad moonshine from one of them, and subsequently died in a Duluth hospital. This fact proves out the suspicion of the Gustafson family that Tobias may have been involved in moonshine, since that was during the Prohibition and a lot of people found easy money in the production and sales of illegal liquor. It is said that much of the town felt that Eli did the town a favor by killing Tobias.

After the death of Tobias, his widow, Cecilia, lost most everything by way of land and homes. The family has always held that the remaining three were responsible for this. She really didn't know anything about her husbands business dealings, and probably didn't have a way of holding on to everything. She shortly afterwards moved to McGregor and lived there for a few years. in 1931, she received $10,000 from the state in settlement for the losses in the 1918 fire, which she apparently gave most or all of to her son Walter. Walter purchased a farm in Wright, Carlton county with the money. Shortly after that, Cecelia moved there to live with them until health forced her into a rest home in the 1950's. She passed away in 1963.

Tobias is buried in the Pine Grove Cemetery outside of Palisade. There is a large black stone with the name GUSTAFSON on it, right along the lane that passes through the cemetery. Behind that is his headstone which says Eurenius, Aug 10, 1921. The year for some reason is wrong. He died in 1922. Eli Corey and his son are buried across the lane from him.

(picture unavailable)
Tobias Gustafson in front of his Real Estate office on main street in Palisade.
The building no longer exists.
He is the one on the left with the pipe in his mouth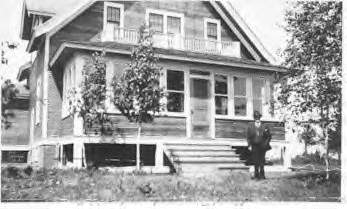 Tobias Gustafson standing in front of his home in Palisade.
Not sure if this was before or after the 1918 fire.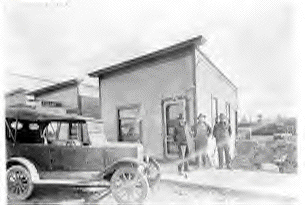 Tobias Gustafson standing in front of the Palisade post office.
He is leaning on the car.
The years of these pictures are not known ~ probably around 1920

THE DANIEL & MARY ANNA (HART) LOZWAY FAMILY
Contributed by Cathy Larkins
On their Wedding Day
Daniel and Mary Anna (Hart) Lozway
23 May 1881 in Nebraska City, NE.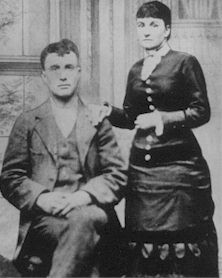 Nebraska City News, 23 May 1881
Lozway ~ Hart, Married at St. Mary's Catholic church last night.
Mr. Daniel Lozway and Miss Mollie Hart by Rev. Father Cusson.



After the marriage ceremony the happy couple repaired to their home in Kearney, where they settled down to housekeeping like sensible young people should.

The news wishes the happy couple a pleasant and prosperous life, void of trouble.

Daniel Lozway was born 10 Mar 1860 in New York
and died 23 Feb 1903 McGregor, Atkin Co, Minnesota

Mary Anna Hart was born Mar 1860 in Nebraska City NE
and died 24 Mar 1948 in Duluth, Minnesota

Children
Edward David, 26 Mar 1881, NE?
Nellie, May 2 Mar 1882, NE?, married Mr. Bergstrum
Francis William, 30 Nov 1883, Nebraska City, Nebraska, d: 24 Dec 1950, Duluth, Minnesota
Daniel Edgar Jr., 16 Mar 1884, Minnesota
Mary Matilda, 25 July 1890, Deer River, Minnesota, d: 27 Jan 1977
Katharine Margaret, 25 July 1892, Sandlake, Minnesota, married Hjalmar Olson
Daniel Joseph (twin), 5 June 1894, McGregor, Minnesota, d: 4 Aug 1894, McGregor, Minnesota
Margaret Alice (twin), 5 June 1894, McGregor, Minnesota, married Raymond E. Stanford
Earl Bertram, 26 Nov 1897, Sylvan Lake, Minnesota, d: 1918
Duluth News Tribune
26 December 1950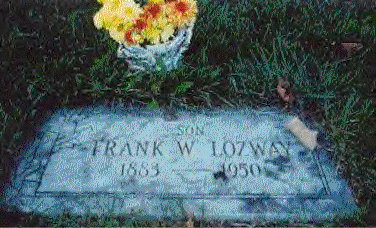 Frank W. Lozway, died Sunday night in a Duluth hospital after a long illness. Born in Nebraska city, Mr. Lozway resided in Duluth for 35 years was a well known violinist. Despite the loss of one arm, Mr. Lozway was a one time Northwest Champion in violin contests about 25 years ago.

He is survived by his four sisters, Mrs. Nellie Bergstrom, Mrs. Hjalmer Olsen, Mrs. Raymond Stanford, Duluth; and Mrs. James Larkins, Tacoma, Washington.

Duluth News Tribune
Wednesday, 24 March, 1971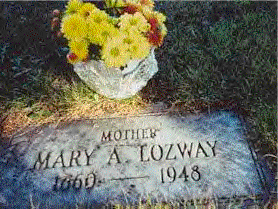 Mrs. Mary A. Lozway, 88 Duluth's oldest Gold Star mother of World War I, died yesterday in her residence, 12 North twenty-sixth avenue west.

Her son, Earl Lozway, died while is service with Americas armed forces in 1918, and her grandson, Gerald Stanford, died in service during World War II.

Mrs. Lozway was a native of Nebraska City, Nebraska, and resided in Duluth 38 years. She was a member of the David Wisted American Legion Auxiliary, and former chaplain of that body.

She took an active part in veteran's service work in Duluth. Mrs. Lozway was a life member of the J.V. Culver Women's Relief corp., auxiliary to the Grand Army of the Republic and a member of St. Clement's Catholic parish.

Surviving are four daughters Mrs. Nellie Bergstrom, Mrs. Hjalmer Olsen, Mrs. Raymond Stanford, Duluth; Mrs. James Larkens, Tacoma, Washington, Frank Lozway, Duluth; a sister Mrs. Nellie Gilmore, Downers Grove, Illinois; 27 grandchildren, 56 great grandchildren and one great great grandchild.

THE JAMES WRIGHT & MARY MATILDA (LOZWAY) LARKINS FAMILY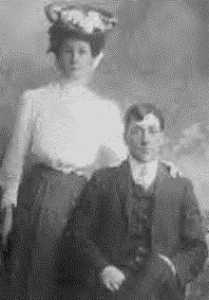 Mary Matilda Lozway and James Wright Larkins
on their wedding day, 15 April 1907, in Grand Rapids, MN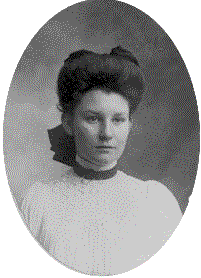 Mary Matilda Lozway ca 1905

Children
Owen James, b: 7 Oct 1907, Deer River, Itasca Co, Minnesota
d: 22 Feb 1952, Tacoma, Pierce Co, Washington
John, b: 21 May 1909, Marble, Minnesota
d: 12 Aug 1909, Marble, Minnesota
Samuel Raymond, b: 24 July 1910, Marble, Minnesota
d: 9 April 1962, Tacoma, Pierce Co, Washington
Maude Elizabeth, b: 17 June 1912, Duluth, St Louis Co, Minnesota
Edith Matilda, b: 11 Feb 1914, Duluth, St. Louis Co, Minnesota
Edward Lyle, b: 6 July 1915, Duluth, St. Louis Co, Minnesota
James Wright Jr., b: 10 June 1916, Duluth, St. Louis Co, Minnesota
d: 7 June 1999, Arizona
Harry, b: 6 April 1917, Duluth, St. Louis Co, Minnesota
d: 13 Sept 1995, Orting, Washington
Lowell Bertram, b: 21 Mar 1919, Duluth, St. Louis Co, Minnesota
d: 20 May 1970, Tacoma, Pierce Co, Washington
Daniel, abt 1921, Duluth, St. Louis Co,Minnesota
d: abt 1925
Lois Marie, b: 16 April 1926, Duluth, St. Louis, Minnesota
Betty Jane, b: 2 April 1928, Duluth, St. Louis Co,Minnesota
Francis Earl, b: 14 Nov 1930, Duluth, St. Louis Co,Minnesota

RICHARD & ORLIE (WARD) THOMPSON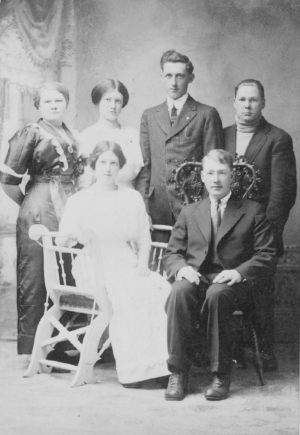 Front Row: Orlie Ward and Richard Thompson
Back Row: Mabel Thompson, Olive Ward, Floyd Ward and Benjamin Thompson.
(Orlie and Olive are identical twins)



Richard Thompson is the son of Paul Christian Thompson and Anna Siewertsen. He was born July 2, 1892 in Mason City, Iowa. He died July 28, 1948 in Jacobson, Aitkin County, Minnesota. He is buried in Jacobson, Aitkin County, Minnesota.

Orlie Ardella Ward is the daughter of George Ward (1858-1935) and Hannah Housman (1858-1950). Orlie was born April 3, 1898 in Blooming Prairie, Blue Earth County, Minnesota. She died May 1967 in Grand Rapids, Itasca County, Minnesota. She is buried in Jacobson, Aitkin County, Minnesota.

Richard and Orlie had 11 children: Doyle Richard, Paul Clifton, Alton, Crystal Anna, Alverd, Nyla Zadel, Darold Everett, Robert Duane, Kenneth Dale, George Harvey, and Constance Olive.

They lived and raised their family in Cornish Township in the Jacobson area of Aitkin County.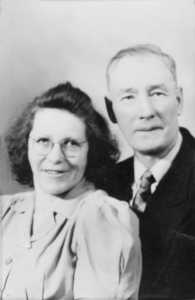 Richard and Orlie (Ward) Thompson ~ date unknown
Contributed by Karen Klennert

FRED & MINNIE (WALLIN) LINDMAN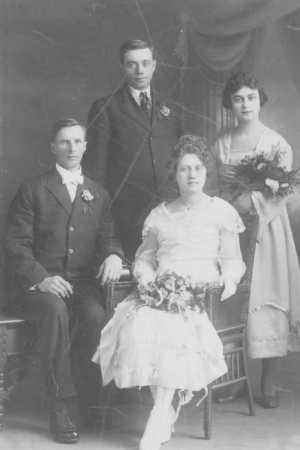 Fred and Minnie married on January 5, 1918
Front Row: Fred Lindman and Minnie Wallin
Back Row: ??? and Elvina Carlson


Fred Lindman is the son of Andrew Lindman and Sara Brita Colling. Fred was born May 9, 1883 in Oxford, Isanti County, Minnesota and died on January 7, 1950 in Duluth, St. Louis County, Minnesota. He is buried in Jacobson, Aitkin County, Minnesota.

Minnie Wallin was born on September 20, 1897 in Sandstone, Pine County, Minnesota. She died on July 2, 1972 in Rush City, Chisago County, Minnesota. She is buried in Jacobson, Aitkin County, Minnesota. She is the daughter of Henry (Henrich) Wallin and Betsy Wickblom.

They had six children: Bernice Marguerite, Leonard Melvin, Luella Aretta, Byron Delbert, Mabel, and Norman Wallace.

(Contributed by Karen Klennert)