THE DANIEL & MARY ANNA (HART) LOZWAY FAMILY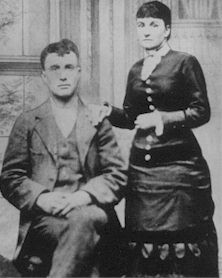 On their Wedding Day
Daniel and Mary Anna (Hart) Lozway
23 May 1881 in Nebraska City, NE.


Nebraska City News, 23 May 1881
Lozway ~ Hart, Married at St. Mary's Catholic church last night.
Mr. Daniel Lozway and Miss Mollie Hart by Rev. Father Cusson.

After the marriage ceremony the happy couple repaired to their home in Kearney, where they settled down to housekeeping like sensible young people should.

The news wishes the happy couple a pleasant and prosperous life, void of trouble.


Daniel Lozway was born 10 Mar 1860 in New York
and died 23 Feb 1903 McGregor, Atkin Co, Minnesota

Mary Anna Hart was born Mar 1860 in Nebraska City NE
and died 24 Mar 1948 in Duluth, Minnesota
Children
Edward David, 26 Mar 1881, NE?
Nellie, May 2 Mar 1882, NE?, married Mr. Bergstrum
Francis William, 30 Nov 1883, Nebraska City, Nebraska, d: 24 Dec 1950, Duluth, Minnesota
Daniel Edgar Jr., 16 Mar 1884, Minnesota
Mary Matilda, 25 July 1890, Deer River, Minnesota, d: 27 Jan 1977
Katharine Margaret, 25 July 1892, Sandlake, Minnesota, married Hjalmar Olson
Daniel Joseph (twin), 5 June 1894, McGregor, Minnesota, d: 4 Aug 1894, McGregor, Minnesota
Margaret Alice (twin), 5 June 1894, McGregor, Minnesota, married Raymond E. Stanford
Earl Bertram, 26 Nov 1897, Sylvan Lake, Minnesota, d: 1918

Duluth News Tribune
26 December 1950


Frank W. Lozway, died Sunday night in a Duluth hospital after a long illness. Born in Nebraska city, Mr. Lozway resided in Duluth for 35 years was a well known violinist. Despite the loss of one arm, Mr. Lozway was a one time Northwest Champion in violin contests about 25 years ago.

He is survived by his four sisters, Mrs. Nellie Bergstrom, Mrs. Hjalmer Olsen, Mrs. Raymond Stanford, Duluth; and Mrs. James Larkins, Tacoma, Washington.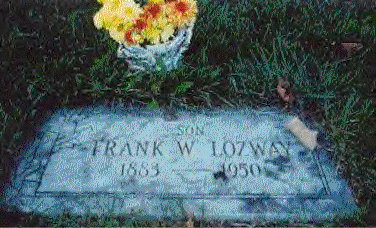 Duluth News Tribune
Wednesday, 24 March, 1971


Mrs. Mary A. Lozway, 88 Duluth's oldest Gold Star mother of World War I, died yesterday in her residence, 12 North twenty-sixth avenue west.

Her son, Earl Lozway, died while is service with Americas armed forces in 1918, and her grandson, Gerald Stanford, died in service during World War II.

Mrs. Lozway was a native of Nebraska City, Nebraska, and resided in Duluth 38 years. She was a member of the David Wisted American Legion Auxiliary, and former chaplain of that body.

She took an active part in veteran's service work in Duluth. Mrs. Lozway was a life member of the J.V. Culver Women's Relief corp., auxiliary to the Grand Army of the Republic and a member of St. Clement's Catholic parish.

Surviving are four daughters Mrs. Nellie Bergstrom, Mrs. Hjalmer Olsen, Mrs. Raymond Stanford, Duluth; Mrs. James Larkens, Tacoma, Washington, Frank Lozway, Duluth; a sister Mrs. Nellie Gilmore, Downers Grove, Illinois; 27 grandchildren, 56 great grandchildren and one great great grandchild.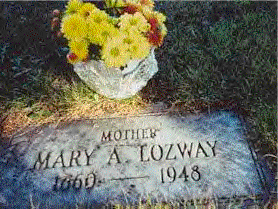 This biography was submitted by Cathy Larkins






THE JAMES WRIGHT & MARY MATILDA (LOZWAY) LARKINS FAMILY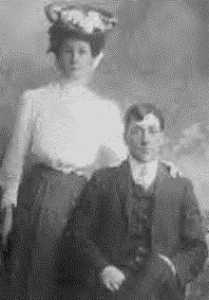 Mary Matilda Lozway and James Wright Larkins
on their wedding day, 15 April 1907, in Grand Rapids, MN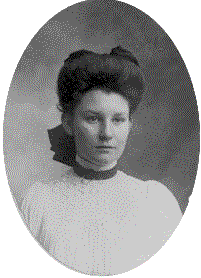 Mary Matilda Lozway ca 1905
Children
Owen James, b: 7 Oct 1907, Deer River, Itasca Co, Minnesota
d: 22 Feb 1952, Tacoma, Pierce Co, Washington
John, b: 21 May 1909, Marble, Minnesota
d: 12 Aug 1909, Marble, Minnesota
Samuel Raymond, b: 24 July 1910, Marble, Minnesota
d: 9 April 1962, Tacoma, Pierce Co, Washington
Maude Elizabeth, b: 17 June 1912, Duluth, St Louis Co, Minnesota
Edith Matilda, b: 11 Feb 1914, Duluth, St. Louis Co, Minnesota
Edward Lyle, b: 6 July 1915, Duluth, St. Louis Co, Minnesota
James Wright Jr., b: 10 June 1916, Duluth, St. Louis Co, Minnesota
d: 7 June 1999, Arizona
Harry, b: 6 April 1917, Duluth, St. Louis Co, Minnesota
d: 13 Sept 1995, Orting, Washington
Lowell Bertram, b: 21 Mar 1919, Duluth, St. Louis Co, Minnesota
d: 20 May 1970, Tacoma, Pierce Co, Washington
Daniel, abt 1921, Duluth, St. Louis Co,Minnesota
d: abt 1925
Lois Marie, b: 16 April 1926, Duluth, St. Louis, Minnesota
Betty Jane, b: 2 April 1928, Duluth, St. Louis Co,Minnesota
Francis Earl, b: 14 Nov 1930, Duluth, St. Louis Co, Minnesota

This biography was submitted by Cathy Larkins





FRED & MINNIE (WALLIN) LINDMAN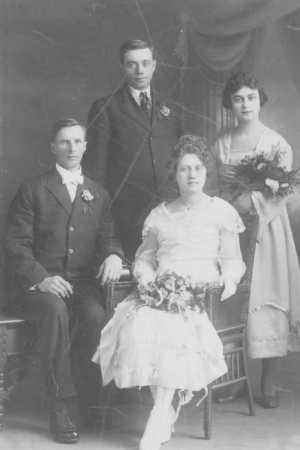 Fred and Minnie married on January 5, 1918
Front Row: Fred Lindman and Minnie Wallin
Back Row: ??? and Elvina Carlson


Fred Lindman is the son of Andrew Lindman and Sara Brita Colling. Fred was born May 9, 1883 in Oxford, Isanti County, Minnesota and died on January 7, 1950 in Duluth, St. Louis County, Minnesota. He is buried in Jacobson, Aitkin County, Minnesota.

Minnie Wallin was born on September 20, 1897 in Sandstone, Pine County, Minnesota. She died on July 2, 1972 in Rush City, Chisago County, Minnesota. She is buried in Jacobson, Aitkin County, Minnesota. She is the daughter of Henry (Henrich) Wallin and Betsy Wickblom.

They had six children: Bernice Marguerite, Leonard Melvin, Luella Aretta, Byron Delbert, Mabel, and Norman Wallace.

(Contributed by Karen Klennert)




Graphics by


AITKIN CO. BIOGRAPHY PROJECT DIRECTORY
HOME TO AITKIN CO. MNGenWeb