---

THE JOHNSON ~ BLACKBURG FAMILY SCRAPBOOK
The following pictures were contributed by
Dorothy Stafford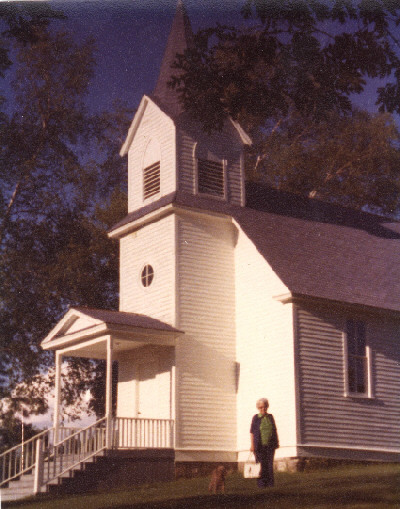 THE DORRIS CHURCH

This church building is located in the Farm Island area near Aitkin. It is on the historic register as a landmark example of one of the few remaining old country churches with a steeple. The lady in front is Dorothy's Mother, Agnes Johnson Blackberg. The dog is Dorothy's brown poodle, Corkie. The photograph was taken in 1978.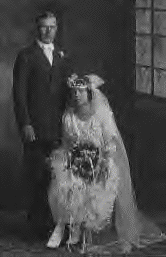 AGNES AND AXEL BLACKBURG, DOROTHY'S PARENTS

Taken in Aitkin, MN, June 27, 1927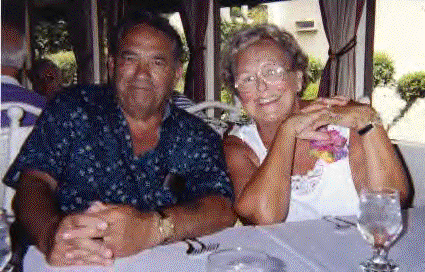 ROBERT AND DOROTHY (BLACKBURG) STAFFORD

Taken in 1998, Honolulu, Hawaii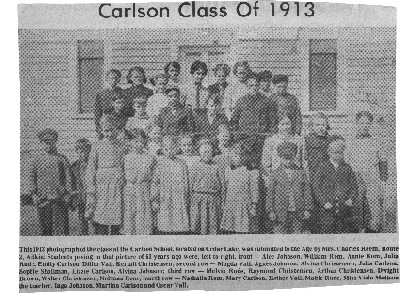 CARLSON SCHOOL, CLASS OF 1913

This 1913 photograph of the Class of the Carlson School, located on Cedar Lake, was submitted to the Age by Mrs. Charles Reem, Route 2 Aitkin. Students posing in that picture of 63 years ago were:

FRONT ROW L-R: Alec Johnson, William Rom, Annie Rom, Julia Rude, Emily Carlson, Ditler Vall, Kermit Christiansen

SECOND ROW L-R: Magda Vall, Agnes Johnson, Alvina Christiansen, Julia Carlson Sophie Shallman, Lizzie Carlson, Alvina Johnson

THIRD ROW L-R: Melvin Rude, Raymond Christianson, Arthur Christianson, Dwight Brown, Walter Christianson, Norman Rom

FOURTH ROW L-R: Natalia Rom, Mary Carlson, Esther Vall, Mable Rude, Miss Viola Mattson, the teacher, and Inga Johnson, Martina Carlson and Oscar Vall.

(Printed in 1976 in the "Independent Age Newspaper" published in Aitkin, Mn.)

Dorothy writes: "This one-room school, grades one through eight, may have been established to school the neighborhood children. The name probably came from the name of the family on whose farm it was located. The Carlsons lived on the farm next to my grandparents, the Alexander Johnsons. Many of the names listed are Johnsons, being my aunts and an uncle from a family of 12 children. My mother is Agnes Johnson and would have been about 11 years old at the time. She could not speak English until she started school at about age six. Norwegian was spoken at home. Her parents had immigrated from Norway in 1892 and moved from Superior Wisconsin to Aitkin in 1903. This newspaper clipping was found in her papers and keepsakes."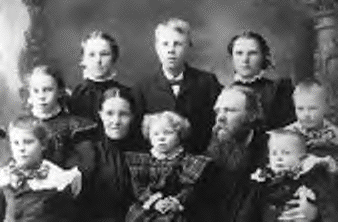 THE JOHNSON FAMILY

Front row: Axel, Grandma, Inga, Grandpa, Phillip
Back row: Marie, Annie, John (?), Olga Charles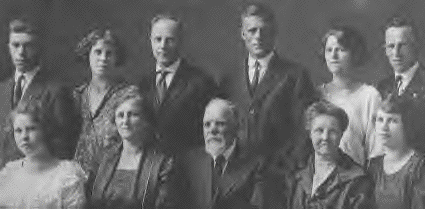 THE ALEXANDER JOHNSON FAMILY

Front row: Agnes, Annie, Grandpa Alexander, Grandma Mathilde, Marie
Back row: Alec, Alvina, Charles, Axel, Inga, Phillip
Taken June 23, 1923 on Agnes' wedding day,
probably at a local photographer's in Aitkin

ALEXANDER JOHNSON'S OBITUARY

Aitkin County, Minnesota
Alexander Johnson, Dorris Resident, Died Last Friday



Alexander Johnson of Dorris, a man who had lived in Aitkin county for more than 40 years, passed away Friday, April 26th, (1935 or 36) in the Beecroft hospital after a long illness, in his 79th year. He was born in Varmland, Sweden, Sept. 7th, 1856, and at the age of 17 years went to Fredsikshal, Norway. It was there he married Mathilda Desidana Oldsdatter of Bohuslen, Sweden and lived there for two years. They moved to Bamle, Norway, which was their home for eleven years while Mr. Johnson worked in the mines. It was while there he embraced the Christian religion and immediately began Sunday school work. He came to America in 1892, locating at Superior, his family following a year. He took a great interest in church work and served as superintendent of the Sunday school and was among the founders of the Lutheran Brethren of America.

Mr. Johnson moved his family to Aitkin county in 1903 and purchased a farm in Farm Island township, where he spent the remainder of his active life. He was a member of Bethel Lutheran church at Dorris and served as trustee and elder for many years. A fine farm was developed by Mr. Johnson, where he spent te best years of his life and with his wife they became one of the leading families of that community. They reared a family of 12 children, nine of whom are still living.

Mrs. Johnson passed away in 1932 and Mr. Johnson's health failed rapidly after that time as they had been a very devoted to each other.

A short funeral service was held Sunday from the Seavy Mortuary and later at the Dorris church. The Rev. Dan Erickson, who had officiated at the similar service for Mrs. Johnson, conducted the service. Burial was in the church cemetery by his wife's grave.

Survivors are John A. Johnson and Mrs. Joe (Annie) Hanson, Aitkin; Mrs. Louis (Marie) Larson, Superior; Chas. O. Johnson, Detroit, Mich.; Axel Johnson, California; Phillip and Mrs. N.A.(Inga) Nelson, Aitkin; Mrs. R.B. (Alvina) Erickson, Minneapolis; Mrs. A.W. (Agnes) Blackberg, Duluth; and Alec E. Johnson, Aitkin. There are 33 grandchildren and six great grandchildren.

This obituary was contributed by Nina M. Nordby of Strømstad, Sweden
Click HERE for her family genealogy website.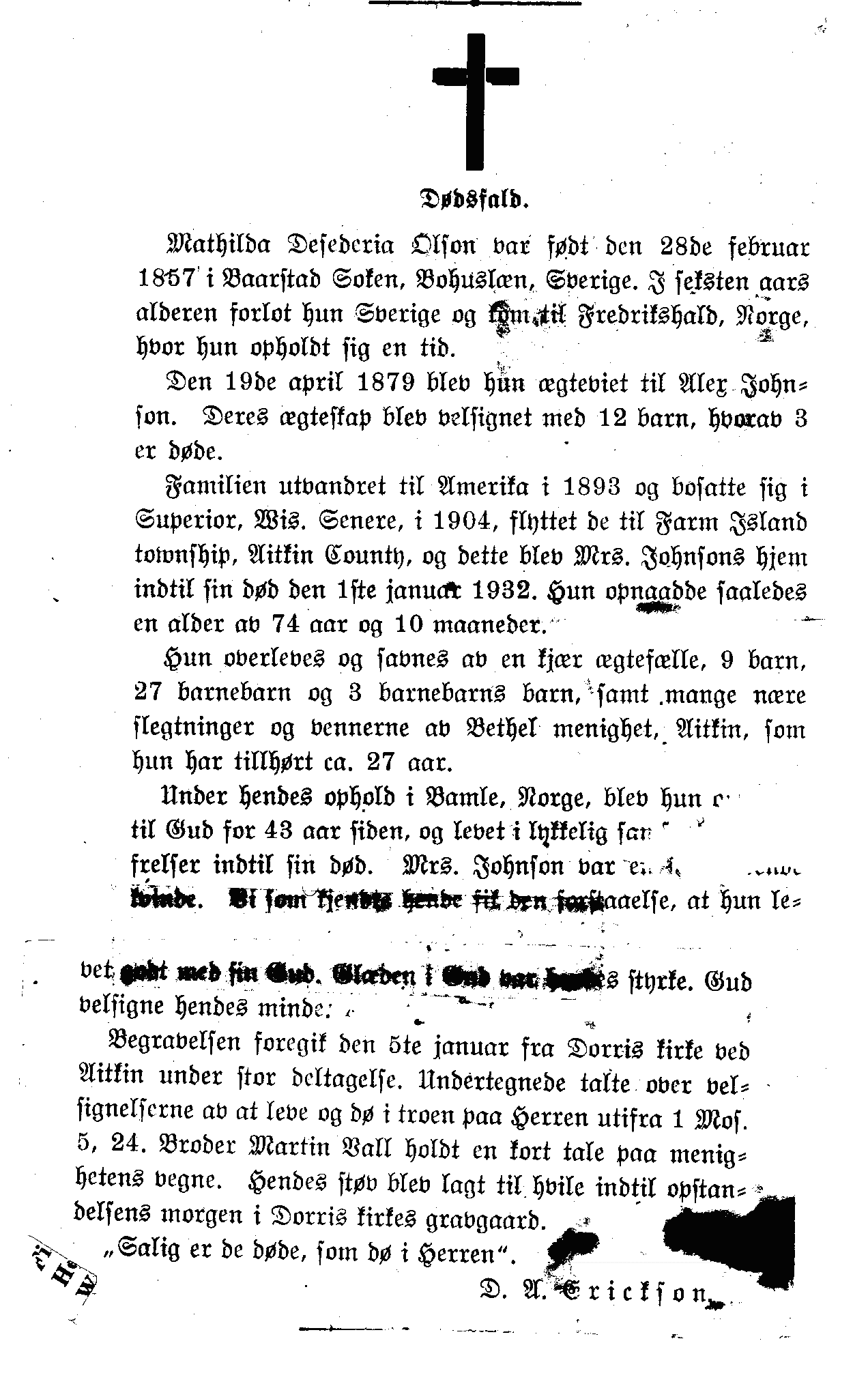 MATHILDA JOHNSON'S OBITUARY
Aitkin Newspaper, January 1932

This is a copy of Mathilda's obituary from the Aitkin newspaper. I think there was a paper put out for the Scandinavian people in the community. It is very fragile and yellowed. I think it may be in Norwegian as my Mom always said she talked Norwegian until she was 5 or 6 years old and started school.

TRANSLATION OF MATHILDA JOHNSON'S OBITUARY
Contributed by Dianne on the Rootsweb Message Boards

Dianne writes: Hello. I emailed your obituary to a relative in Norway. He and his daughter translated this.

Translator Nils writes: I am glad to help you with the translation. The alphabet is gotic and the language is official old Norwegian which was Danish at that time. Our daughter Kristin has helped and checked me with the translation.

MATHILDA JOHNSON

Aitkin Newspaper, January 1932


Mathilda Decederia Olson was born February 28 1857 in Baarstad Parish, Bohuslen, Sweden. At 16 years old she left Sweden and came to Fredrikshald, Norway where she stayed for a while.

On 19 April 1879 she was married to Aler Johnson. Their marriage was blessed with 12 children, of which 3 are dead. The family emigrated to America in 1893 and settled in Superior, Wis. Later, in 1904 they moved to Farm Island Township, Aitkin County, and this became Mrs Johnson's home until her death January 1, 1932. She thus reached an age of 74 years and 10 months.

She is survived and is missed by a dear husband, 9 children, 27 grandchildren and 3 grandchildren's children, as well as many close relatives and friends of Bethel Congregation, Aitkin, where she belonged for 27 years.

During her stay in old Norway she was .......... for God since 43 years and lived happily......salvation until her death. Mrs. Johnson carried.......God blessed her memory.

The funeral took place January 5 from Dorris church by Aitkin during great participation. The writer of these words spoke about what a blessing it is to live and die in the belief in the Lord from 1.Moses, 5.24. Brother Martin Bøll held a short speech on behalf of the congregation. Her dust was put to rest until the morning of the resurrection at the Dorris church.



Sacred are the dead ones as died in the Lord
D.A. Erickson



Note from webmaster: Since the authorship of the first of five books of the Bible are attributed to Moses, it seems likely that "1.Moses, 5.24" would be Genesis 5:24 which reads: "And Enoch walked with God: and he was not; for God took him."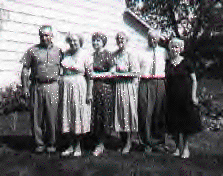 CHILDREN OF ALEXANDER AND MATHILDA JOHNSON

Taken 1959 at the Johnson farm in Aitkin, MN.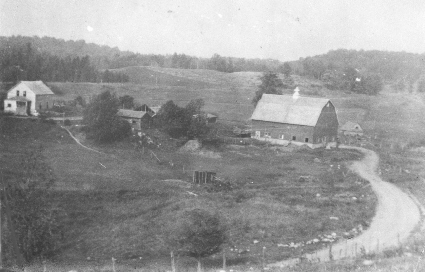 THE JOHNSON FARM, CIRCA 1920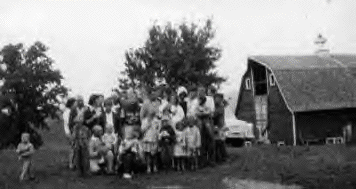 REUNION AT THE JOHNSON FARM, AITKIN COUNTY

This was taken in 1956.
The barn brings back memories.
Did you ever sleep in the hayloft?

HOME