---

THE JOHN LARSON FAMILY SCRAPBOOK

Laura Soleta has shared these remembrances of the John Larson Family.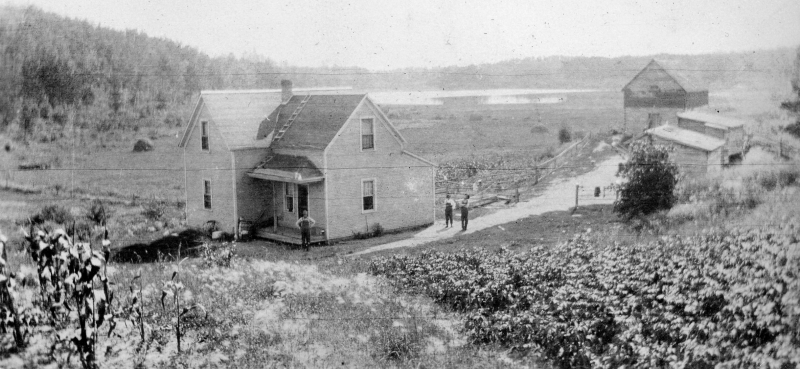 The John Larson Farm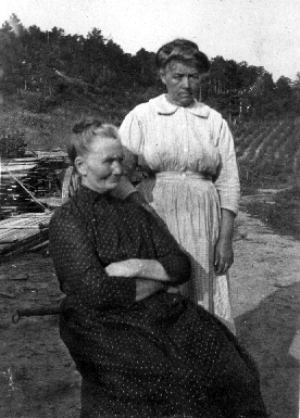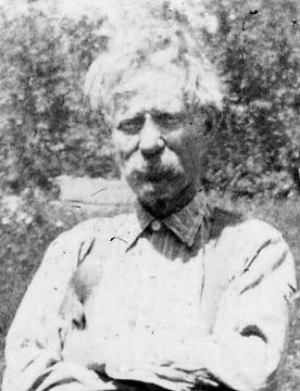 Anna Larson (sitting) with her sister Johanna Blom (standing)
John Larson
JOHN AND ANNA LARSON
John Frederick Larson was born February 7, 1854 in Sweden. Anna Louise Blom was born on March 13, 1858 in Otterstad Parish, Skaraborgs län, Sweden, the daughter of Johannes Jansson Blom and Maja Catharina Stina Carlsdotter. Both John and Anna moved to Minneapolis, Minnesota in the early 1880's. They were married on November 21, 1885 in Minneapolis, Minnesota.

John and Anna had ten children:



Carl Herbert born March 16, 1886, in Minneapolis, Minnesota and died May 7, 1888
Adolph Henning born November 6, 1887, in Minneapolis, Minnesota and died February 29, 1967
John Hugo born December 10, 1889, in Minneapolis, Minnesota and died April 17, 1921
Elmer Oscar born February 11, 1892, in Minneapolis, Minnesota and died February 18, 1924
Twins Edwin and Hilma were born April 5, 1894, in Minneapolis, Minnesota. Hilma died within a few days of birth. Ed married Jenny Boyer on January 7, 1925. Jenny died on October 11, 1949 and Ed died September 4, 1977, in St. Paul, Minnesota
Nina born November 28, 1896, in Minneapolis, Minnesota and died August 13, 1923
Herbert Wilhelm born April 25, 1899, in Minneapolis, Minnesota. He married Ruth Sarff on June 21, 1928 in Aitkin, Minnesota. Herb died on December 5, 1982 and Ruth died on March 2, 2001.
Myrtle born November 29, 1901, in Minneapolis, Minnesota and died June 20, 1996 in St. Paul
Mildred. born May 4, 1906, in Minneapolis, Minnesota and died February 2, 2002 in Anoka, Minnesota.


In the 1888-89 Minneapolis City Directory John and Anna were living at 90 East Side Flats along the Mississippi River. Also living at that address were Johanna Blom (Anna's sister), August Colberg and Alfred Colberg. (John's brothers).

In 1897 John built a house at 1209 Lincoln Street. They lived downstairs and Anna's sister Johanna Blom and her daughter Minnie lived upstairs. In 1906 John and Anna moved to Balsam Township, Aitkin County, Minnesota. They sold the house on Lincoln Street to Minnie Blom.

John and his sons, Elmer and Hugo went first in 1905 to check out their homestead property, returning again in April of 1906 to begin building a home and clearing land for farming. When they arrived there was an old logging camp on the property, they lived in one of the buildings while working on their house. The building site they chose was on a hill overlooking the West Savanna River and Little Savanna Lake.

In July of 1906, the rest of the family moved to Balsam. They took a train north to Carlton and then another train west to Tamarack. From there they continued north on the road past Round Lake, where they spent the night at the home of Peter Nelson on the north side of the lake. It was the 4th of July and they celebrated with the Nelson's. The next morning they continued on the road to their new home. The road was little more than a track through the woods, keeping to the higher ground with the wagon and horses.

Shortly after the family arrived there was a hailstorm that tore holes in the roof, so a new roof needed to be built. They had to build a machine to make the shingles themselves. They built a shingle plow out of a white oak log and a broad axe for the cutting blade. The children rode on the log while Mr. Larson was driving the team of horses to split the shingles. The house was built of logs with moss and clay filling in the openings between the chinking and the logs.

Anna was very lonely during that first summer and would take baby Mildred (only six weeks old when they came) out to the field across the river and just sit and cry.

In 1907 their son, Henning, came with the second team of horses. After this they built another room on the house and built the barn.

In the summer of 1910 the school district allowed John Larson $150.00 with which to buy and furnish materials to build Balsam School #3. About this time the Weyerhaeuser Lumber Co. came to harvest the virgin pine. John sold root vegetables, pork, beef and other farm produce. The company cook enjoyed sharing pies, doughnuts and other treats with the school children passing by the camp in the morning and evenings. Later the cook and bunkhouses were torn down to build the large frame house on the farm.

A letter dated August 9, 1916, "Mr. Nelson, Mrs. Larson got after me on account her fresh meat was bad when I unloaded it. They live so far out in the woods if a box of rocks was sent up, they'd spoil before half way there. If OK with you, on grocery runs I will rig up an ice box to fit into my wagon and fill at Lang's ice house at the drive camp. Elmer LaVassuer."

February 14, 1918, Aitkin Republican, "Lists of men who were drafted or enlisted in the army for the month. Drafted: Hugo Larson – to go to Camp Dodge, Des Moines, IA."

During World War I their son, Hugo, contracted Tuberculosis and when he came home he was very sick. His sister, Nina and brother Elmer got tuberculosis from him. The family built a porch onto the house, so that they could have a place to sit in the sun, the only treatment of the time.

Anna died on November 4, 1919 from breast cancer.

From the Aitkin Republican dated March 11, 1920, Tamarack, "The timely appearance of his father saved Elmer Larson of Balsam from serious injuries from a cross cow which had attacked him."

Frances (Anderson) Laucamp remembers, John played the violin and when he would play his dogs Niffy and Buck would howl along with the music.

The Aitkin Republican, Tamarack, April 4, 1929, "Herbert Larson came from Duluth on Tuesday morning, being called by the illness of his father, John Larson, in Balsam." John Larson died on April 3, 1929.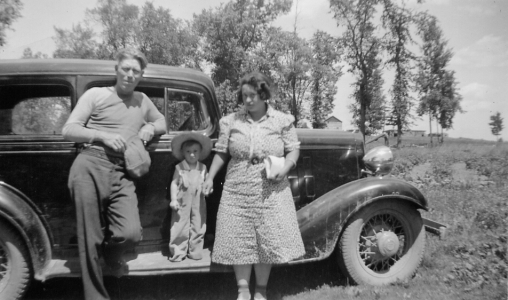 Ed (son of John and Anna), Allen and Jenny Larson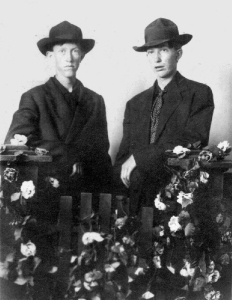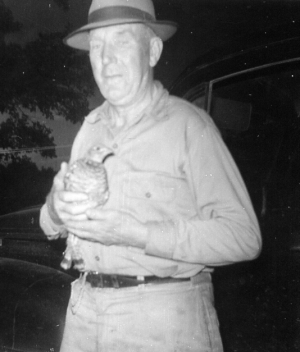 (L) Elmer and Hugo Larson (sons of John and Anna)

(R) Henning (son of John and Anna) Larson with pet.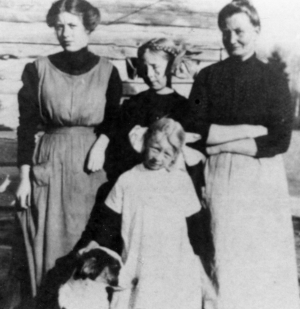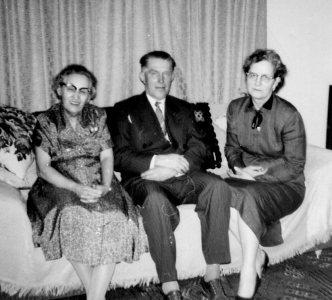 (L) Nina, Myrtle and Mother Anna Larson
with Mildred in front (children of John and Anna)

(R) Minnie Anderson (John and Anna's niece),
Herbert Larson (son of John and Anna) and his wife Ruth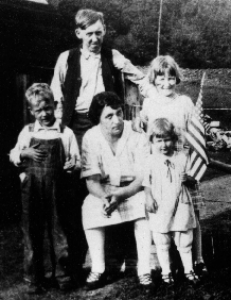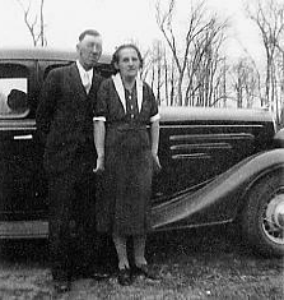 (L) Bobby, Henry, Minnie, Frances and Doris (holding flag) Anderson

(R) Henry and Minnie Anderson in 1939

HOME