---

THE POLLEY FAMILY SCRAPBOOK

John Brassfield and David Rogers
have provided these family photos, stories and
information concerning the Polley Family.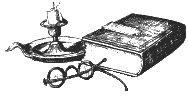 JOHN BRASSFIELD'S INTRODUCTION

My mother, Twila Avonne Goodwin Brassfield, was the daughter of Cora Marion Polley Goodwin. Cora was a sister to two of my Great Aunts who contributed to the following information about life in and around Aitkin, Minnesota in the late 1800's.

These papers and many pictures were in my mother's belongings and came to me following her passing about eight years ago. I have found the material very interesting and it has been shared with other Polley researchers.

You will also find reference to the other three Polley sisters in the text. Their life in those days was interesting and filled with excitement and danger. Their memories cry out for more information. Oh, how I would love to speak to each of them for hours.

Enjoy what we do have, remembering that now that we are in a new century, those memories that are available to us, as well as our own, need to be documented.

Please contact me if you would like additional information. I have a wonderful Polley book compiled by Evelyn White of Phoenix, AZ.

John W. Brassfield, Researcher
Polley Family and Associated Events
jbrass@foothill.net
Newcastle, CA

LETTER FROM AUNT ALICE
Sun City, Ca.
April 18, 1979
Dear Family:

I've finally gotten this much material together and am sending it out to nieces and nephews. John was kind enough to run off copies for all of you. I have a little more about both the Polley and Stevenson families that I'll get together later and send to you.

I find many blank spaces for both names and dates. Will each of you PLEASE check thru and correct any error and send additional names and dates. I can correct and add to my master copy and send you all of the changes later. Then you can look up names and dates of spouses and make conies for your children.

With my father, R. B. Polley, the eldest of ten children, you can see how many cousins you have around the country. There were only three boys and one, Charles, was shot during the "potato war," so there are only Uncle Cle's two boys with the Polley name. He was Judge of the Supreme Court in Pierre, South Dakota for years.

I am well and leading a busy life here in Sun City. Right now I'm getting ready for a Tour of South America. We fly to Miami, Rio, Iguassu Falls, Buenos Aires, Lima, Cusco and Machu Picchu. It sounds exciting and will make a busy sixteen days.

I hope you will realize how much time and effort has been put into the material I've gathered and that you will treasure and add to it.
Lovingly,
Aunt Alice

THE JOHN AND AMANDA POLLEY FAMILY
POLLEY, John Charles (Father) ~ John Brassfield writes: Although his daughters have shown his middle name as Charles, I am now convinced it was Cutter, a family name from a previous generation.
b. 16 Feb 1826, m. 16 Feb 1852, d. 26 Sept 1886

KORN, Amanda Annett (Mother)
b. 5 June 1831, m. 16 Feb 1852, d. 8 Aug 1896
CHILDREN
POLLEY, Robert Bruce
b. 23 Nov 1852, d. 17 Nov 1941

POLLEY, Helen
b. 16 Apr 1854, d. 27 Oct 1854

POLLEY, Marion Isobel
b. 20 Aug 1856, d. 24 June 1872

POLLEY, Amanda Alice (Aunt Allie)
b. 24 Mar 1858, d. June 1950

POLLEY, Anna Louise (Aunt Lou)
b. 15 Jan 1860, d. 27 May 1941

POLLEY, Elizabeth Theresa (Aunt Tess)
b. 21 Jan 1862, d. 19 Mar 1943

POLLEY, Samuel Cleland
b. 13 Jan 1864, d. 6 May 1949

POLLEY, Jessie Marie (Aunt Kit)
b. 21 Jan 1866, d. 17 Nov 1919

POLLEY, John Charles
b. 6 Mar 1868, d. 26 Sept 1886

POLLEY, Helen Jane (Aunt Nell)
b. 14 Nov 1869, d. June 1957

POLLEY, son
b. 7 Feb 1872, d. 8 Feb 1872


Robert married Margaret Jane Stevenson and had 10 children, I being the youngest, arriving when mother was in her forties.

Aunt Allie married LaFayette "Fay" Knox and had two children, Julia & Fay.

Aunt Lou married Waite Shoemaker and Isabel was born 12 Mar. 1885 and died 2 July 1973. John was born in 1887 and married Sophie Showers. They bore Mary Louise 25 Aug. 1918. He died on 15 Dec. 1974.

Aunt Nelle married Arthur White and had one child, Marion. She m. Jack Herbert and lives in CA near their three children: Sally, John and Helen.

Uncle Cle married Lenore "Norah" Houghton, 26 Dec 1923. They had two girls: Helen Louise (Veno) and Catherine (Stevenson) and two boys: Pete and Bud.

FAMILY PHOTOGRAPHS

Contributed by John Brassfield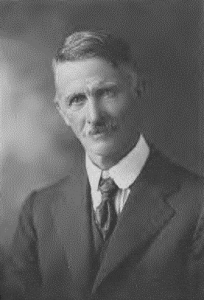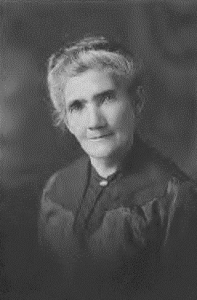 Robert Bruce Polley and Margaret Jane Stevenson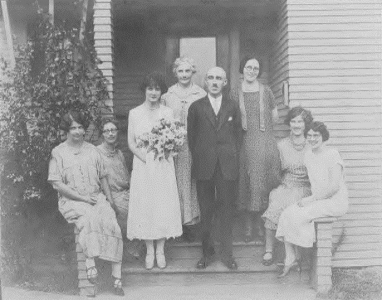 The six Polley sisters and their mother
The youngest of the six, Aunt Alice, is marrying Carl Schwedes.
My grandmother Cora Marion and her twin Dora are pictured on the right.

The Six Surviving Polley Daughters
All but Aunt Alice were born in Aitkin County.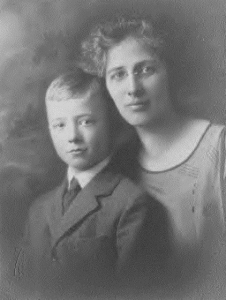 This is Aunt Elizabeth (Beth) with her son Earl Leslie Hacking. I understand he is in his late 80's, as of February 2003, and still a practicing attorney in Minneapolis.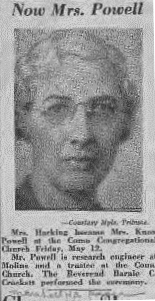 This clipping, date unknown, is from the Marshall High School paper.

MARGARET JANE STEVENSON'S ANCESTORS AND DESCENDANTS

Facts collated by Alice Schwedes
The Stevenson boys were born 7 miles out of Belfast, between Belfast and Corrick. Their father, John Stevenson, and grandfather were blacksmiths, working at their home. The boys went across to Scotland and worked in the grain fields during harvest time.

William came to New York when he was about 20 (1820). He was followed by John, Sam, Hugh and James in about 1835. Their sister, Ann, was still in Ireland, when Hugh and John went back to visit their parents they brought Ann with them on the return trip. She sickened and died and was buried at sea. This was a great grief to all of the family.

The four brothers followed William west and bought farms adjacent to his in Badaxe, Wisconsin. Sam married Elizabeth Dugan who had come from Ireland in 1848 at 27 years of age. They moved to New Albin, Iowa with their daughter, Margaret Jane, my mother. Elizabeth died when mother was about 16 and her father married again. (Alice ??) Mother disliked her so thoroughly that she left home at about 16 and taught school.

Her father, Sam, and Alice had one child, Isabella. She later married a Mr. Stanton. She lived in Missoula, Montana where Beth and I visited her in about 1934. She was mother's half-sister and they always kept in touch.

After Sam's death, Alice married a George Reynolds and had three children. Sam Jr. is a mine carpenter in Butte, Mont; Charles has a gravel and Rock Hill in Mill City, Ore; and Beryl Bollinger of Brookings, Oregon where Grace and James lived and are buried.

Margaret Jane married Robert Bruce Polley and, after quite a bit of wandering, moved to his father's farm on the Mississippi River.

They raised seven children there and lost one, an infant. They moved north to a farm out of Grand Rapids, Minn. in 1894 where father farmed and worked as a cook in a logging camp in the winter. My brother, Cleland and I were born there, helped into this world by a Dr. Stork.

The family moved from Minnesota in 1908 to Langley, Wash., a small town on Whidbey Island, across from Everett. With the help of a carpenter, my father and two older brothers built a two-story house on a 20 acre tract overlooking Puget Sound, other islands and Mt. Baker to the north. My father went to Canada for the wheat harvest and one year mother went, too. Then, later, Cle (at about 15) went too. He stayed and worked until he could stake a claim on R. R. land. He married a Canadian girl, had one daughter, Helen, and still 1ives there. (1979)

Robert and John also went to Calgary where Robert worked into a string of taxis and real estate. John worked from a fireman to an engineer on the Canadian Pacific. After his retirement, he took a trip to the Hawaiian Islands. A truck in Honolulu ran him down. He died in the hospital a few days later at 72 years of age.

We girls all went on to College and became teachers, Beth staying with it in Minneapolis until she was 75.

Now, in 1979, there is only one great grandson with the Polley name in this branch of the family; Donald Robert Polley, born 28 Feb. 1968 in Calgary, Canada, John's grandson. Also, only Cle and I are left of the Polley children.

A FEW FACTS OF FAMILY HISTORY

gleaned from letters written by my Mother's cousin, James Stevenson,
to Norah and Cle Polley during the years of 1953 and 1954,
and additions of my own. (Alice Schwedes)


Mother, Margaret Jane Stevenson Polley, was born in Viroqua, Wisc. She was an only child, but after her mother's death her father remarried and had either two or three children. Mother disliked her stepmother and left home at about 18 to teach school. She soon married but always enjoyed and kept in touch with her half-sister, Isobel Stanton. Beth and I visited her in Missoula, Montana on our way west from Minneapolis when my Charles was a baby. (About 1935)

In James' letters he said that the Stevensons were born seven miles out of Belfast, Ireland, near Carrick Fargus. Mother's grandfather was a blacksmith at their home. He apparently had a large family because Cousin James tells of his father, James, moving to Wisconsin up the Badaxe stream about seven miles near Sam, my grandfather, in New Albin. Then John came and bought a small farm across the stream; then Sam moved next to him and Hugh on the other side.

Soon John left and moved to Utica, Illinois; Sam went to New Albin and Hugh left for South Dakota. In 1892 James' father sold out and lived with his children until his death at Ponca, Nebraska. Sam, mother's father, moved to Viroqua, Wisconsin, where mother was born.

Mother's cousin James was a dentist. He married in 1895 in Iowa City. He and Rose spent most of their 45 years in Portland, Oregon. After Rose's death, he went up to Langley, Washington to visit mother. He met my oldest sister, Grace, who had lost her husband, Francis Newton. Grace was teaching school in Everett and helping to put her son, Charles Bruce, thru Stanford. Grace married James, believing that he had property worth millions because of the asbestos deposits on some property of his.

It turned out to be nothing so Grace found herself still having to support herself and an aging dentist. They bought a small acreage in Brookings, Oregon, where they tried to get in on a bonanza of growing and selling Easter lily bulbs. That fizzled out and they next planted blueberry bushes. They grew beautiful berries but had no market.

Grace had saved some $2,000 from her teacher's pension for an eye operation. When she had a stroke and died from overexertion, James used her savings for funeral expenses and gave the place to a cousin of his from Minneapolis, and left nothing to Grace's son, Charles, who was married and a medical officer in the Navy.

FATHER AND SON DEAD

J. C. Polley and Charles Polley

Murdered by M. Davenport and wife at Pine Knoll
(Transcription of an article in the St. Paul Daily Globe
September 27, 1886: page 1, Column 1)
Davenport Gives Himself Up and is in Jail at Brainard.
Mrs. Davenport's Story
A Shocking Tragedy
(Special to the Globe)


Aitkin, Minnesota, Sept. 20. This community was thrown into the wildest excitement this morning by the report, which proved to be well-founded, of the killing of J. C. Polley and his son, Charles Polley, by M. Davenport and wife, who reside some six miles from Aitkin, at Pine Knoll in Cass County. As soon as word was received of the terrible calamity, Dr. C. Graves left for the scene of the wounded men, while Sheriff Markham and a posse started for the scene of the shooting to arrest the murderers. Arriving at Davenport's house, Sheriff Markham searched the premises but found no trace of Davenport, who, it was learned, left at 11 A. M. for Brainard, it is supposed, to give himself up and secure a lawyer.

Sheriff Markham took Mrs. Davenport into custody and lodged her in jail. He conveyed her to Brainerd at 8:30 P. M. to deliver her to the custody of Crow Wing county officials, in whose Jurisdiction the case is.

The scene at the home of the murdered man and his son was one long to remembered by those who witnessed it. Stretched upon a bed in their once happy home, lay the father and son cold and pulseless in death; while about them were the wife and mother, sister and daughters, son and brother, wailing out their grief.

At about 8 o'clock in the morning, J. C. Polley and Charles Polley the son, the unfortunate victims of the Davenport's vengeance, accompanied by Michael Wise and Thomas Sullivan, having their teams, went to the farm of M. Davenport to assist E. J. McLaughlin, who purchased Davenport's farm last spring, to remove his crop. Sullivan had loaded his team and started. While the Polleys and Wise were loading their wagons with potatoes, Mrs. Davenport came out and ORDERED THEM OFF THE PREMISES. J. C. Polley, who was sitting on a pile of potatoes, replied that he had business there and would not go. In a moment or two a shot was heard and Polley fell, shot through the abdomen, from the door of Davenport's house, some ten rods distant, by Mrs. Davenport, who immediately closed the door and went in as soon as she had fired the fatal shot. McLaughlin, Wise and Charles Polley, seeing the old man wounded, put him in the wagon and started to leave with the young man holding his father's head in his lap, while kneeling in the wagon. When same 50 rods from the house, young Polley suddenly threw up his hands, exclaiming, ''My God! I'm shot." and fell over dead, shot thru the right shoulder, the ball lodging somewhere near the heart, where it still remains. How many shots were fired after the first shot? It is impossible to tell, so intense was the excitement. J. C. Polley lived to reach home, something like a mile distant, but expired in his wife's arms almost immediately after.

The scene of the tragedy was visited by hundreds of people during the afternoon and numerous threats were made of lynching Davenport, but as he is probably out of reach of here, no danger of the kind need be apprehended.

Between Polley and Davenport bad blood had long existed and the tragic sequel of today was not wholly unexpected by the people of the village who were fully conversant with the state of things. McLaughlin, who had employed the deceased and others to help him move the crop he had raised, traded property in Duluth last spring for his property in Pine Knoll, and the relinquishment of a house that adjoined Davenport's, who occupied the McLaughlin property in Duluth. This summer he become tired of this bargain, and having secured the relinquishment, which had not yet been filed at the land office by McLaughlin on account of his wife's sister having stolen it out of McLaughlins trunk, he some weeks since returned to Pine Knoll, and finally succeeded in forcing McLaughlin to trade back, agreeing to let him have the crop he had raised. Later he refused to permit him to remove it, and it was while assisting him, as before stated that the Polleys met their death.

When arrested Mrs. Davenport pretended not to know of the death of their victims and said that it was not murder as they had been warned to leave. She was unmoved and walked into the jail with a smile upon her face, having remarked that she was glad that Polley was dead.

J. C. Polley was an early pioneer at Pine Knoll and was a highly successfu1 farmer. He was 63 years of age and leaves a wife and a large family of children, some of who are married. He was a man of passionate temper but an honest and honorable citizen. He resided in Aitkin Township, of which he was Chairman of the Board of Supervisors and was highly regarded. Charles Polley, his son, was 19 years old was well known to all, having attended school in the village for a number of years. The bitter feud existing between Polley Sr. and Davenport was shared more or less by the son, but his tragic death, holding his dying father in his arms, without any act of hostility, toward Davenport, fills the community with the most profound sorrow.

A MURDERER IS ARRESTED

Brainerd (Special to the Globe) Sept. 28, 1886

M. Davenport, the murderer of Charles Polley near Aitkin, arrived here at 8:00 and went at once to Flemming, his lawyer, who took him at once to the county jail where he was promptly locked up. He claims to have shot both J. C. Polley and Charles Polley, his son. Sheriff Markham arrived on the 8:30 train from Aitkin with Mrs. Davenport, who was also locked up.

To the Globe representative on the train she claimed that when she ordered J, C. Polley off their premises, he not only refused to go but called her vile names and struck her in the breast, which her husband saw and was very angry and soon she heard a shot and Polley fell. She claims that a number of shots were fired at the house after Polley was shot. She said she did not have a gun in her hands at all during the day. Cleland Polley, next older brother of Charles, arrived from St. Cloud where he is attending the Normal School on the 9:35 train and went to Aitkin accompanied by a brother-in-law on a freight. He is overwhelmed with grief at the cruel murder of his father and brother.

"CHARLES POLLEY RITES TODAY"


Transcription of the Obituary of Charles Polley
In January or Febuary of 1964


Thompson Falls - Funeral services for Charles Polley, 89, Thompson Falls, will be held at 2 P. M. Friday in the Whitepine Community Church with the Rev. B. D. Fridley officiating. Burial will be in the Whitepine Cemetery under the direction of Shrider Mortuary, Plains. Mr. Polley died Tuesday in a Hot Springs Rest Home. He had been in poor health for several years.

He was born Oct. 4, 1874, in Topeka, Kansas and married Dora Husfeld in Sept. 1894. They came to Sanders Co. in 1802 and homesteaded at Whitepine. Except for brief stays in Idaho, he had resided in Sanders Co. since in 1935 he came to Thompson Falls.

Mrs. Polley preceded him in death in 1941-and a daughter in 1951. Survivors include a son, Cleland, Thompson Falls; 3 daughters; 12 grandchildren; 15 great-grandchildren and 3 great-great-grandchildren.
NOTES BY BETH POLLEY

Grandfather Polley (John Charles) had a brother, William, who had been in War. He had a bullet go right thru him; hit in front, thru a lung, and right out. Who knows why but he recovered and came home, where he married and raised a family: Arthur, Cad, Til, Charles and Alma. (Alma and Uncle Cle were about the same age.) Cle always went to Aitkin to see her when he came to Minneapolis. They moved from Aitkin after we did and went to Thompson Falls, Mont.

Mama's step-mother, Alice, had married a George Reynolds and had a son. The son and Alice lived together after George died. The son, Charles, bought some land that turned out to be a gravel pit. He lived there selling gravel the last time Earl and I stopped in Missoula to see Isabella Stanton. He was her 1/2 brother and she was my mother's 1/2 sister. Alice and George died and are buried there. This clipping is about great uncle Will and Clara's son, Charles.

He married a Dora a couple years before we left Ailkin. I suppose Cleland lives out around there still. Isabella Stanton might know him.

This Cleland would be a cousin once removed of Papa's.

Alma Polley lived on a ranch between Ailkin and Grand Rapids, Minn. Til (Matilda, I suppose) had 4 children: Mable and Myrtle, the age of Grace and me, then 2 boys. They moved to Thief River Falls, Minn. In Grand Rapids, there appeared a Mr. Martin. His parents lived out from town at a lake resort. He came to live with them after his wife, Myrtle Knowles, had died in childbirth.

THE KNOX ~ POLLEY LINE

My name is David Rogers, and I am the grandson of Harrison W Rogers and Emily Knox. My Great-Grandfather, LaFayette (Fay) Knox, married Alice Polley of Pine Knoll, MN. Alice was his second wife.

Fay was born in Elizabethtown, Essex County, NY ca. 1838 and moved to the town of Dell Prairie, Adams County, Wisconsin in 1851 with his parents, George & Julia Ann (Jackson) Knox. Fay went west via the Oregon Trail in 1860 and spent a year or so in Idaho and Oregon, taking part in one of the Idaho gold rushes on the Salmon River. After that, he returned to Kilbourn City, Wisconsin, and worked in a store there for about seven years. In August, 1864 he enlisted in the army for one year and about the same time married Emily Tenney, a neighbour. When he completed his year in the army and returned to Dell Prairie in June 1865, his daughter, Emily Elizabeth Knox had arrived the previous May 31. She was my grandmother.

Fay's brother, Clifford Cady Knox, became a business partner of Warren Potter and moved to Aitkin, MN about 1872 or 73. Clifford's wife, Myra Wheeler, was a sister of Warren Potter's wife Matilda. Myra was one of the pioneer teachers of Aitkin, teaching in her own home for a couple of years and then in the first log school. Clifford was a veteran of the Civil War and as a result of contracting measles and suffering from exposure, he developed Consumption. The winters in Aitkin made his disease worse and so about 1876 they left Aitkin and moved to Lovelocks, Nevada, where he died in March 1878.

In 1877, Warren Potter hired Fay to work at (run) his store in Grand Rapids, MN. This he did for a couple of years before establishing his own business there. Fay moved his family to Grand Rapids in 1879 and they appear there in the census of 1880. Fay's wife died of cancer in March 1881 at her home in Kilbourn City.

I do not know how Fay met Alice Polley but the family history says that Fay logged in Pine Knoll for a time and it is probably there that he met Alice. They were married May 15, 1882 and moved to Grand Rapids. However, there was an "Indian scare" in Grand Rapids and it was felt wise to move back to Aitkin as Alice was expecting. Julia was born was born in Pine Knoll on June 18, 1883. Lafayette Jr. was born January 13, 1885 in Aitkin where the family had established their home. As a young man, he studied at the University of Minnesota and graduated as a Chemical Engineer. I believe that he worked at his profession in California but have not found any details. The family moved back to Grand Rapids in January, 1887 and lived there until sometime after Lafayette Knox's death from cancer in 1908. He is buried there in the Soldiers' Cemetery.

Fay Knox, Sr., was one of the pioneers of Grand Rapids. He established his own store about 1879 or 80 and, for a time, it included the post office. A second store was built about 1886 and he and his family lived above the store.

My grandfather, Harrison W. Rogers, worked in Aitkin with his brothers, Robert Allison Rogers, and William Andrew Rogers in the lumber business. There he met Fay's daughter, Emily Knox, a school teacher in Aitkin, and they were married on August 8, 1888 at Fay and Alice's home in Grand Rapids. They traveled from Aitkin via Steamboat, arrived after dark on August 8, were married, and returned to Aitkin the next day. They lived in Aitkin for a year before returning to the Rogers' home farm near Woodstock, New Brunswick, where they farmed until Harry's death in 1945. The had a family of 10 children, the oldest being named Clifford Knox Rogers.

Fay Knox later built and ran a mill in Grand Rapids. In addition, he was county supervisor for a while, was a partner in a bank, and was an active member of the business community. He was also one of the congregation of the Presbyterian Church in Grand Rapids and contributed to the building of the church in that town. After Fay's death, his wife Alice and his family moved to California. Fay Jr was an engineer. He enlisted in World War I and went overseas. I don't think he ever married. I do not know where he worked or died. Julia Knox, I believe, lived with her mother in California and as far as I know she did not marry.

Harry & Emily (Knox) Rogers named their youngest daughter Jean Alice, the Alice being in honour of Emily's step-mother. Jean Alice Rogers, age 98, died in July, 2002, in Fredericton, NB, Canada.

Emily Knox Rogers was said to have been very fond of Alice Polley Knox, her step-mother, and they corresponded until Emily's death in March, 1941.

If there are readers who would like more information on LaFayette Knox and his family, I would be glad to share what I have with them. You may contact me, David Rogers, at AFF@gov.pe.ca,

THE KNOX LINE PHOTO ALBUM

These photos were contributed by David Rogers

The source of these pictures is Emily Knox Rogers' family albums. Emily named her second son, Lafayette Nathan Rogers, after his two grandfathers. She named her youngest daughter, Jean Alice Rogers, "Alice" in honour of her stepmother.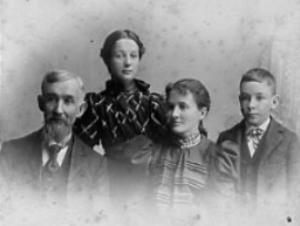 (l to r) Lafayette Knox, Julia Knox, Alice (Polley) Knox and Lafayette Knox Jr.
This photo was taken by R. S. Crandall in Grand Rapids about 1897/1898.
LaFayette was born in Elizabeth Town, Essex County, N. Y, June 16, 1838, the son of George and Julia Ann (Jackson) Knox.
ANNOUNCEMENT - "L. F. Knox was the happiest man in town on Tuesday, January 13, his wife having presented him with a bouncing ten-pound boy (Lafayette Knox Jr.). Mother & child doing finely."
Source - Aitkin Age Newspaper, January 24, 1885.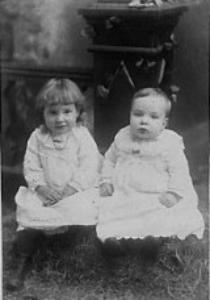 Julia and Lafayette Knox Jr.
Photographed about 1886, probably in Aitkin, MN. where the young family lived until early 1887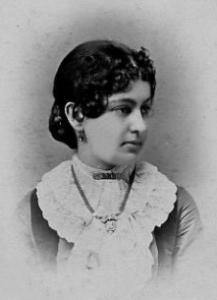 Lafayette Knox's other daughter - Emily Elizabeth Knox, born May 31, 1865 in the town of Dell Prairie, Adams Co., Wisconsin. This was perhaps taken when she was a young teacher-in-training perhaps about 1883-1884 in St. Cloud, MN.
Emily was about 17 when her father remarried.
Emily was the contributor's grandmother.



Lafayette Knox Jr.
This picture was taken in Newport News, Virginia in 1918
Lafayette was born in Aitkin, Minn., January 13, 1885. He married Franceska Winterer of Valley City, N. D., October 15, 1913. Their children were Mary A. and Jean F.

Lafayette Knox Jr. (at the time living in North Hollywood, CA) when completing the "Old Settlers (of Grand Rapids) Club" application, dated July 3, 1958, wrote:
"I was born on January 13, 1885 at Aitkin, Minnesota and first came to Grand Rapids in January, 1887. I first lived over Father's Store building on site now occupied by the Standard Station on Corner near Bridge across River. My first occupation in the county was Lumber Business - Saw Mill & Retail. After father died in 1908 I attended the University at Minneapolis for four years - then I followed Engineering and Oil till Retirement."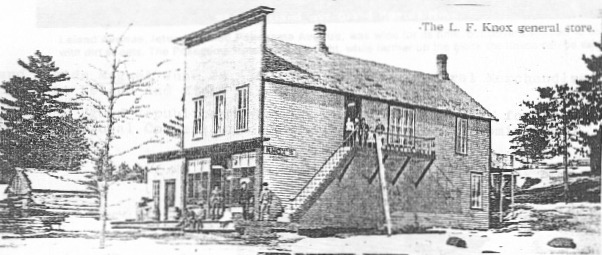 Photo courtesy of the City of Grand Rapids

This is the Knox Store built by LaFayette Knox in Grand Rapids about 1887. The family living quarters were on the second floor of the store. This picture, photographed in 1889, is from "Logging Town, The Story of Grand Rapids, Minnesota."

This particular picture is of special interest to me as my Grandparents, Emily Knox and Harrison W. (Harry) Rogers were married in the Knox home on August 8, 1888. Emily's Uncle, George W. Knox, the Captain of the steamer "Fawn," took them up the Mississippi River the hundred miles or so to Grand Rapids. They left Aitkin at noon on the 7th, arriving after dark on the 8th and were married that evening, and next day started back to Aitkin. They took along the Minister, Rev. A Striemer, Congregationalist Minister of Aitkin, his wife, and Harry's sister, Louise Cluff. Louise, Daniel J Knox, (Emily's Uncle), and Lucy E. Cobban signed the marriage certificate.

On the balcony is the Knox family: Fay, Alice and their two children plus one or two other unidentified persons. A couple of years after this picture was taken Fay Knox built a house in Grand Rapids where he lived the remainder of his life.

HOME