---

FRONT PORCH STORIES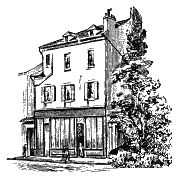 The following stories are from the families of Aitkin County residents. Some can be documented, but many are stories that have been passed down from one generation to the next. The former webmaster made no attempt to verify them, nor did she plan to. She wrote, "These are just what they are, stories."

The information contained in these stores is the property of the contributor. For permission to use this information, or for additional information, you should contact the contributor of the story.

So, let me get us a cup of coffee and I'll meet you on the front porch!

A House To Last
They Saved Thanksgiving!
The Lay of The Land
The Spaldings
Carl "Carlos" Taylor
From "Among The Tamaracks"
!
"Problem" Child
Memories
The Bain Area

A HOUSE TO LAST
Contributed by Mrs. Dale Amann



This is what my Aunt Lillian told my mom and dad when they were visiting Hill City in 1991:

Alex and Rosina Wasmer Frederick came to Hill city on March 15, 1915 from Benson, Minnesota. There were 5 hotels in town and the family lived in three of them. They rented a barn for 2 teams of horses, 2 pigs, 5 milk cows, chickens and a dog called "Pup."

On Easter Sunday Alex took Rosiana and Lillian out to the farm where he was to build their house. He had to promise Rosina it would not be a tar paper shack! He drilled a well 125 feet deep, and it still has water today.

The farm is 6 miles from town on CR 67. It was originally 120 acres, covered with white pine. Alex and the oldest boy, Ernest, set up a saw mill and built the house with poplar or cottonwood logs which had been milled on four sides, set up vertically and then sided. It took a couple of years to build; had five bedrooms, a living room, kitchen and bath area, although they had an outhouse too. They build the barn right away and took the livestock there. Also there was a smoke house. The house had a basement.

The house is still there and people still live in it, even though people in town told Alex that the way he was building the house would never last!

THEY SAVED THANKSGIVING!
Contributed by Judy Wallis White
This story comes from family members,
the Aitkin Independent Age
and Readers Digest.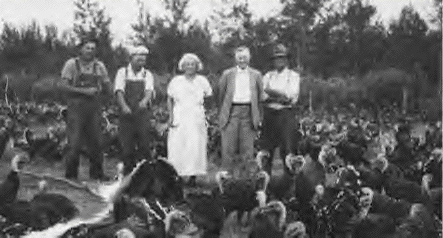 Axel Broselle, Clifford Flood, Bessie Layton Davis,
Dr. Wm. Billings, and Sam Davis Aitkin
ca. 1930



When you give thanks for your feast this Thanksgiving, you may want to include a few words of gratitude for someone new, four little known farm wives from the 1920's. Without them, Thanksgiving wouldn't be the same.

Because of their dedication, turkey is still the traditional Thanksgiving treat.

But just a few decades ago, due to a deadly disease called "blackhead" that wiped out entire flocks, turkey almost disappeared from the table. Women's magazines of the day went so far as to suggest rabbit as a replacement for the holiday dinner.

A young veterinarian, William J. Billings, eventually identified the cause of the killer disease as a worm spread by chickens, with which turkeys were often raised side by side. But he couldn't convince farmers that they could save their turkey flocks by separating the birds. They scoffed that would be too much effort. Besides, they told the young doctor, caring for turkeys was "women's work!"

So Dr. Billings turned instead to a small band of farm wives in Aitkin county, Minnesota who agreed to follow his advice. Doing so wasn't easy as each poult's beak had to be dipped in water to teach it to drink, then the young bird had to be fed dry bread and boiled eggs every two hours. The brooder house and pens had to be kept scrupulously clean.

But the four women persevered and out of nearly 400 turkeys that they hatched, all but 15 birds survived. Those highly dramatic results impressed farmers and permanently changed their thinking on raising turkeys they scrambled to heed Dr. Billings' hints.

Today, many millions of turkeys are raised successfully each year, thanks to those now almost forgotten women: Bessie Layton Davis, Lena Quinn, Myrtle Shisler, and Averile Wright...the farm wives who saved Thanksgiving.

THE LAY OF THE LAND
Contributed by Lynn Wieczorek



Alice Kibbey Hazelton wrote this account. The original account in her handwriting is on file at the Minnesota Historical Society.

Our homestead is the NW 1/4 of SE 1/4 of section 28, Township 45 north and Range 27 west and others in the same section 28 were his parents (her husband, Duane Charles Hazelton) Mr. and Mrs. Cutler J. Hazelton and their daughter, Jennie, on lot 1 and his brother Edgar S. Hazelton and his wife and three children.

Their homestead included Lot 2 and the east half of the south east quarter of section 28. There was nobody else on this section. Our nearest neighbor toward B_armud was the Nichols family on Mille Lacs Lake three miles away. There was Mr. and Mrs. A. R.. Nichols, 2 sons, Fred and Dexter and a daughter, Delia. Our nearest neighbor on the north was my brother, Charlie Kibbey on Section 8, about 3 1/2 miles away and joined on the north by Fulton V. Amidon on the same section and the next neighbor beyond was the Thompson family about half way to Aitkin where the road that was built later crossed Mud river between Spirit Lake and Hickory Lake. The next year Mr. Thompson and his family relinquished their claim and it was taken as a homestead by Ben Lemire a French Canadian who moved here in 1886 from Wisconsin with his family. This is in what now is Farm Island Township . Other people who lived in what was afterward Hazelton Township were Mr. and Mrs. John C. Schwab and two children on Section 20, Mr. and Mr. Don McLean and son on Section 24, James Blacketter on Section 30. Charles Marr had a homestead on Section 34 but at this time he hadn't lived on it, but Ed Wilbern and anther boy named Harry were living there.

Joe LeSage and Jim McGuskill were both on Section 24. My husband's brother Fred L. Hazelton lived on Section 30. Mr. and Mrs. William Gunsalur on 32. Mr. and Mrs. A. R.. Knowlen and their two younger sons, Al Knowlen and Frank Knowlen lived in township 44, which joined with township 45 eventually to form Hazelton Township.

The Nichols family also lived in Township 44, which is nearly all in Mille Lacs Lake, and a part of section 45 was in the lake too. This looks as thought there were about 36 people in the township when I came here in 1885, but one saw them so seldom it seemed like there was no one hardly but the Hazelton's that we saw often, and my brother, Charlie that we saw frequently, and the Nichols and Knowlen families who were quite a ways off. When Duane and Fred Hazelton came in 1881, there was no one in Township 45 except their brother Ed Hazelton who came in 1880.

No road, but they drove through the woods once in a while to go to Brainerd. No church, no school, A. R.. Nichols had been appointed postmaster of Nichols post office to be in their home, but there was no provision about getting the mail carried from Aitkin until the next July. Mort Bath was the first mail carrier and he started his duties July 1.1885.

He walked once a week, from Nichols to Aitkin on Friday and from Aitkin to Nichols on Saturday, carrying the outgoing mail to Aitkin and the letters and papers on the return trip. Some times he took his pony with him and rode part way, but more often he went alone.

This young man, Mort Bath had the contract to carry the mail for four years, but after a year or so he gave up the job. He was a faithful carrier and was followed by William Gunsalus, a hard working homesteader on Section 32. He carried the mail the rest of the four years 'til July 1889. He always walked and used a pack sack.

Cutler Hazelton was the next mail carrier and he was the first one to use a team. He carried the mail 'til July 1893. The road was rough and narrow. He always carried an axe and usually had to cut out fallen timber, more or less.

The mail carrier was a very important person in those days. When William Gunsalus carried the mail on his back, people often sent money by him to pay their taxes or to get things that were not heavy and he was real nice about it. When C.J. Hazelton carried the mail with his team, he took butter and eggs to market and pork and veal and most anything and made purchases for the settlers, groceries, medicine, clothing, shoes and everything. He had a good, big team and a large spring wagon with four seats, and carried passengers. The front seat was cover with the front of the wagon box and a place for the driver's feet was built on the outside. When he had passengers, he would leave the other seats at home and this made more room for freight.

There was a good cover or roof and side curtains to put on in case of rain. The top was a protection against rain at any time. This top was stationary, but the side curtains were only used when they were needed. C. J. . Hazelton was almost 72 when he gave up carrying the mail, in 1893 and we bought his team and used them for many years.

While he was carrying the mail, C. J.. Hazelton served one term as county commissioner and helpful in organizing the IOOF lodge in Aitkin. He was the first Past Grand and the only in the new lodge that had held that office before.

This lodge has grown and thrived and held a 50th celebration in 1939.

C. J.. Hazelton died in 1897 when he was 75.

THE SPALDINGS
Contributed by William G. Black Jr.
Undated Newspaper Article (about 1943) in the Aitkin Independent Age



A beloved couple in our midst, Mr. and Mrs. J. L. Spalding, have passed their 59th year of happily married life. Their interesting background reads like a story book. They have lived all these years in Aitkin witnessing its birth and progress. Any one who has ever lived in Aitkin knows the Spaldings. Into the soul of the community has been knit their outstanding enduring goodness.

From them we have extracted a birds eye view of life as it was lived in this pioneer settlement seventy or more years ago.

Mrs. Spalding came here from Elk River in 1871 with her parents, Mr. and Mrs. James Tibbetts, of stout-hearted New England Stock, and seven younger brothers and sisters. Two older children had been left in St. Cloud to go to school.

Mr. Tibbetts, a civil war veteran, had been allotted a homestead under President Lincoln's administration, chose 160 acres along the Mississippi now inside the city limits. He had a contract to get the ties for the new railroad. He sent for his family to come to what he described as a wonderful country.

Mrs. Spalding was six years old then and her advent into her new home later became an outstanding event to her, for she and her mother and the other children were the first passengers brought in on the new railroad which had just been completed from Brainerd to Aitkin. Mud River, the settlement was then called. Mrs. Spalding's mother was the only white woman living in the settlement and the next year her daughter, the late Bertha Zeese, was the first white child born here. The first home for the family was a log house built on the bank of the Mississippi river. It had a big stone fireplace where the cooking was done.

In the fall of '71 came Warren Potter and Mr. Tibbett's brothers, Nat and Joshua. The men had a meeting and renamed the place "Aitkin" for father Aitkin, a fur-trader who often came through on his trek to Sandy Lake. The Tibbetts family knew the Aitkin family at St. Cloud. Mrs. Spalding was given the name of "Anise Aitkin," the latter name for Mrs. Aitkin, who was her nurse when she was born in Elk River.

The coming of the railroad brought loggers and lumbermen, also other settlers.

Mr. Potter started a store and soon other buildings sprung up. The first fourth of July celebration in Aitkin is well remembered by the Spaldings. All the settlers and Indians were out for the big picnic held in a pine grove near where the Congregational church is now standing. A lot of lemonade had been provided. Joshua and James Tibbetts held up flags while an Indian chief made a speech, with Win Allen as interpreter. All the English the old chief knew was "Much eat, much drink, hell of good time."

One time when Mr. Tibbetts went away from home the Indians tried to break into the house to get a barrel of what they thought contained whiskey. Nat Tibbetts, the sheriff, took the Indians in and treated them to a drink from the barrel, which proved to be vinegar. That ended the disturbance.

The first school was held in what had been used for a boarding house, ("ram pastures" they were then called), that stood where the Galarneault bank building stands. Later, a log school house was built in thick woods where Chatelle's drug store is now. The teacher was Belle Lowe from Brainerd. Mrs. Spalding jocularly told of the huge black bear that walked into the schoolroom one day. The antics of the teacher, who crawled on top of the table, greatly amused some of the boys, who knew the bear was a tame one.

Mrs. Spalding also gave a stirring account of the time the Indians went on the war path. A band of them, decked out in paint and feathers, had gathered in full force near the river to celebrate their annual "Medicine dance Pow wow." Two young white men shot at the group just to scare them but one of the bullets killed an Indian. The tribe, plotting revenge paraded around the villagers' homes brandishing their tomahawks and shouting and beating out the death dirge, meanwhile doors and windows had been barricaded against an attack. The red men were pacified however, when the sheriff promised to capture the offenders which he did and they were later sentenced to twenty years in the state penitentiary.

Duties of the sheriff in those days were somewhat diversified. Mrs. Spalding said her father, the first county sheriff, was called upon to pull teeth as well as settle disputes. He was awakened one night to sew up a fellow's ear that had been torn partly off in a fight.

The Tibbetts hospitable home was also the social center for the young people. Candy pulls were the chief form of amusement until they learned to dance. There were no rich or no poor in the community. Each girl had a school dress, one for work, and one for Sunday.

In 1881 Mr. Spalding arrived to cast his lot with the citizenry, lured here from Dakota by the offer of a position as druggist at Potter's store. He was Aitkin's first druggist. Besides dispensing drugs he prescribed for the sick and we suspect that was when he acquired the title of "Doc" by which he is known to this day.

In 1884 he married the comely Anise Tibbetts, who was then teaching school in the country. Mr. Spalding after several years in the drug store, was elected county treasurer a position he held for 18 years. He sold real estate for awhile and then was appointed secretary of the Aitkin Light and Water Commission having held that office for the past 25 years.

Now in the evening of life this remarkable couple take an active part in the civic and social affairs of Aitkin. Mrs. Spalding helped organize the local Daughters of the American Revolution. She has been a member of the Woman's Relief Corps for 54 years and an ardent worker in the Episcopal church. She was president of French War Relief in Aitkin during World War I, and having done a great deal of practical nursing throughout the years she was appointed hospital superintendent at the Congregational church during the "flu" epidemic in 1918.

The family circle now includes three sons, Lester and Nat, of the twin cities; John at Denver, Colo., and daughters, Mrs. R.N. Hasling, Aitkin, and Mrs. C. Bolsinger, (Lelah) of San Francisco, Calif.

After relating these intensely interesting facts, Mrs. Spalding looked up at her questioner with the words "And they lived happily ever after."

CARL "CARLOS" TAYLOR
Contributed by Francee Taylor



Carlos (Carl) Taylor of Aitken Minnesota is noted in my family history and other legal documents as the man who surveyed and platted Aitken and most all of Aitken Co. Minnesota. He is also documented as the one who organized the canal and the courthouse and was a magistrate there. Also, the Seavey men were clerks at the courthouse. He was quite a man and did many, many things for the community.

There are many things he did for Aitken proper and the town and I believe Uncle Carl should be noted on your webpage. His descendants are into the 1000's in his family alone.

Also, his brother, Asher C. Taylor was a noted officer in the civil war and later became a general. Carl's nephew and my grandfather, Verner Cecil Taylor, built all of the fireplaces and foundations for Ruttgers Resort at Bay Lake. My father's birthplace and the family homestead is still standing in Deerwood. The Stone House is over 100 years old as is the Ruttgers Resort (Ruttgers now own the Taylor homestead there and when Blanche Moore passes on they plan to make the stone house part of the golf course.

Also, it recently came to me that there are many O'Neils who still reside in Aitken. I live in Eatonville, Washington. One of the O'Neil descendants lives near me and he says his family owned the first large sawmill in Aitken and also taught school in the 1890's onward and that Guy O'Neil lived at the site last he heard.

He would love to know where they taught school. We are "out west" so love to hear about our families and their pioneer contributions to our Minnesota ancestors.

From

AMONG THE TAMARACKS
by Peter Nelson


In the month of November, 1901, I made a trip to Tamarack with the intention of locating a piece of land. I discovered that there was some vacant Government land and I went to the U. S. Land office in Duluth and Filed on the S 1/2 SE 1/4 Section 20, T.49 Range 22. I landed in Tamarack with my Emigrant car at 4 A.M. on March 6, 1902. I had two of my boys with me and we unloaded our livestock, two horses, two cows, two pigs and two sheep and household goods. Next we went out on the place and cut logs for a house and we got our nearest neighbor to help us or rather show us how to build. We cleared a small patch for a garden and a few potatoes and during the summer we cleared some more land and put up some hay. We had to go a long way to get any hay.

The first winter we got about 400 ties, some cordwood and a few logs, in all we made about $400.00. Timber was a new game to us. The second year we were here, I contacted the school superintendent to get a school started. We had five children of school age and F. R. Jacobson located on section 31 had three children. Jacobson and I circulated a petition to organize the school and I built the first school house in the township on Section 29.

In the month of November, 1904 the township was organized and the first meeting was held in my house and I was elected chairman of the first town board. I also served as township clerk for a number of years. This was Haugen Township.

!
D. M. Falconer was sworn in as a deputy Village Marshall yesterday and will officiate in that capacity until Jack Knowles recovers from the chicken pox.

Aitkin Age ~ March 28, 1891

"PROBLEM" CHILD
Russell Ellis writes:



My mother and father were LeRoy and Joyce Ellis and we lived on a farm in Northern Aitkin County, MN after I was born. I was born during a blizzard, in Brainerd MN. In those days children were born in the homes of midwives. We lived 20 miles north of Aitkin and my dad had to drive my mom to Aitkin with our neighbor and long time family fried Cody, riding on the hood of our car with a flashlight to show my dad where the road was. Cody could see from the headlights while riding on the hood and my dad, who couldn't see the headlights, could see where the flashlight was pointing. When they got to Aitkin, they found the midwife's home full and so had to go on to Brainerd. So I was a problem to everyone from birth!



The town of Finlayson, Pine County, is located on Highway 18. Towns that are near are Geise and McGrath. My grandparents, Frank Leitner and Johanna Mehlstaub Leitner are buried in the Catholic cemetery in McGrath, MN. Near my grandparents' farm was a man named Josef Wolf who also immigrated from Hungary. He was about the same age as my grandfather, and was not married-no children. As a child, I remember Mr. Wolf and my grandfather talking in what they called "low" German. Mr. Wolf is also probably buried in the same cemetery, because we used to pick him up to go to church in McGrath with us.

THE BAIN AREA
Stacy Vellas writes:



The Dares lived in Bain for many years and when Charles Dares, well known in that area, was brought home after his death in Duluth, he was buried next to his wife, Harriet Dares in Waukenabo Cemetery.

My dad, James Vellas, and Charley Dares were friends who met in New York before 1919. They were both from Greece. They first came to out to Minot, N. Dakota to work on the railroad. Then they came to Minnesota together. My dad went to work in the meat processing plant in St. Paul and Charley went north to Swatara where he had some property. Charley moved to the Bain Corner on Hwy 169 and opened Dares Tavern. I was nine when Hattie Dares died from cancer and left six children for Charley to raise. The oldest, Elizabeth, was 12. She lives in Tennessee at this time. We renewed our acquaintance when I returned to Minnesota in 1996.

The Hansens lived in Le May Township west of Swatara for many years. I went to school with their children and we knew them well.

Won't you send us your stories, too?
Just e-mail them to us. Thank you.

HOME