---

THOSE WHO CAME FIRST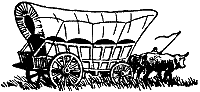 I don't know the source for most of this wonderful information.
Do you have histories similar to these that you would like to add to this page?
Contact the Aitkin County Coordinator. Thank you.

WARREN POTTER

Warren Potter was born in Bowden, Maine January 15, 1842. When he was 12, the family migrated to Reed's Landing, Minnesota. In 1859, he went to Menomonie, Wisconsin where he worked as a carpenter and became a master carpenter.

In 1862 there was a call for volunteers for the Civil War. He joined the Fifth Wisconsin Regiment. This regiment went directly into action and joined the Army of the Potomac at Antitam under General McClellan. He also served under Generals Burnside, Hoker, Grant and Sheridan. The battles he fought include Gettysburg, Wilderness and Shenandoah Valley. he was present at Lee's surrender.

When he was discharged from the army in 1865, he returned to Menomonie and started a general store. In 1871 he came to Aitkin, the northernmost settlement on the Mississippi river. This factor was of great economic importance at that time.

He built a big store with living quarters in the rear. His business was supplying the needs of early settlers and supplying logging camps. the supplies were purchased in carload lots and were loaded directly from railroad cars to large sleds drawn by four horses.

When the log store became to small he moved his business. He then acquired a hotel "The Whipple House," later renamed Rogers House, in partnership with Dave Willard. In 1899 he built the Willard Hotel. He also established a store at Grand Rapids.

Warren Potter and Matilda Wheeler were married in 1865 in Menomonie and three of their six children were born in Wisconsin. His wife died in 1884. In 1891 he married Martha Maddy, one of the first teachers in Aitkin.

Following an illness of several months, he died February 20, 1914.

MacDONALD FAMILY

Charles W. MacDonald was born March 30, 1850 in Caribou River, Nova Scotia. On his second visit to Minnesota he purchased an acre of ground, part of the homestead of Nathaniel Tibbets, on the bank of Mud River and built his house in what was then a cornfield. His wife, Ellen Chisholm and infant son remained with relatives in Nova Scotia, until he could build a home for them.

In September of 1877 Mrs. MacDonald and her year old son John, came to join her husband. A second son was born in 1884 and named Charles William. A daughter Laura was born in 1887.

Charles died in 1888.

NELS HOLDEN

Nels J. Holden, contractor and builder, contributed greatly during his 28 years of residence in Aitkin to the growth of the village. He constructed 27 of its business establishments and contributed to the community as a solid citizen of his era.

Born in Resor, Norway in 1864, he moved to Duluth, where he worked as a building contractor. He came to Aitkin in 1896 purchasing 40 acres of land southeast of town. He built his home on a high knoll overlooking Mud River. He encircled his homesite with over 100 fruit trees of various varieties, their blossoms an annual spring attraction.

He had a family of nine children, Theresa, Lydia, Miriam, Norman, Esther, Harold, Floyd, Helen, and Ruth. Nels Holden died in 1924.

Contact Nel's granddaughter, Anita

THE MARRS & THE SEAVEYS

The names of Seavey and Marr became known in Aitkin early in the history of Aitkin. The Seavey family, consisting of Loring G., Frank, Elmer, the mother, Almira and two daughters Emma and Esther, came from East Machias, Maine. Loring arrived here shortly after being mustered out of the army following the Civil War, and Esther arriving in 1891. Frank came about 1879, Elmer in 1880, and the mother and Emma in 1889. With Emma, the twin sister of Elmer, marrying William Marr in 1890, the two families became connected.

The Marrs, Charles, James and William (Tinker), came from Port Grady, Ontario, Canada sometime about 1875. Charles lived only a short time in Aitkin but went on to Grand Rapids where he went into business, married, raised a family and lived there until his death.

Jim Marr married Rose Burell, a teacher from the Glory Community. They had no children.

William, or "Tinker", as he was known. Interested in the funeral business, he was on of the first graduates and first president of the Minnesota Funeral Directors, this was about 1905. William passed away December 14, 1914.

Following the Civil War, Loring or Lo as he was called, looking for adventure came west and settled first at Stillwater. He came to Aitkin shortly after, interested in the logging camps. Lo married Mary Smith and established a home in Aitkin so his children could attend school.

Lucy, Frank, James and Catherine of that family grew to maturity. Lucy married John O'Malley and they ran the Foley Hotel before and after the turn of the Century. Frank Seavey, became one of the best know people in early Aitkin. He kept books for many early local concerns and in 1885 he was appointed Clerk of Court. He held the job longer than any other person elected to office, 38 years. A township in the county is named for him. Elmer who came to Aitkin in 1880 doing various work until he became associated with his brother-in-law "Tinker" Marr. Following the death of Mr. Marr he purchased the business. His son Ellis, joined him in the business in 1923. Elmer died in 1937.

MRS. SERENA HAUGEN GOWARD

Among the outstanding pioneer women of Aitkin, Mrs. E. J. Goward (Serena Haugen) stands in line with those early settlers of the late 70's and early 80's who unselfishly contributed so much to the foundation and progress of Aitkin.

Serena was born in New Year's Day in Gulbransdahlen, Norway, in 1870. She came to Aitkin in 1880 with other members of her family and lived with her sister Mrs. E. B. Lowell, until she married Mr. Goward in 1898. she attended public schools in Aitkin, then to St. Cloud Normal School. she taught school until she was elected to the office of County Superintendent of Schools in the mid 90's. She married F. J. Goward in 1898.

THE TIBBETTS FAMILY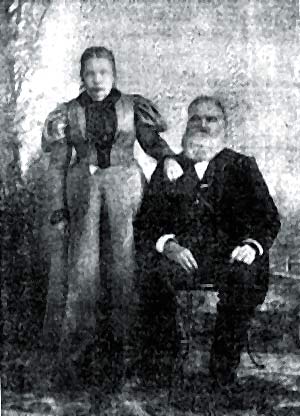 James Warren Tibbetts and his wife, Hannah Maria (Heath) Tibbetts

Contributed by John Harrison, great-grandson of James and by Jacquie Sorby. Both contributors are researching the Tibbetts family and would enjoy contacting others who are doing the same.



In the fall of 1870, James Warren Tibbetts and brother Joshua Tibbetts, took a contract to furnish ties for the Northern Pacific railway which was being built. This contract was to start at Crow Wing and extend to Aitkin, then known as "Mud River," named by the Indians.

In the spring of 1871 James's family came to Mud River, his wife and eight of their nine children. Traveling by train, stage coach, and sleigh. As the weather grew warm, the mosquitoes became so thick that the mother took the children, with the exception of the two oldest boys and returned to Elk River.

In June 1872 Bertha Grace the first white child was born in Aitkin. She later married Albert Zeese.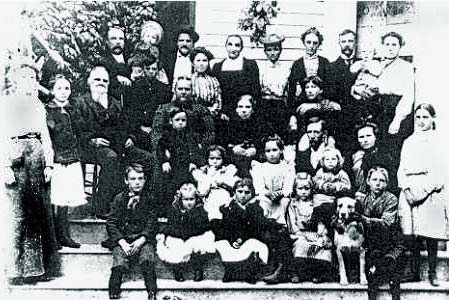 The Tibbetts Family

Contributed by John Harrison
and by Jacquie Sorby.



Back row L-R: Uncle Cash Tibbetts (holding one of the Lackies); James Giles "Dill" Tibbetts; Aunt Sarah Tibbetts Howe; Aunt Charity Nash Tibbetts (Cash's wife); Cousin Pearl Howe Withee; Uncle Albert Zeese (holding Jim Zeese); Aunt Bertha Tibbetts Zeese.

Next row: Cousin Mildred Dick; Cousin Laura Howe; Grandpa (James Warren Tibbetts ~ 1st white settler in Aitkin); Cousin Paul Zeese; Cousin Alma Polley Lackie; Mary McGillis Tibbetts (James Giles Tibbetts' wife).

Next row: Aunt Chaney Tibbetts Berry (holding one of the Lackies); Grandma (James Warren Tibbetts wife).

Next row: Cousin Muriel Tibbetts Zeese; Cousin Lela Spalding; Uncle John Spalding (holding John Jr.); Aunt Anise Tibbetts Spalding; Cousin Nina Berry.

Front row: Cousin Elmer Tibbetts; Cousin Cora Howe; Cousin Elsie Spalding; Cousin Myra Withee (Pearl's daughter); Cousin Nat Spalding and Rover (dog).

Chaney (Christiana) Tibbetts first married John Lackey who abandoned the family and disappeared. She then married Calvin Berry in 1880. The two Lackie children in the picture must be Ralph (born April 1898) and George (born December 1899). Chaney's husband John and a son John (who was killed in a logging accident in 1900) are the only ones I know of that spelled the surname "Lackey."

ERIK JAKOB GRUNDSTROM

Erik Jakob Grundstrom was an early homesteader who farmed in Nordland Township, having immigrated from Sweden in 1862.

(Contributed by Jim & Carol Grundstrom-Ganley.)

HOME