---

THE WALL FAMILY SCRAPBOOK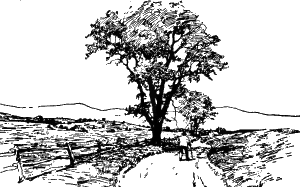 "TRIP OF DISCOVERY"
by Randy Calvin Wall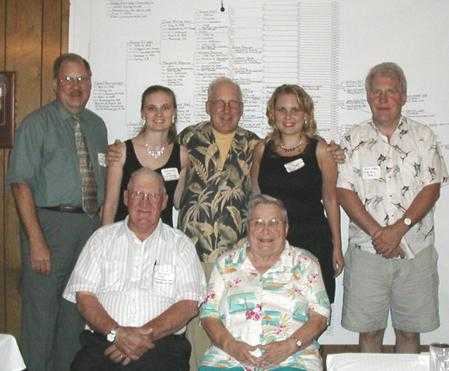 Sitting: Betty and Cal Wall
Standing: Mike, Shannon, Randy, Sherry, and Kim Wall
Shannon and Sherry are Mikes' daughters

In July of 1997 my parents, Betty and Cal, went back to where mother's parents came from ~ Sweden! Two of their children, my brother Mike and I, went with them. Mike brought his special friend, Cathy Rannels. When our other relatives heard that Betty and Cal were going, they jumped on board. Niece Sue (Nickander) Johnson and her husband Bob and daughter Kristen went, plus Sue's two brothers, Gary and Joan Nickander and Rod and Kay Nickander. Then Joe and Gloria (Swanson) Copley also came along. We were fourteen in all, a group of Nickanders and Swansons bonding to go to Sweden and back to our roots. Since the first book about these two families was published, listing all our relatives and the birth places of our ancestors, everyone knew this truly was a "Trip of Discovery."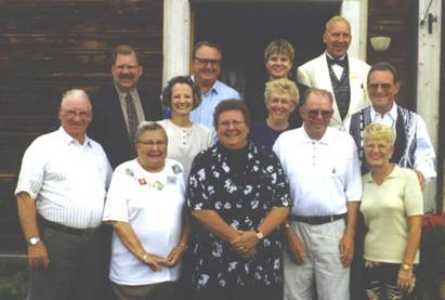 Front: Cal & Betty, Sue & Bob Johnson, & Kay Nickander. Middle: Cathy Rannels, Joan Nickander, & Rod Nickander. Back: Mike Wall, Gary Nickander, Kristen (Johnson) Fears and Randy. Aug. 1997, Klövsjö, Jämtland, Sweden.



We spent 21 days in Sweden and every day was perfect. The temperature remained in the low 80's and there was no humidity. There were three family reunions, a formal dinner party with musicians, and a cousins' wedding which we were able to attend. Betty's mother, Ida Swanson, came from Medelpad, by Fränsta and her father, Matt Nickander, came from Klövsjö, in Jämtland. What a thrill it was to see mother at the birthplace of her parents, especially with so many of her own family members along. Our trip was recorded in the newspapers, not only here in Minnesota ~ Aitkin Age and New Brighton Bulletin ~ but also in four newspapers in Sweden from the areas that we visited. It was a well-documented journey.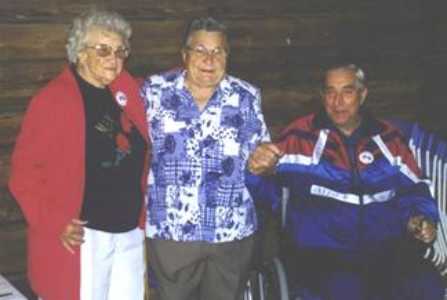 Betty is in the middle with two Swanson cousins of hers, which are gone today: Siblings Maj (Söderland) Persson, and Gustav Söderlund of Ytterhogdal, Härjedalen, Sweden, August, 1997



I will never forget the moment Gloria, my second cousin, stepped out in front of everyone and stood on a rock ledge which was once the doorway to a home that once stood there. This home is the place where her father, Erick Swanson, was born, and Gloria came back to Sweden, and traveled many miles across country to Mållång, and turned to all of us at this special place, and welcomed us to her father's home. None of the buildings are standing anymore, but a man who knew the farm as it once had been, marked on a tree the spot where the old folks had lived. You should have heard the quietness that came over the forest when Gloria started to speak to all of us. There was a large group at her father's home, 24 of us at least, including a minister and a newspaper reporter. The sun broke out as Gloria spoke and she said, "He is watching me today and is so happy that we have made this journey." Tears were in everybody's eyes. As my mother Betty stepped on the rock ledge, she quipped, "We came for coffee!" Then the man who marked everything told the interpreter (the local minister from the village) about the house and farm and how it used to be. What a great day it was for all of us. What a day for Gloria.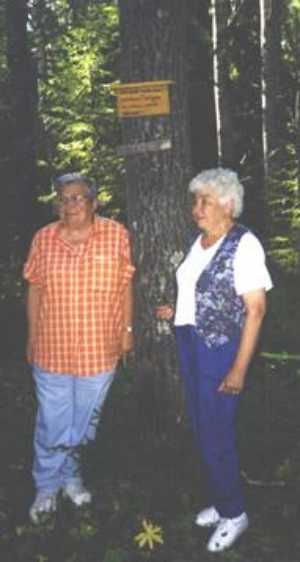 Betty with Gloria at her father's place of birth: Mållång, Hälsingland, Sweden, August, 1997



I hope our journey inspires others to go to Sweden. We have so many relatives there today, that we found from doing research, who will Välkommen you into their homes. You must go!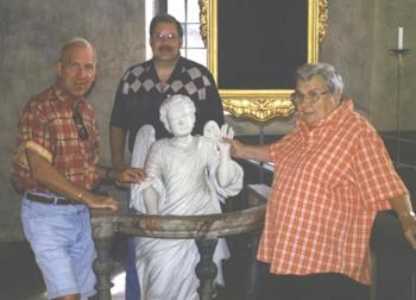 Here is Randy & Mike with Betty in Sweden, with an angel carved by Betty's 6th generation grandfather, Jonas Granberg. Betty tried to get it into her suitcase! Oviken, Jämtland, Sweden, August, 1997.



The Wall family also just put out a history on Cal Wall, my father. His ancestors came from England and Ireland and one family line has been here through all the wars in America history. We found the family farm in Ireland, "Four Ash Trees," and where Cal's great grandfather carved his name on the Oregon Trail. Cal grew up in Aitkin County. His parents, Ed and Viola (Armstrong) Wall, came from Jolley Iowa, moving first to Morrison Township along the Mississippi, then on to Palisade in Logan Township, and later to the town of Thor in Lee Township. Cal and Betty have a place in Kimberly Township today, "Blue Bird Acres." Visit them soon.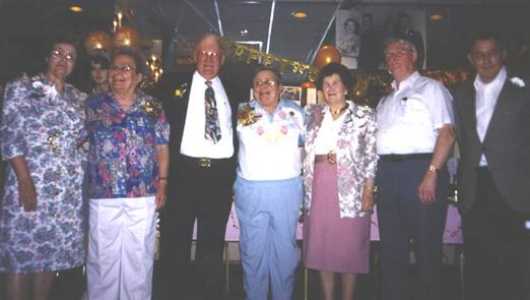 Pure Gold ~ Betty and Cal with Willard and Lois on their Golden Anniversary Day. There are now fifty years plus in the marriages.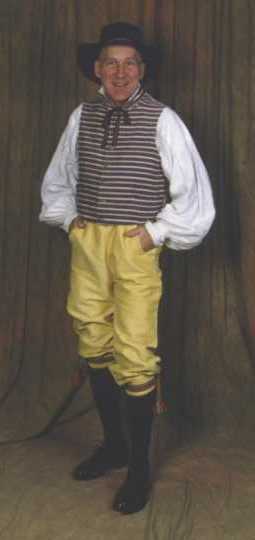 This is Randy in his Swedish Folk Dräkt costume from
Medelpad, Sweden, the birthplace of his grandmother.


He says: "Grandma's family gave this to me in a reception for my family back in Sweden. They called me up on stage and blind-folded me. They held up blankets so no one could see what they were doing. My cousin, Anders Udd, led the audience in sing-along songs while the others pulled my cloths off and dressed me in this costume. This was done by Ove and Märta-Stina Westin's family. What a wonderful surprise. We were in Sweden for 21 days on that trip and I'm sure glad I still had underwear left because we had planned to do laundry the next day!"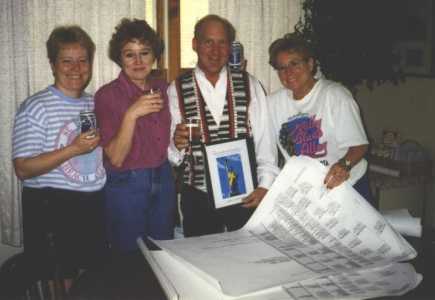 L to R with Randy: Barbara Byler, Debra Janzen and Terry Sylvester


Here we are folding ancestor's charts for the Nickander/Swanson Book. Over 300 have been sold to date. Uff-da! Thank you dear cousins ~ the Hagman Sisters. You have been there always. At times I needed you more, and you gave me all your strength. We will always be together. Genelogy has given us a wonderful hobby, and it is for the future of our family generations. They will enjoy our work. I'll drink to that! Rint!


"PHOTO ALBUM"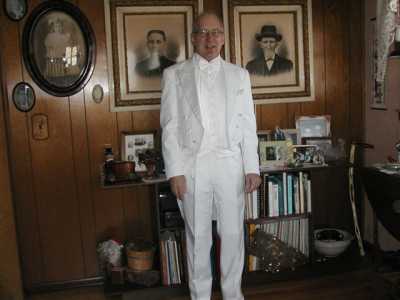 Randy Calvin Wall
In the background are his ancestors.


He says: "Genealogists never have any Wall space left in their homes. We always fill them up with anything and everything. Visit the 'House of Walls' and see all the history!"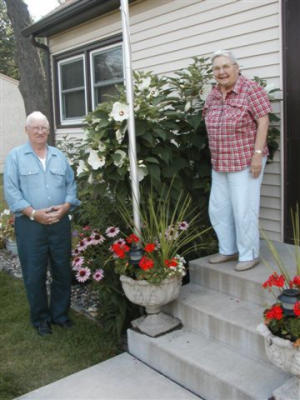 Calvin and Betty Wall
August 9, 2003
Mounds View, Minnesota
Aren't their flowers glorious!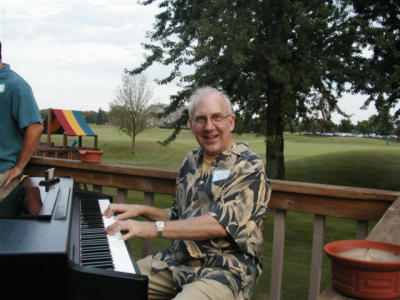 Randy performing on the Edinburgh, MN golf course
August 9, 2003
He's making a good recovery from his back surgery.
If you've never heard Randy play the piano, you've missed something else that's glorious!
Remember, always hug the piano players ~ they never get to dance.

HOME