THE TOWN OF BAIN, MINNESOTA



BAIN PHOTOS
BAIN HISTORY



BAIN GENEALOGY






Where once the sounds of happy children
Now only silence dwells.
The people moved away,
The village died.
Only memories remain
In the minds of elder folk
Who once here did dwell.
The dim past stutters in their failing minds,
And a smile brightens
- momentarily -
An aged face with wrinkles lined.

Written by Grant B. Ward






BAIN TOWN BOARD

The man on the far right is Loe Olds.
Other names written on the photo could be Jenkins, Rob?, Stratton and Olds.
Contributed by Steve Olds through Stacy Vellas







BAIN TOWN HALL

It's the white building in the background.
That's Patty Megarry holding her doll.
The home on the right is Art Christianson's.
Contributed by Steve Olds through Stacy Vellas

EXCERPT FROM "BEYOND THE CIRCLE"
by Leo Trunt

Published with Permission of the Author
Transcribed by Karen Klennert
For Purchasing Information, Contact Leo Trunt


History is replete with examples of how villages formed, grew, and either survived or faded away. Some villages simply could not survive because they didn't have a sustaining industry or perhaps the natural resources that founded them were exhausted. In some cases, the location of the village influenced its fate. The story of Bain is one of rapid growth, near total destruction, a rebirth, and then a gradual fading away.

About the year 1900, there began a northward migration of settlers from the Aitkin area. One such early settler was John Allen. He started a farm near Bain that was known as the "Allen Ranch." Other travelers would stop there to eat or spend the night as they traveled through the country.

In 1901, a man by the name of William Bain came to settle in this area. His homestead was located just west of what became Bain. Others came in, and soon a fledgling farming community began to form. A big problem that these farmers faced was the very poor roads in the area, and so it was difficult to move around or get their farm products to market. They were mostly subsistence farmers at first.


THE WILLIAM BAIN HOMESTEAD, 1901
Courtesy of The Aitkin County Historical Society


A real boom came to this locality when the Soo Line Railroad came through in 1909. A year later, the Soo had worked its way into Swatara. Some of the local men got work in the construction of the railroad. Now a much easier access to markets could be had by the farmers.

As was the custom of railroads in those days, a stopping place was established. Typically the railroads would place these stopping places about five to six miles apart. That was about the limit to relatively easy traveling distance for farmers in wagons or sleighs. If the stations were much farther apart, it would be more difficult for the farmers to get to the station, and as such, it would be bad for business for the railroad.

Shortly after the main line was put through, the Soo Line constructed facilities at Bain. In honor of the prominent local farmer, the railroad stop was named after William Bain. In October of 1910, a 24 by 28 foot section house was built with a shallow well of 18 feet. A 9 by 10 foot handcar house was also put in. In 1911, an 8 by 36 foot passenger platform was constructed. A "Dago House" was placed at Bain in 1912. The Soo records don't explain what a "Dago House" was, but they state it was a boxcar. They may have been referring to a place for Italian track gangs to board in while working that section of track. [See also the Village of Shovel Lake page for more explanation.] A two-stall outhouse was put in place in November of 1912. In December, a train order signal was put in place. That same month, a 24 by 56 foot depot was built.

The Tri-State Land Company under its president, Mr. E. Pennington, platted the town site of Bain on August 12, 1910. They were probably working in conjunction with the Soo Line Railroad in order to promote the line and draw people and investments to the new village.

Other people who moved into the area were Edgar Kingsley, Lamont and Cecilia Kingsley, Walter Bovee, Fred Geisdorf, Vern Ladd, Vance Sherrill, Maggie Thurston, Emeline Dixon, John Thomas, Hank Landers, Mr. Hache, Mr. Peddycourt, Oscar Bolme, the Boatmans, Lloyd Morton, Mr. and Mrs. Violet, Herman Haake, Ace Pratt, Charles and Bill Megarry, and others.

The Megarry boys grew up on a farm south toward Aitkin near where Highway 169 crosses the Mississippi River. The came to Bain seeing an opportunity to go into business and prosper in the new town. The Megarry brothers built a store at Bain and sold groceries and other goods to the local residents. They also bought timber products, along with potatoes, and shipped them out over the Soo Line. "Megarry brothers are shipping another carload of potatoes this week. Look Out! We will soon have no potatoes left to eat."

There were a few other businesses established after the railroad came, but just what they were or who built them is somewhat vague. William Bain built a hotel near the Megarry Store. Written historical records for the period of 1910-1918 are sketchy at best. It is believed that there was another store owned by Mrs. Waldeck, a school and a few homes. Growth came at a fast pace, and on July 18, 1911, the township of Bain was established. Then disaster struck! There had been several years of less than customary rainfall, and 1918 was exceptionally dry. All summer, dry winds blew which made the entire country a tinderbox. On Saturday, October 12th, a devastating fire broke out. It swept from west to east on powerful winds that moved so quickly that many could not escape it. Hundreds died throughout the region, and a local paper described the carnage: "The toll in human life and property exacted by the great fire which swept through Northeastern Minnesota on Saturday afternoon and night makes it the worst disaster that has ever visited the state. From Aitkin on the west to Lake Superior on the east, a great stretch of country is burned over and is now a desolated waste, while hundreds of people have perished in the flames and towns have been obliterated....The town of Bain, north of Aitkin, on the Soo Railway, was also burned, with the exception of the residence of Mrs. Harry Boatman, the residence of Charley Megarry, the schoolhouse and a small stable. The stores of Mrs. P.T.Waldeck and William Megarry were wiped out and everything burned, including the post office. At Bain, also, a train loaded with coal which could not proceed on account of the fire, is standing on a sidetrack burning." One resident states that the residents of Bain boarded the passenger train, which then backed up to Palisade where they waited in safety. Charlie Fisher stayed and saved Charles Megarry's house.

The fire was a grave loss, but the people of Bain were determined to rebuild. Mr. Clark put in a two story building where he had a livery business and a hall upstairs. Mrs. Waldeck rebuilt her store, and then Vance Sherrill purchased it. The Boatmans built a restaurant, and several homes were replaced. They built a town hall that was used for various functions over the years.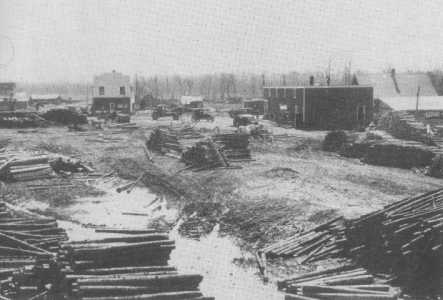 TOWNSITE OF BAIN, 1920
Picture taken after the 1918 fire when the town was rebuilt.
Vance Sherrill Store is in the center,
with the Megarry Store in the center right.
Courtesy of Clifford Johnson




A PENCIL FROM THE MEGARRY STORE
Courtesy of Randy Wall who discovered this survivor of the fire on Ebay.
(Not included in the book)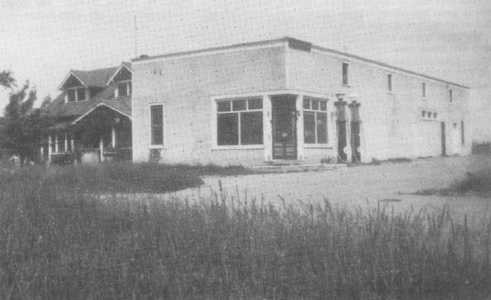 THE BILL AND CHARLIE MEGARRY STORE, 1936
Feed store is on the right part of the building
with Bill Megarry's home in the center.
Art Christenson's home is to the left
with the Bain Townhall to the extreme left.
Courtesy of Alice Baker


The surviving wood school was used until a new brick school was built in 1925. Just when the first wood school was built is not known. However, the first school teacher was Maude Dilley, and she taught the 1916-1917 school year. There were so many children attending school that, while the brick school was under construction, they were forced to hold school in the town hall as well as the old school. The new school had grades from one to ten. Cecilia Kingsley remembers coming to Bain. "When I got off the train at Bain, I thought I was in the middle of nowhere! I did admire the school. It was a nice brick building and is said to be the only school that taught grades 1-10 in session." There was a lot of support for the local school, and fund-raisers were common. "The teacher and girls from the upper grades at school had a food sale at Megarry Brothers Store Saturday afternoon. The net sum of $7.80 was taken in. The proceeds were to buy a basketball for the school children."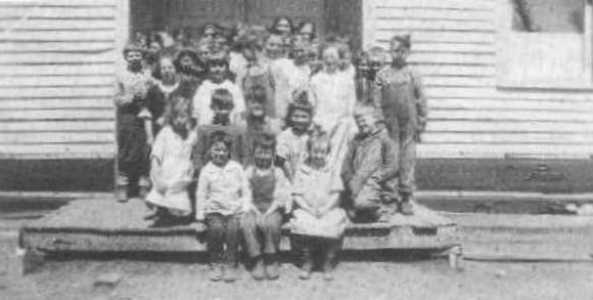 FIRST BAIN SCHOOL, 1922
Courtesy of Clifford Johnson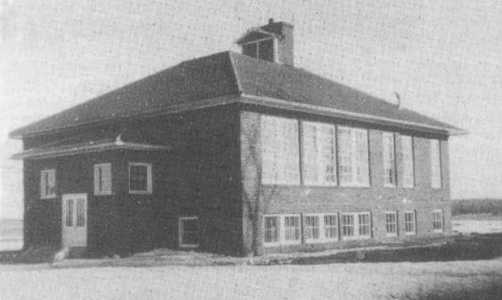 SECOND BAIN SCHOOL, 1926
Courtesy of Aitkin County Historical Society


While the village of Bain went under reconstruction, the neighboring farms also rebounded, and a period of relative prosperity ensued.

The Soo Line also made improvements. December of 1918 saw them rebuild the outhouse. There were priorities, it seemed. Then they began in earnest. In January of 1919, a boxcar body was put in place for a section house. In February, a temporary freight house was set up by using a boxcar. In May of that year, a new depot, section house, and platform were built. A new signal and handcar house followed in June. Two boxcar bodies were put together in August of 1920, to be used as a house for the agent. A stockyard and well for the livestock were built in January of 1922. In 1933, the handcar house was rebuilt, and in 1945, the loading platform was replaced by a new one.

The train's arrivals were an important event for the town. One former resident recalls: "The passenger train went each way six days a week. The west bound came at 1:15 P.M. and the east bound at 2:38 P.M. There was one freight train every other day." (Per letter written by Clifford Johnson dated 2/22/1996.) Some of the men who worked on the section gang at Bain were Wilmar and Wendel Bain, Barl Wilgess and Lloyd Morton, with W.C. Geisdorf as the section foreman.

The 1920's saw a number of improvements in Bain. Businesses came to town such as Vern Ladd's Sawmill, Fred Geisdorf's Blacksmith Shop, Albert Morten's Shoe Shop, Se Pratt's Candy Store (later Mr. Fogg's), and so forth. "Martin Clark operated a freight service. For many years he transported goods over a tote road from the steamboat landing at Waldeck's ranch to Bain." (Mille Lacs Electric Outlet ~ May 1976)

To the west of Bain was the White Elk community, which was a large farming community that was tributary to Bain for a number of years. They had built the Four Corners School and the White Elk School. White Elk Township was organized on April 12, 1910 and then dissolved on June 7, 1938. This area suffered greatly during the depression years, and the population dwindled. There are still dedicated farmers and residents living there to this day, and White Elk Township remains a peaceful and quiet locale. To the east of Bain were several farmers who lived along the ditch banks in Hebron Township. They were T. R. Stewert, Carl Christensen, Charlie Rhodes, Victor Warren and others.

The farmers took pride in their agricultural prowess. They were constantly entering their various crops in the county fair. One young farmer won an award: "Philip Lamke, one of the pupils in our school, has the honor of having raised the best acre of corn in northern Minnesota and will receive a medal from the state agricultural department." (Aitkin Republican ~ January 7, 1926)

At one time, it was thought that there might be some mineral wealth near Bain. "The mining department of the Great Northern Railway Company is making explorations for iron ore in Aitkin County, with drilling operations going on near Bain and at Ball Bluff. The company has options on several thousand acres of land in that region, where iron ore is thought to exist, and the drilling work is to ascertain the exact extent of such ore bodies as may be there." (Remer Record ~ July 12, 1929)

The residents of Bain were conservative and of a religious nature. There were a number of church gatherings, and preachers were invited to town to evangelize. One such event occurred in 1925. "A gospel workers convention will be held on May 30 and 31 at the Bain school house. The program will be some very prominent pastors and the gatherings promise to be inspiring and interesting. Special music is planned as features of every session. On Sunday the entire community is invited to have a picnic dinner at the church, each family to bring a basket. The complete program as announced by the Rev. Lottie Buttermore are as follows:
Sat. 8 P.M. ~ Sermon by Rev. Lester Fletcher
Sun. 10:15 A.M. ~ A gathering of the Sunday School
Sun. 10:30 A.M. ~ Love feast led by Rev. W. E. Reeve
Sun. 11 A.M. ~ Preaching by Rev. W. R. Emerson of Charles City, IA
Sun. 1 P.M. ~ Sacrament of the Lord's supper
Sun. 2:30 P.M. ~ Preaching by evangelist Miss Elizabeth McLaughlin
Sun. 8 P.M. ~ Preaching, probably by Rev. W. R. Emerson
Other workers are expected and will have a part on the program." (Aitkin Republican ~ May 28, 1925)

In the early years, the main north-south route was Highway 35 which went through the area to the west of Bain. It came from the south and went north through the Four Corners area. Then in 1929, construction started on the new Highway 169 which was built from the Highway 21 wye (sic ~ may stand for "Y"), south of Bain to Hill City. A large oil tank was built at Bain in 1931 and was used to fill the oil trucks that were used in paving the highway. The large tanks were filled by railroad tanker cars.

About this time, the Megarry Brothers could see that business was drying up for them at Bain. They decided to go into the road construction business and took several jobs in the area. Soon they were doing jobs at Brainerd and throughout the state. Eventually, they left Bain altogether.

Bain telephone service was linked to other systems in the early thirties. "The Ball Bluff and Turner telephone line has been connected. The new central has been installed at the Mark Jacobs residence." (Aitkin Age ~ November 30, 1931)

The village of Bain received power in 1930. "A line is now being built to connect McGregor and Remer, having now reached Bain and will be into Swatara this winter before work stops." (Remer Record ~ November 30, 1930) It took until 1940 to get power out in the surrounding countryside.

Bain was known as a "dry town" because the people did not want alcohol in town. It was felt to be a corrupting influence. Still, there were some in the area that did like to have a drink or two. A man by the name of Charles Dares set up shop just outside of Bain on the southeast corner of the Bain Road and Highway 169. Charlie had come from Greece originally, and had worked in New York before coming to Minnesota. He had lived north of Haypoint for a time, but got into some trouble there and so in 1936, he built his place near Bain. Charlie was a talented musician and played the violin. He would get together with a good friend named Jim Vellas, who played the banjo, and they would play at local dances. Charlie's place consisted of a small store, a bar, a cafe, and an apartment in the back. Charlie also sold gas and oil. (Per letter written by Stacy Vellas dated 12/6/1996)

The story is told that in 1946, Elmer Clemons took over Charlie's store. A deed shows the transfer to Lillian Clemons in 1949. At any rate, for some reason Charlie Dares became displeased with the new owners who bought his tavern. Charlie still owned a large amount of land near the corner, so he bought and moved Emeline Dixon's house out of Bain and set up shop just south of his old store. He ran his new business there for a number of years, even though it was a much smaller building.

Later on, Floyd Jewett bought Lillian Clemons' store and ran it for a few years. There were a few other parties there until finally Lloyd Howard took over. There is no recorded deed for Lloyd, but many remember him being there. "We used to go to Lloyd's place when we were young.. Lloyd was always good to us. He did get upset though when we made a mess of his pool table." (Per interview with Bob Gatz on 10/4/1996) Lloyd took over about 1965 and ran the place until it burned to the ground on October 14, 1970. (Per Lyle Ward, Palisade Fire Chief on 10/6/1996)

While the economy around Bain was healthy in the twenties, it went downhill in the thirties. The Great Depression devastated the area. The timber had mostly been cut, and the farmers were not able to get a decent return on their crops. One by one, the businesses folded up.

The township struggled on until it was dissolved on June 10, 1939. The old township hall was sold to Waukenabo Township in 1943, then it was moved to that township where it serves the people there to this day. The forties saw more decline for Bain. In 1942, the mission church of the Hill City Trinity Lutheran Church at Bain was closed. The school was closed around 1950. The depot burned down in 1955. The stores were eventually torn down as well.

Bain slowly faded away. There are still farms in operation in the area, but most of the commerce goes to towns some distance away. The hearty residents still love the area, and the spirit of Bain lives on.

BACK
HOME