---

THE TOWN OF GLEN, MINNESOTA

GLEN TOWN SCHOOL



GLEN TOWN SCHOOLBOOK




Soon as the playing period came
Our books and toil we laid aside,
And gave our zeal to every game
As to the play-ground forth we hied.

In due proportion thus the hours
Were yielded up to work and play ~
The body trained, the mental powers
Unfolded in true wisdom's way.

We feel both glad and sad, to-day,
And scarce can hide the rising fear,
We're glad for changes on life's way
Yet sad to part from schoolmates dear.

Ah me, that same will not appear
When opes again the schoolhouse door,
How oft their hearts within will burn
As they recall the scenes of yore.

Where'er they go to do the will
Of Him who guides each boy and girl,
May peace and gladness o'er them still
Their banner brave and true unfurl.

So one and all my pupils dear,
Whatever comes of joy or stress
Your teacher bids you have good cheer
And win the crown of true success.

THE SCHOOL TEACHER'S CREED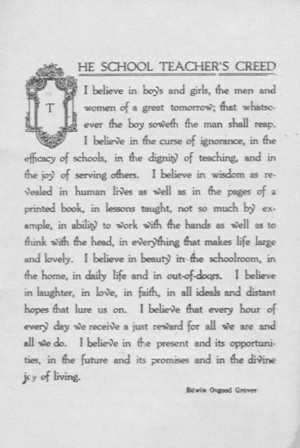 I believe in boys and girls, the men and women of a great tomorrow; that whatsoever the boy soweth the man shall reap. I believe in the curse of ignorance, in the efficacy of schools, in the dignity of teaching, and in the joy of serving others. I believe in wisdom revealed in human lives as well as in the pages of a printed book, in lessons taught, not so much by example, in ability to work with the hands as well as to think with the head, in everything that makes life large and lovely. I believe in beauty in the schoolroom, in the home, in daily life, and out-of-doors. I believe in laughter, in love, in faith, in all ideals and distant hopes that lure us on. I believe that every hour of every day we receive a just reward for all we are and all we do. I believe in the present and its opportunities, in the future and its promises and in the divine joy of living.

Edwin Osgood Grover

NEXT
BACK
HOME