Obituaries for Surnames Beginning With "R"
Aitkin County, Minnesota

Unless otherwise noted, these obituaries were contributed by
Karen Klennert
and are from the Aitkin Independant Age Newspaper.


SHIRLEY MAE RELANDER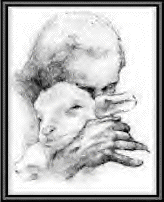 Miss Shirley Mae Relander, 19, of Jacobson, died Saturday, November 13, 1971, as the result of injuries received in a traffic accident late Friday evening. She was dead on arrival at Itasca Memorial Hospital. The accident had occurred near Jacobson.

Miss Relander was born May 25, 1962, in Grand Rapids, Minnesota, the daughter of Mr. and Mrs. Melvin Relander of Jacobson. She attended schools at McGregor and graduated from McGregor High School in 1970. She had been employed by Plastic Research Co., Rush City, Minnesota for the past year, and was visiting at home the weekend the accident occurred.

Funeral services were at 2 p.m. on Tuesday, November 16, at the Rowe Funeral Home, Grand Rapids, with Rev. James Elvig officiating. Visitation was after 3 p.m. Monday. Interment was in Ball Bluff Cemetery, Ball Bluff, Jacobson, Minnesota.

Miss Relander is survived by her parents; also two sisters, Mrs. John (Beryl) Pellersels, Blackberry; and Mrs. Michael (Barbara) McCauley, Warba; two brothers, Bruce in Gilbert, and Paul in Jacobson; one nephew and two nieces.

Contributed by Karen Klennert
Source: Family

CLARA LOUISE ROLES
July 27, 1905 ~ December 26, 2002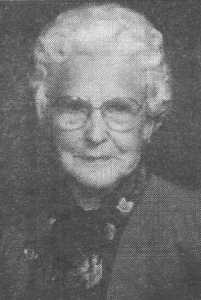 Aitkin Age Newspaper, Sunday, December 29, 2002

Clara Louise Roles, 97, Prescott, Ariz., died Thursday, Dec. 26, 2002, at Yavapai Regional Medical Center, Prescott.

She was born July 27, 1905, in Jacobson to Peter and Albertina (Norberg) Lundin. After her schooling she moved to Duluth to work where she met and married Hilding P. Helgren. After his unexpected death she moved to Grand Rapids where she raised her three children. She married John Adolph Gilbert in 1957 in Grand Rapids. After his retirement, they moved to Mesa, Arizona, but continued to spend their summers in Grand Rapids, until 1974, when Adolph passed away. She met and married Matthew Roles in 1976 and they made their home in Mesa until his death in 1985. She lived in a retirement village in Mesa, then moved to Prescott to be closer to her son. She was a member of the Zion Lutheran Church in Grand Rapids and the Arbutus Rebekah Lodge of Grand Rapids.

She is survived by a son, Hilding R. Helgren, Mayer Ariz.; two daughters, Gladys (William) Peters, Marble, and Deloris Root, Grand Rapids; a brother, Robert Lundin, Jacobson; three sisters, Emma Lindstrom, Stillwater, Dorothy Kokkonen, Grand Rapids, and June Kaler, Coon Rapids; nine grandchildren, 17 great-grandchildren, and nine great-great-grandchildren; and numerous nieces and nephews.

Preceding her in death were her parents; three husbands; two brothers, Victor Lundin and Walter Lundin; five sisters, Eleanor Lundin, Hildur Saari, Esther Hunter, Edith Carlson, Jeanette Soulis, and Mary Neary; and one granddaughter, Sandra (Peters) Ott.

Services will be conducted at a later date.

Contributed by Karen Klennert
Source: Aitkin Independent Age Newspaper and Family

DAVID WATTERSON-REHWINKLE



David R. Watterson-Rehwinkle, 31, Aitkin, died Dec. 20, 2002, in Kingman, Kansas.

He was born April 18, 1971, in Aitkin. He graduated from Aitkin High School and attended college art courses in St. Cloud. He enjoyed wildlife art work.

Services were held Dec. 29 at the Sorensen-Root-Thompson Funeral Home in Aitkin.

He is survived by his daughters, Miceala Hanson and Charli Rehwinkle; parents, Chris and Dave Rehwinkle; brothers, Steven and James, Aitkin; grandmother, Joyce Johnson, Aitkin; and many aunts, uncles, other relatives and friends.

He was preceded in death by his sister, Sue Ann Rehwinkle, and grandfather, Oscar Johnson.

Arrangements were with the Sorensen-Root-Thompson Funeral Home in Aitkin.


LEONA RAHN



Leona F. Rahn, 82, Aitkin, died January 10, 2003, at the Aicota Health Care Center in Aitkin.

She was born May 15, 1920, in Elk River, the daughter of Steve Toth and Ada M. Judge. She was raised in Elk River and graduated from Elk River High School. She married Conrad Rahn in 1940 in Twin Lakes. They moved to Aitkin in September of 1941. She was a public health nurse with hospice care for many years. She was a member of St. John's Lutheran Church in Aitkin since 1941, she enjoyed teaching Sunday School at the Missouri Lutheran Church in Palisade. Her hobbies included cooking, sewing gardening, baking and going out for garage sales.

Services were held January 13 at St. John's Lutheran Church in Aitkin with Rev. David Becker officiating. Music was provided by Paul Emch.

Honorary pallbearers were her seven grandchildren. Burial will be at a later time.

She is survived by her daughters and son-in-law: Lois and Dennis Holm, McGregor, and Susan Rahn, St. Paul; seven grandchildren; seven great-grandchildren, brothers and sister-in-law, LeRoy Toth and Larry and Joyce Toth, all of Elk River; sister and brother-in-law, Joyce and Alvin Hanson, Garrison; brother-in-law, Ray, International Falls; many nieces, nephews and other relatives.

She was preceded in death by her parents; brothers, Lawrence and Laverne; sisters, Adeline Little, Sylvia Lemmon and Dorris Benson; great-grandchildren, Matthew, Michael and infant child.

Arrangements were with the Willim Funeral Home in Aitkin.


DOUG REID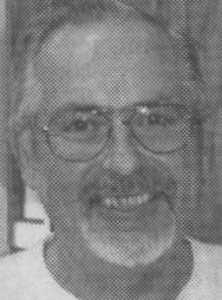 Doug Reid, McGregor, died March 28, 2003, after a sudden bout with kidney cancer.

He was born and raised in Eagan, growing up on the family farm where Doug and his wife, Karen, built their home and raised their three children.

On March 17, 2001, he retired after working 26 years for the city of Eagan, where he had been their chief building official. He had also been Eagan's first fire marshal and civil defense director starting in 1975. He was on the fire department for 13 years, serving as station captain, lead captain, captain, and trustee of the Firemen's Relief Association.

Doug and Karen had relocated to the McGregor area, at Round Lake. He was currently employed by the state of Minnesota as a contract building inspector. He loved the trades, enjoyed stock car racing and was always helping others. He was a member of St. John's Lutheran Church, Wright; Minnewawa Sportsmen's Club; Round Lake Community Club; Cromwell Sno-Gophers' Kettle River Snowmobile Club; MnUSA and Tamarack Sno-Flyers, where he was on the board of directors and was their treasurer.

Funeral services are today, We., April 2, at the Historic St. Peter's Church in Mendota Heights, with burial at St. Peter's Cemetery.

He is survived by his wife, Karen (Holt); daughters and sons-in-law: Rachelle and Chris Glunz; Meloney and Tom Knight; son and daughter-in-law, John and Jeni Reid; five grandchildren: Joey Glunz, Matthew Knight, Marissa and Paige Reid; mother, Violet; brothers and sister-in-law: Richard and Mona, Roger and Linda, and Sidney and Carol.

He was preceded in death by his father, William Reid.

Memorials are preferred to the St. Mary's Hospice Foundation in Duluth.

There will be a memorial celebration at a later date in McGregor.


JOSEPH RONNEI



Joseph J. Ronnei, 69, Minneapolis, died February 12, 2003.

He was born July 7, 1933, in Aitkin, the son of Joseph and Agnes Ronnei. He graduated with Aitkin High School class of 1951 and the University of Minnesota class of 1955. He was a Korean War Veteran.

Services were held February 14 at the Cremation Society Edina Chapel in Edina with Chaplain James DeBruycker officiating. Burial was in the Fort Snelling National Cemetery in Fort Snelling.

He is survived by his children: Bridget and husband Ronnie Hass and Jamie Ronnei; grandchildren; William and Stephanie Hass and Jean Ronnei; sister; Mary Zehrer and Bob Jensen; five nephews; one niece and other relatives and friends.

He was preceded in death by his parents, Joseph and Agnes Ronnei; sister, Evelyn; and brother, Merle.

Arrangements were with the Cremation Society Edina Chapel in Edina.


DONALD RIMER



Donald C. Rimer, 70, Malmo, died August 22, 2003 at the Riverwood Healthcare Center in Aitkin.

He was born October 1, 1932 in Carver County, to Charles and Helen Marsoe Rimer. He served with the U.S. Army, Co. A. 77th Armored Infantry Battalion. He received the National Defense Service Medal, the UN Service Medal, the Korean Service Medal and the Good Conduct Medal. He married Joyce Kammerud on February 8, 1958 in Dresser, Wisconsin. He worked in various departmens for 37 years for the Anderson Window Corp. in Bayport. They moved to the Malmo area about 14 years ago. He was a member of the Bethesda Lutheran Church in Malmo, served on the church council and was an usher. He was also a member of the Bayport American Legion Post #491.

Funeral services will be held today, August 27, 2 p.m. at the Bethesda Lutheran Church in Malmo with the Reverend James Raisanen officiating. Friends may call at the church one hour before the services.

He is survived by his wife; sisters and brother-in-law, Lois Hansen, Yakima, Washington, and Joyce and Bruce Dahlberg, St. Croix Falls, Wisconsin; brothers and sisters-in-law, Ron and Mayelva Rimer, Hudson, Wisconsin and Ralph and Lorraine Rimer, Hinckley; nieces, nephews and other family and many friends and relatives. He was preceded in deathb by his parents, a sister and a brother.

Arrangements are with the Sorensen-Root-Thompson Funeral Home in Aitkin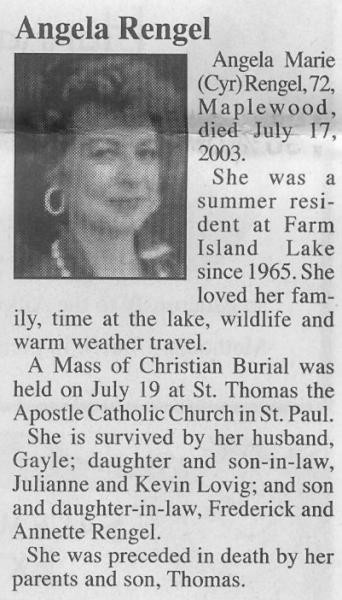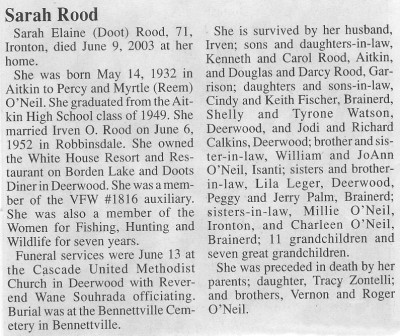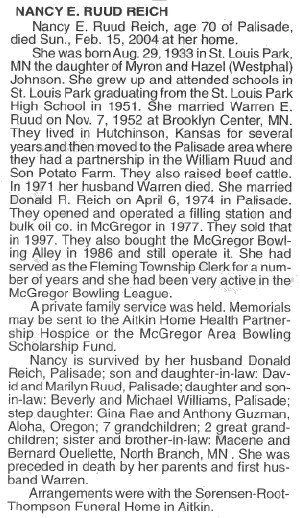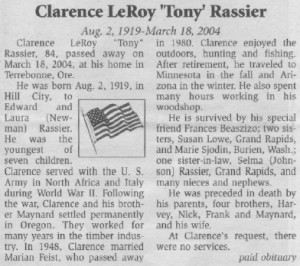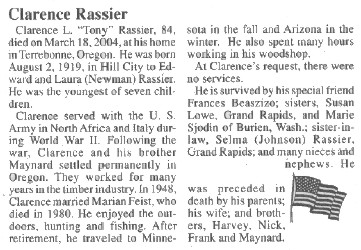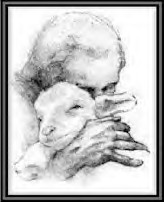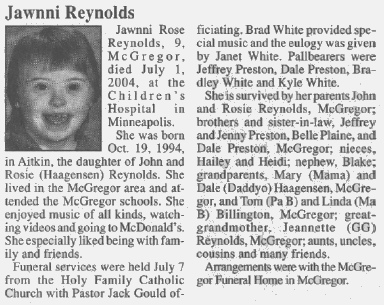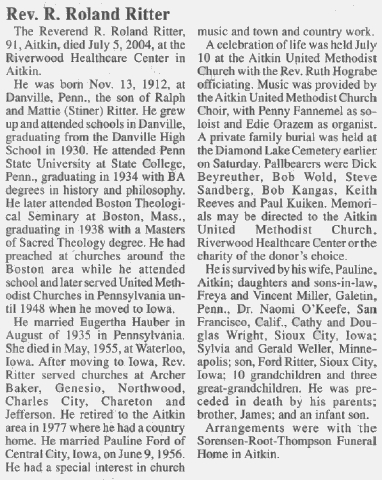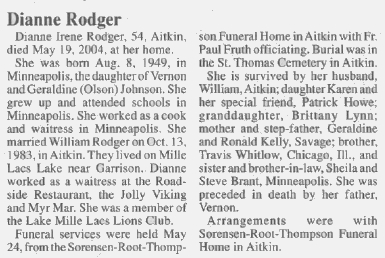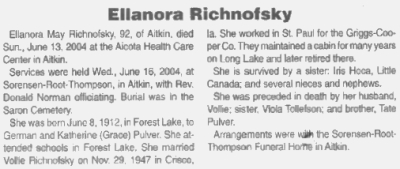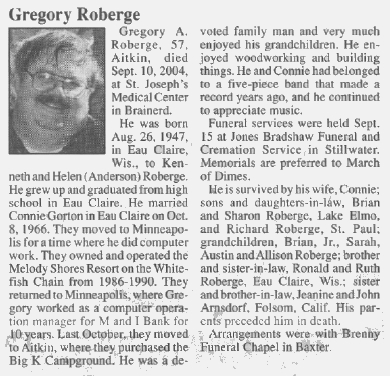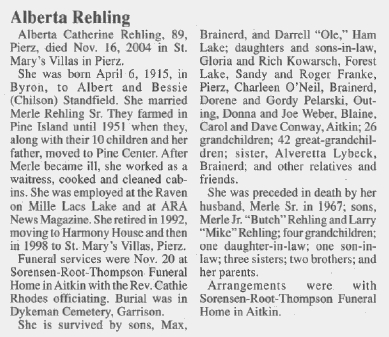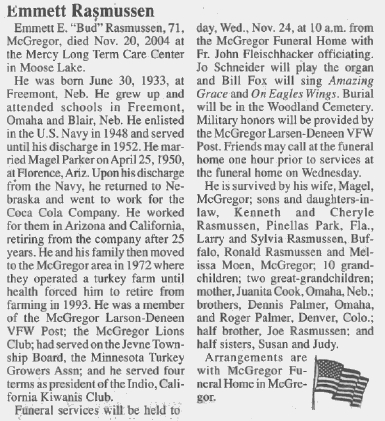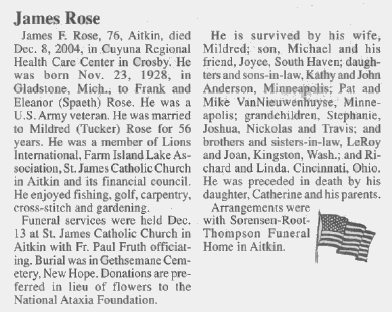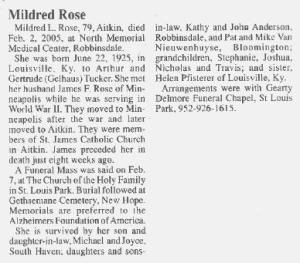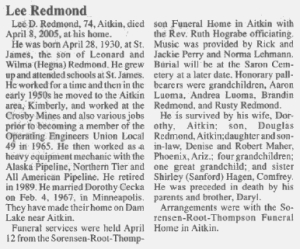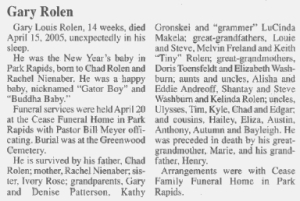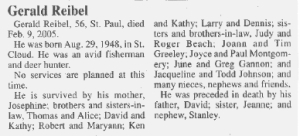 NEXT
BACK