Obituaries for Surnames Beginning With "BA" through "BL"
Aitkin County, Minnesota
Page B2, "BO" through "BU"

Unless otherwise noted, these obituaries were contributed by
Karen Klennert
and are from the Aitkin Independent Age Newspaper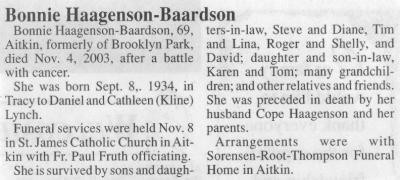 SAM & MARGARET BAILEY




Services for Mr. Sam M. Bailey, born April 2, 1892
and Mrs. Margaret Bailey, born Feb. 25, 1894.
Passed away August 13, 1963.



Funeral services were held on Friday, Aug. 16,at the St. James Catholic church in Swatara for Mr. and Mrs. Sam M. Bailey of Swatara who were killed in an automobile accident Tuesday evening, Aug. 13. Officiating at the service was Father John Doyle. Rosary was recited at the Sorensen-Root Funeral Home Thursday evening. Burial was in the Macville Cemetery. Sorensen-Root Funeral Home were in charge of arrangements.

Pallbearers for Mrs. Bailey were John O'Brien, Dennis O'Brien, Richard O'Brien, Eugene O'Brien, Pat O'Brien and Donald Graton. For Mr. Bailey were Edgar McNeil, Donald O'Neil, John Bailey, Dallas Marsh, Charles O'Brien and Thomas Bailey.

Surviving are four daughters, Mrs. Albert Klennert (Thelma) of Kosota, Minnesota, Mrs. Morris Zaffke (Margaret) of Duluth, Mrs. David Valley (Ethel) of Hill City, Mrs. Carl Bjerkness (Helen) of Swatara; two sons, Robert of Remer, Thomas of Minneapolis; 29 grandchildren. They were preceded in death by a son, John.

Sisters and brothers surviving Mr. Bailey are Mrs. Roy Marsh of Merrifield, Mrs. Peter Ulick of Detroit, Michigan, Mrs. John Werner of West Allis, Wisconsin, Robert of Deerwood, George of McGregor, Thomas of Crosby, John of Merrifield, James of Swatara. Those surviving Mrs. Bailey are three sisters, Mrs. Fred Graton of Deerwood, Mrs. Roy Fanth of Moline, Illinois, Elizabeth of Helena, Montana; six brothers, John O'Brien of Garrison, Melvin of Outing, Archie of Deerwood, James of Moline, Illinois, Russell of Swatara, Robert of Helena, Montana.

Sam Bailey was born at Hector, Minnesota, April 2, 1892. He came to McGregor with his parents in 1902, and later moved with them to Swatara. Mrs. Bailey, the former Margaret O'Brien, was born in Aitkin county February 25, 1894. They were members of the St. James Catholic church in Swatara where Mrs. Bailey was also a member of the Altar Society. Mr. Bailey was a former member of the Aitkin Farm Bureau.

Contributed by Karen Klennert
Source: Family

ELIZABETH 'BETTY' BEAL


Elizabeth "Betty" Beal, 83, of Aitkin, died May 13, 2000, at the Riverwood ExtendedCare Center, Aitkin.

She was born Jan. 13, 1917, near Brainerd to Louis and Delia Lemire. She grew up and attended country schools near Nokay Lake. She married Milo "Pink" Beal Oct. 7, 1938, in Brainerd. They made their home in Aitkin where she raised her family. She was a member of St. James Catholic Church, helped and provided home care for the elderly in the Aitkin community and had been active in the Quilting Club.

Services were held May 16, at St. James Catholic Church, Aitkin with Fr. Patrick J. Coyle officiating. Edie Orazem was the pianist and Mary Grulke was the soloist. Burial was in the Lakeview Cemetery in Aitkin. Pallbearers were Robert and Mary Beal; Jim and Jacquelyn Beal; Stewart Packer, and Nancy and Harvey Lamke.

She is survived by her sons and daughters-in-law, Jim and Jacquelyn Beal, Phoenix, Ariz.; Robert and Mary Beal, Aitkin; four grandchildren; and one great-grandchild.

She was preceded in death by her parents; husband, Milo in 1974; two sisters; and a brother.

Arrangements were with the Sorensen-Root-Thompson Funeral Home in Aitkin.

MARY ANN BAILEY


Funeral Services were held in Aitkin in the Church of St. James. Mrs. Bailey, formerly Mary Ann Lavalee, an old resident of Shovel Lake, died Wednesday of cerebral hemorrhage. She is survived by her husband, John H. Bailey, eight sons, Robert, William, James, George, Tom, Samuel, Alvin, and John Albert, who is in the naval service in France; and five daughters, Mrs. C.R. Marsh, Mrs. Mabel Wernig, Mrs. Grace Werner, Ruth Bailey and Hazel Bailey, and grandchildren.

Contributed by Karen Klennert
Source: Family

JOHN H. BAILEY



John H. Bailey, a resident of the Shovel Lake community the past 24 years, died Tuesday, December 1, 1942, at the home of his son, James Bailey, at Shovel Lake, with whom he made his home. Mr. Bailey suffered a heart ailment but was active up to the time of his death.

He was born in Canada on November 11, 1853. He grew up there and when a young man he came to the United States, settling first in New York state. In 1883 he came to Minnesota, where he lived in McCleod county until coming to Aitkin county in 1902. He lived in Aitkin and also on a farm at Kimberly before moving to Shovel Lake, where he established a permanent home. Since the death of his wife in 1918, he spent part of the time at the homes of his sons, Jim and Sam, Shovel Lake.

Survivors are three daughters, Mrs. Roy Marsh, Brainerd; Mrs. Grace Werner, Milwaukee; Mrs. P.J. Ulich, Detroit, Michigan; seven sons, Robert and Tom of Crosby; William, Milwaukee; George, McGregor; Jim and Sam, Shovel Lake; and John in the service at army camp in Texas. There are also 59 grand children and a number of great grandchildren. Three children preceded the deceased in death.

Services will be held Friday, at the Shovel Lake school house and burial will be in the Shovel Lake Cemetery.



ALVIN RAYMOND BAILEY ~ 1904-1929



The death of Alvin Raymond Bailey, son of John Bailey of Shovel Lake, occurred Saturday at the Deerwood Sanatorium. The young man was 25 years of age.

He was born in Hector, Minnesota December 28, 1903 and came to Aitkin with his parents when a lad. The family moved from here to McGregor and later to Shovel Lake, Minnesota.

Rev. W. Johnson of Hill City officiated at the funeral at Shovel Lake Tuesday and a large congregation attended the service. Out of town relatives in attendance were Robert Bailey and family, McGregor; Mr. and Mrs. William Bailey, Little Falls; John Bailey, Rochester; Mrs. Mike Wernig, Sauk Center; and Mr. and Mrs. Walter Spencer, Brainerd. Three other brothers residing at Shovel Lake are Sam; James and Tom Bailey.

Mr. Bailey enlisted in the U.S.Army in 1922 and was honorably discharged in 1925. He afterward took a responsible position with an automobile firm in Detroit, Michigan, where he resided until forced by ill health to resign last fall, he returned to Aitkin county afflicted with tuberculosis in an advanced stage. He was tenderly cared for by relatives until seven weeks ago upon the advice of his physician he entered the Deerwood sanatorium. The father, seven brothers and five sisters survive. The mother and two brothers have passed away.



KYLE 'BUDDY' BEAUCHEM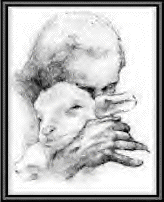 Kyle "Buddy" Eugene Beauchem, 18, Hermantown, died Dec. 24, 2002, at his home.

He was born Nov. 3, 1984, in Aitkin. He attended Hermantown High School and loved football. The Minnesota Vikings were his favorite. He loved life and fought the good fight until the end. He loved everyone he met and taught us all how to love others.

Services were held Dec. 27 at the McGregor Funeral Home with Rev. Barry Hite officiating. Burial was in the Lakeview Cemetery.

He is survived by his parents, Kevin and Sandy Houghton, Palisade; foster-parents, Ron and Sue Carey, Hermantown; sister, Amber; brother, Cody, both of Palisade; and grandparents, John and Joan Beauchem, Palisade.

He was preceded in death by FeFe.

The famiy requests donations to Polinsky Medical Rehabilitation Center of Duluth.

Arrangements were with the McGregor Funeral Home.



EDWARD BERGE



Edward W. Berge, 72, McGregor, died Nov. 10, 2002, at his home. He was born Jan. 4, 1930, in Isle, the son of John G. and Lorretta (Wright) Berge. He attended schools in McGrath, Barnun and then in California. He served in the United States Army during the Korean War and he then continued to serve until his retirement in 1974. He married Klara Zellner on Nov. 16, 1957, in Marktleuthen, Germany. They retired to McGregor in 1975 and have lived here since.

Services were held Nov. 16 at the McGregor Funeral Home in McGregor with Rev. Roy Vanderwerf officiating. Jo Schneider played the organ and Lorena Kelly sang.

He is survived by his wife, Klara, McGregor; children and their spouses: Tracy and Susan Berge, Paulsbo, Wash.; Vicky Keating, Plaserville, Calif.; John Berge, McGregor; Thomas and Karen Berge, Plymouth; and Ronald and Theresa Berge, North Stonington, Conn.; four grandchildren; six great-grandchildren; brother, Howard Berge, Sand Point, Idaho; and sisters and brothers-in-law, Betty and William McMinn, McCool, Miss.; and Mary Jane and Delbert Davenport, Mineral Springs, Ark.

He was preceded in death by his parents, three brothers and one sister.

Arrangements were with the McGregor Funeral Home in McGregor.



VILJO BJORKQUIST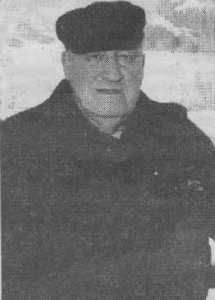 "Be strong and of good courage...."
1st Chronicles 22:13



Viljo Allan "Mike" Bjorkquist, 71, Jacobson, died Saturday, Feb. 8, 2003, at his home.

He was born Jan. 27, 1932, to Victor and Laimi (Kayra) Bjorkquist in Jacobson where he lived most of his life. He graduated from Hill City High School in 1949 and then attended the University of Minnesota. Over the course of his life, he served as an officer and member of the School Board of Independent School District No. 2 in Hill City, the Ball Bluff Township Board, the Jacobson Cooperative Board, the Jacobson Community Center Board, Northland Mental Health Board, Arrowhead Economic Opportunity Agency Board and the Loyal Order of Moose. He was a 25 year member of the Masonic Lodges in Hill City and at Itasca Lodge No. 208 A.F. & A.M. in Grand Rapids. He also was the senior warden in the Finnish Masonic Lodge in Duluth and on the Iron Range. A member of the Toastmasters, he also served with the Arrowhead Regional Development Commission Area Agency on Aging. He was proud of his Finnish heritage and attended Finnish events whenever possible. He traveled to International Finn Fests across the United States and Canada and he traveled to Finland in 1979. He organized the St. Urho's Day Pancake Breakfast and the Hunter's Spaghetti Dinner at the Jacobson Community Center and the July Fourth Masonic Pancake Breakfast. He also was proud of his 32 years of sobriety.

He is survived by four daughters: Michelle Morris, Oakdale; Vicki (Mark) Herman, Jacobson; Shari (Chip) Bjorkquist-Rich, Evergreen, Colo.; Gayla (Jonathan) Bone, Isanti; a son, Jon (Meredith) Bjorkquist, Crosslake; two sisters, Kathryn Peterson and Elizabeth Suomala, both of Duluth; and 12 grandchildren.

Masonic services: Thursday, Feb. 13, at 1 p.m. at Jacobson Community Center, Jacobson, by Itasca Lodge No. 208 A. F. & A.M. of Grand Rapids. Visitation is Wednesday from 5 to 7 p.m. at Rowe Funeral Home.

Burial: Ball Bluff Cemetery, Ball Bluff Township.

Arrangements by Rowe Funeral Home, Grand Rapids.



MILTON BERGLUND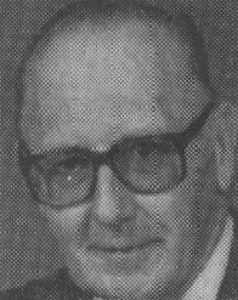 Milton Russell Berglund, 88, Aitkin, died Feb. 2, 2003, at the Cuyuna Regional Care Center in Crosby. He was born Aug. 5, 1914, in Brantwood, Wis., the son of John Emil and Rose Marie (Bachman) Berglund. He married Dorothy Ann Elizabeth Johnson on Sept. 2, 1940. Dorothy died May 20, 1968. He was a United States Navy Veteran serving in World War II. After his military service he worked for Production Credit Association in Redwood Falls and then in Morris. Milton married Gladys (Schwarm) Radtke on June 6, 1969. They made their home in Morris until his retirement in 1977, then moved to their current home on Elm Island Lake in Aitkin County.

Services were held Feb. 6 at the Bethlehem Lutheran church in Aitkin with Rev. Jason Talsness officiating. Burial was in the Bethlehem Cemetery.

He is survived by his wife, Gladys; son and daughter-in-law, Stephen Lansing and Jenny Bergland, Milaca; granddaughter, Marlaina and husband, Chuck Kline, Faribault; step-grandchildren: Deborah and husband, Robert Larkowski, Aitkin; David and Mary Radke, Buffalo; and Dean and Deborah Radtke, Aitkin; many great-grandchildren; sister-in-law, Ruth Christians, Wayzata; and other relatives and friends.

He was preceded in death by his parents, John Emil and Rose Marie (Bachman)) Berglund; first wife, Dorothy Ann Elizabeth (Johnson) Berglund; sister, Verna; and step-von, Dennis Radtke.

Arrangements were with the Sorensen-Root-Thompson Funeral Home in Aitkin.



ANN E. BAILEY



Ann E. Bailey, 95, McGregor, died February 4, 2003, at the Riverwood Healthcare Center in Aitkin.

She was born May 9, 1907, in LeSueur County, the daughter of Joseph and Rosa (Mehotza) Horvet. They moved to the McGregor area when she was a young girl. She attended McGregor Schools. She married Lester Bailey on April 1, 1925, in Aitkin. She was a member of Our Savior's Lutheran Church and the Ladies Aid group. She lived all of her life in McGregor.

A memorial service will be held on Saturday, February 15, at noon at Our Savior's Lutheran Church in McGregor with Pastor Henry Koopman officiating. Janet Miller will play the organ and Lorena Kelly and Bill Haapoja will provide music. Her grandchildren will serve as honorary pallbearers. Friends my call at the church one hour before the services.

She is survived by her son and daughter-in-law, David and Diane Bailey, Mahtowa; daughters and sons-in-law; Lola and Walter Johnson, Betty and Gordon Manchester, June and Richard Olson and Leslie and Richard Hietalati, all of McGregor; 16 grandchildren; 13 great-grandchildren; one great-great-grandchild; sister, Ergie Phillipson, Portland, Oregon; daughter-in-law, Judy Bailey, Clearwater, Florida; and nieces and nephews.

She was preceded in death by her parents; husband, Lester, in 1966; son, Verton; sisters, Margaret and Rose; and daughter-in-law, LaVern Bailey.

Arrangements are with the McGregor Funeral Home in McGregor.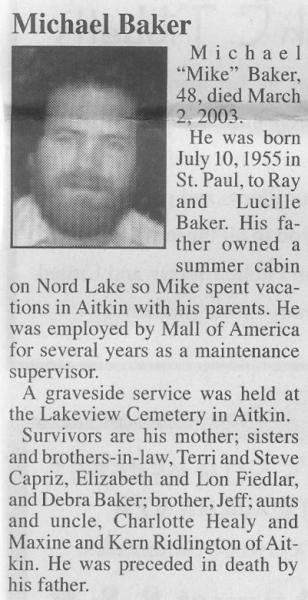 PAMELA BAKER




Pamela Kay Baker, 42, Aitkin, formerly of Gaylord, died Oct. 11, 2003 at her residence in Aitkin.

She was born February 4, 1961 in Gaylord to Donald and Sandra (Squier) Schulte. She graduated from Gaylord High School in 1979. She married Brant Baker on March 17, 2000 at St. John's Lutheran Church in Aitkin. She served with the U.S.Army in Arizona until her honorable discharge in 1980. She was employed by the U.S. Postal Service in Gaylord, Mankato and Brainerd until 1998 when she retired due to ill health. She was a member of the St. John's Lutheran Church in Aitkin. She enjoyed cooking for family and friends, water skiing, fishing and board games.

Funeral services will be held Thursday, October 16 at 2 p.m. at Immanuel Lutheran Church in Gaylord with the Rev. Fredric Hinz officiating. Pallbearers will be Timothy Kuphal, Daniel Kuphal, Samuel Kuphal, Randy Squier, Jeffrey Schubert and Jeffery Brundell. Burial will be in Immanuel Lutheran Cemetery in Gaylord.

Visitation will be today, October 15, from 4-7 p.m. and tomorrow from 7:30 a.m. to noon at the Egesdal Funeral Home in Gaylord and one hour prior to the funeral at the church.

She is survived by her husband, Brant, Aitkin; daughters and son-in-law, Cassandra and Rick Holtz, Brainerd and Samantha Wibsted, Brainerd; grandchildren, Brett and Alexia Holtz; parents; sisiters and brothers-in-law, Connie and John Kuphal, Glencoe, Tanya and Patrick Liebl, Big Lake; grandmother, Opal Squier, Gaylord; father- and mother-in-law, Calvin and Mabel Baker, Aitkin; step-daughters, and son-in-law, Rachael Baker, Aitkin, Stephanie Baker, Red Wing, and Jessica and John Faust, Pierz; many nieces and nephews.

She is preceded in death by her grandparents, Walter and Myrtle Schulte; grandfather, George Squire; and sister, Julie Schulte.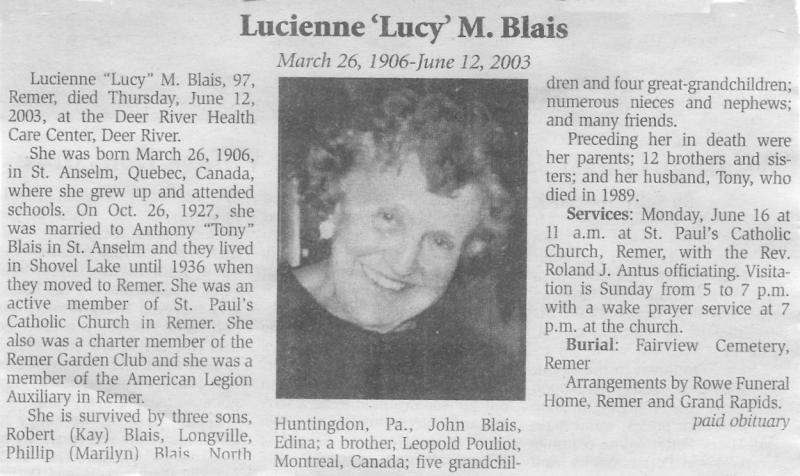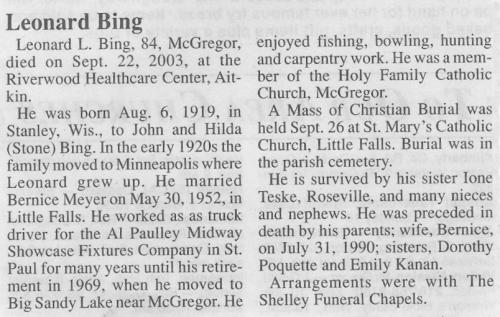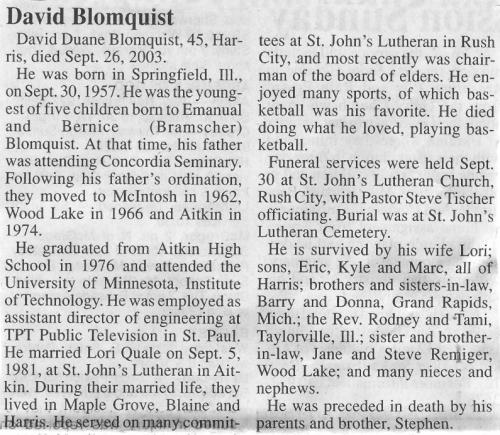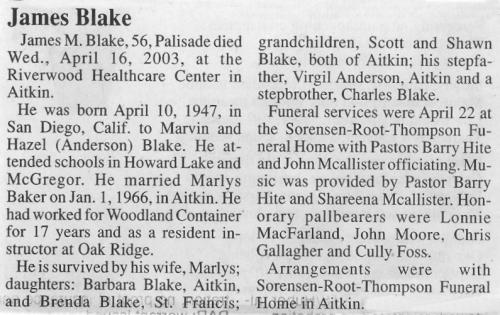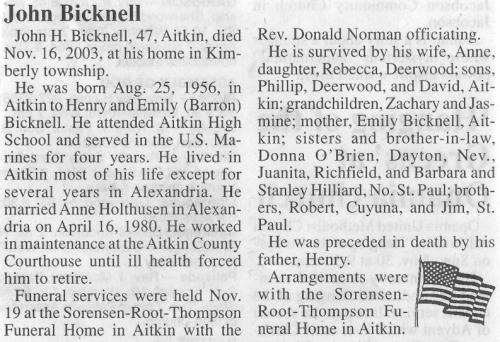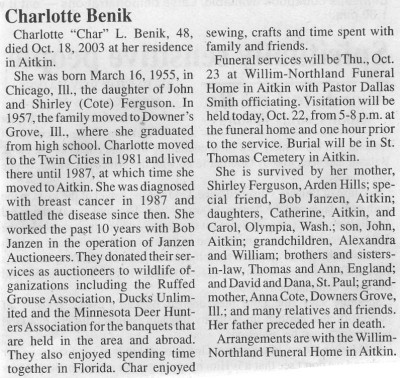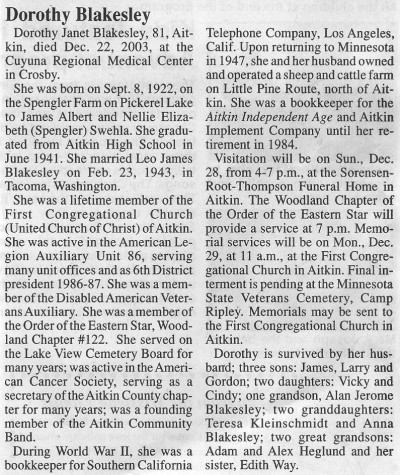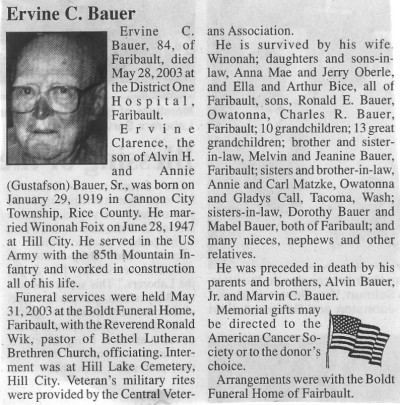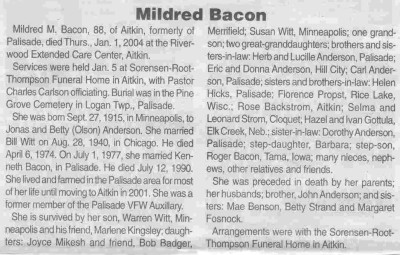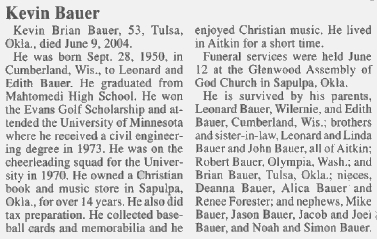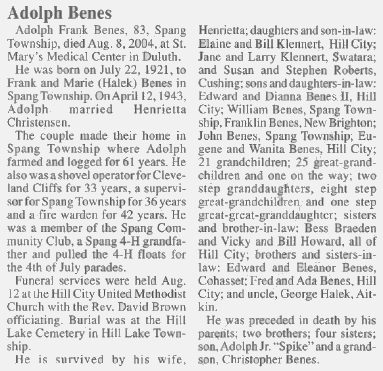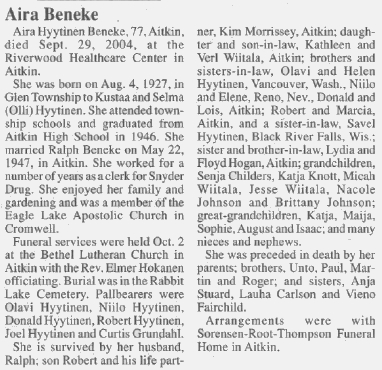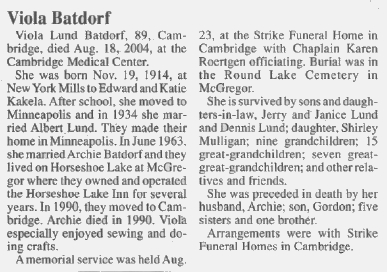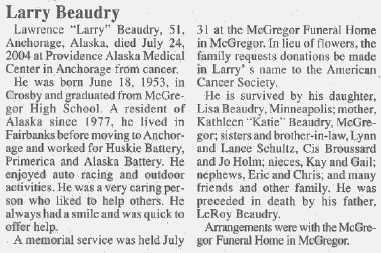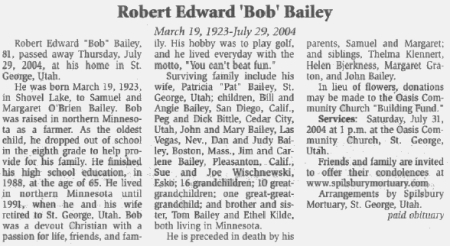 WILLIAM BAIN
Last Rites Held for William Bain




Funeral rites were held Thursday, April 3, 1952 from the Colberts Funeral Home at St. Cloud and from the Seavey Funeral Home in Aitkin at two o'clock the same afternoon for William Bain, Aitkin pioneer who passed away at St. Cloud April 1, 1952, at the age of 91. Officiating at the Aitkin service was Rev. Russell Huffstead of St. Cloud, assisted by Rev. Allyn Hanson of Aitkin. Joe Steeg and Donald MacGregor sang Abide With Me and Rock of Ages with Mrs. Steeg at the organ. Active pallbearers were John Hillman, Cecil Holmquist, Harold Chute Gerald Ward, Henry Laundrus and Art Christman. Honorary pallbearers included John Packer, John Johnson, Charles Rhodes, B. R. Hassman, Jim Ryan, Carl Christenson, Dan Keath and Andrew Magnuson. Burial was at Waukenabo cemetery besides his wife.

William Bain was born near Quebec, Canada on Nov 29, 1861, the son of Mr. and Mrs. Robert Bain. When he was five years old they moved to Iowa where he lived until the year 1900 when he, with his family moved to Minnesota and settled in Aitkin county. He was married to Florence Parshall on Sept. 10, 1880. Nine children were born to this union, five of whom survive him. They are Jessie (Mrs. Eugene Chilcote, Oskaloosa Iowa); Etta, (Mrs. Earl Dickinson, Seattle, Wash); Mary, (Mrs. Wm. Megarry, St. Cloud); Gladys, (Mrs. L. J. Petron, Superior, WI); and one son Windell Bain of St. Paul; 20 grandchildren and 38 great grandchildren.

Mr. Bain and his family were early pioneers of northern Aitkin County and knew the hardships of having a home and a living out of the wilderness. Later they operated the hotel in the little town of Bain, that was named after him. Mrs. Bain passed away in May, 1927. Since then Mr. Bain has spent his later years with his daughter, Mary, Mrs. William Megarry. The past four years he has lived most of the time at the Slocumb Rest Home at Avon. Mr. Bain was extremely fond of horses, dogs and children. Until just recently he had kept his interest in his family and the world in general. His strength had failed noticeably however, since his ninetieth birthday which was celebrated last November.

About ten days ago he contracted influenza which proved to be the cause of his death.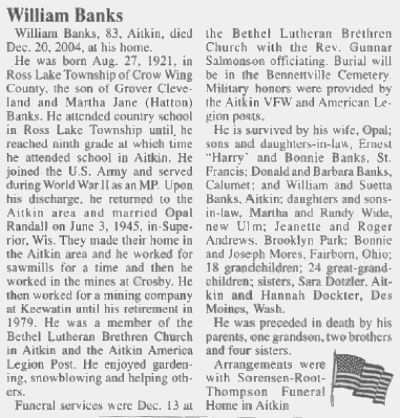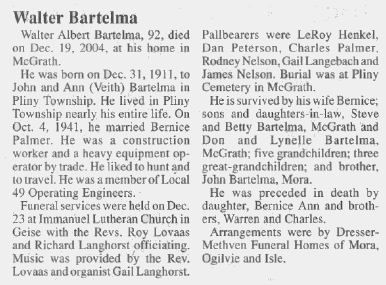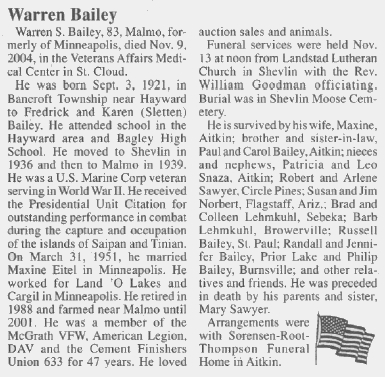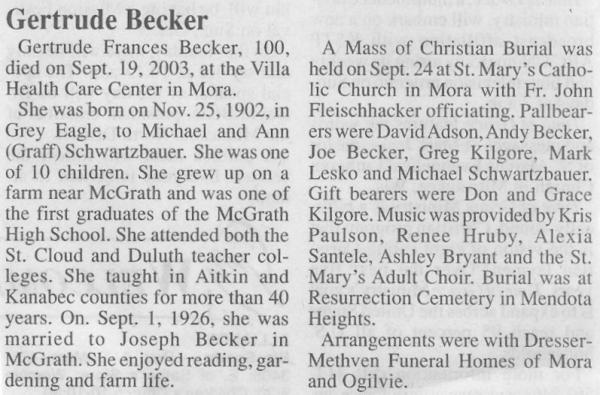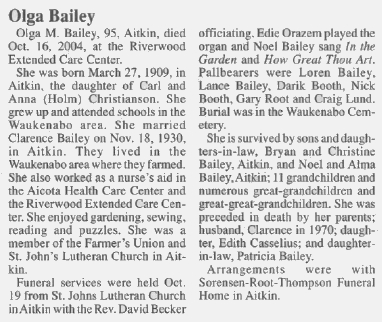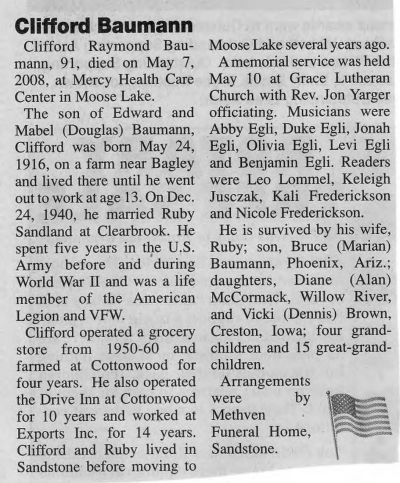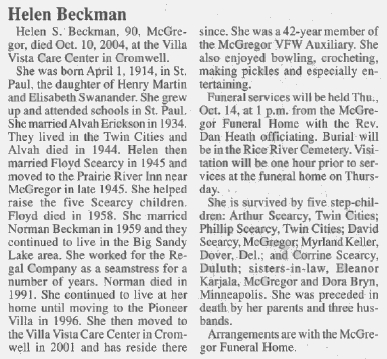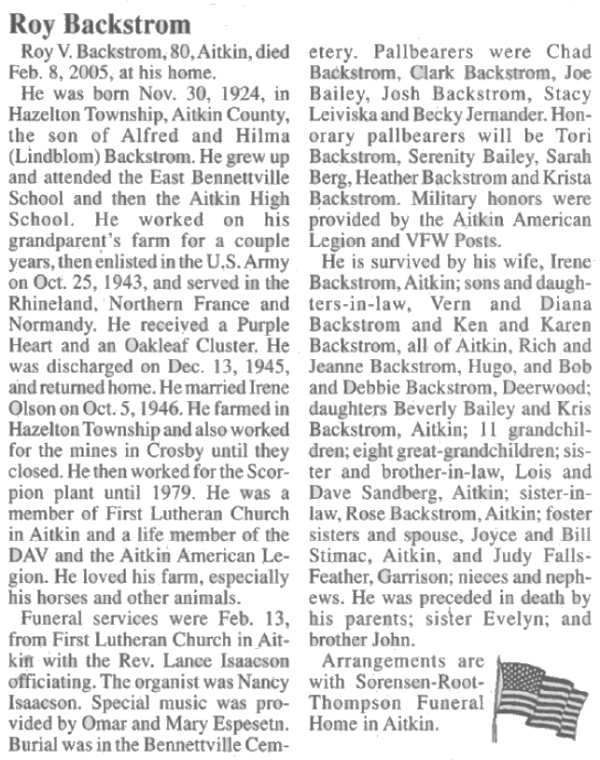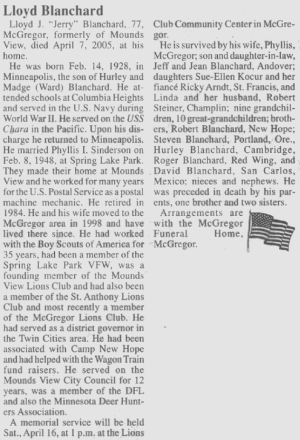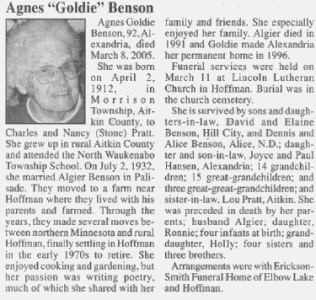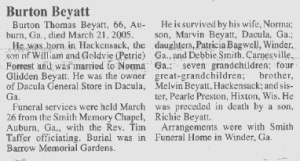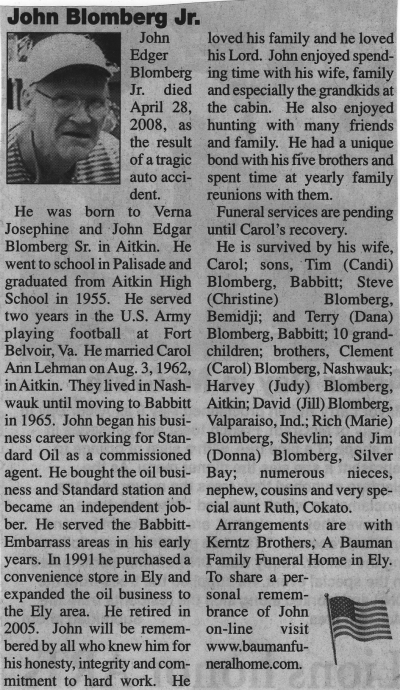 NEXT
BACK