Obituaries for Surnames Beginning With "D"
Aitkin County, Minnesota

Unless otherwise noted, these obituaries were contributed by
Karen Klennert
and are from the Aitkin Independant Age Newspaper.


SAM DAVIS ~ September 23, 1941



Sam Davis, one of Aitkins county's most progressive farmers, passed away Tuesday night at his farm home a few miles northeast of town. The end came after a long period of illness, the last eight months of which he spent most of the time confined to his bed.

Mr. Davis was but 59 years old at the time of his death and during the years he had lived here he had built up one of the most attractive farms in the county. He and Mrs. Davis were among the pioneers in the turkey industry. Their birds had become know in many states of the union for their fine quality.

Sam Davis was born 17 November 1881 in Modale, Iowa the son of Richard and Susan Little, Iowa pioneers.

He grew to manhood at the place of his birth and on December 31, 1903 he married Bessie Layton at Blair, Nebraska. They made their home in Modale for several years before moving to Aitkin in March 1913.

Survivors are Mrs. Davis and four daughters, Mrs. Dale Alton (Velma) of Little Sioux, Iowa; Mrs. Dave LeDoux (Frances, Crosby; Mrs. Kermit Broselle (Wilma) Aitkin; Mrs. Eugene Wallis (Loretta) Little Sioux, Iowa; 3 grandchildren, Bobby Broselle, Leonard LeDoux, Judy Jean Wallis; three brothers, Tom, Mondamin, Iowa, Albert, Hornick, Iowa; William, Modale, Iowa; 2 sisters, Mrs. Kate Wallace, Modale; Mrs. Belle Ferris, Oregon. A son died in infancy.

The body will lie in state at the home until tomorrow (Friday) when he will be brought to the Seavey funeral home where a Christian Science funeral will be held at 2:30 p.m.

Arthur Porter, C.B.S. of Minneapolis will conduct the service and Miss ?? will be the soloist with piano accompaniment by V. Escher.

Paul bearers are W. T. Mount, B. Hassman, R. C. Williams, Albert Hassman, Jim bigger and C. V. Cline. Burial will be in the Lakeview Cemetery.

Contributed by Judy Wallis White

MRS. CATHERINE DRAGOVICH



Mrs. Catherine Dragovich, nee Katarina Racki, 83, Proctor, a former Nordland Township resident, died Sunday, November 20, 1977.

Mrs. Dragovich was born April 9, 1894 in Yugoslavia, coming to New Mexico in 1912. On July 13, 1913 she married Paul Dragovich at Raton, New Mexico. They lived there until moving to Nordland Township in 1923. Mrs. Dragovich was a former member of St. James Catholic Church of Aitkin for 33 years.

Funeral services will be held today, Wednesday, November 23, 2PM, from St. James Catholic Church. Father Gerald Macho officiating. Mrs. Robert Mirau is organist. Pallbearers are Michael Dragovich Jr., Thomas Dragovich Jr., Kevin O'Neil, David Norr, Ted and James Malecki. Internment will be at the St. Thomas Cemetery.

Survivors include five daughters, Mrs. Mary Malecki and Mrs. Ann O'Neil, both of Chicago, Illinois. Eleanor and Betty Dragovich of San Francisco. Mrs. Arthur (Frances) Norr of Little Falls; three sons, Thomas of Duluth, Steven of Los Angeles, California, Michael of Aitkin; 15 grandchildren and 11 great grandchildren. In addition to her husband, who died in 1955, she was preceded in death by a son, George, in 1941 and two sisters.

Contributed by her grandson, James Malecki

DONNA MARIE DOUST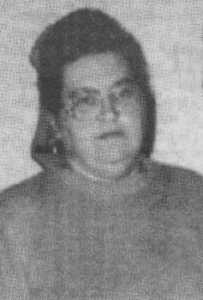 Donna Marie Doust, 49, Cohasset, died Wednesday, Dec. 11, 2002, as a result of injuries received in a traffic accident in Cohasset.

She was born Oct. 4, 1953, to Martin and Dorothy (Tibbetts) Holm in Aitkin. She then grew up and attended schools in Hill City. She was a dedicated caregiver and an active member of the Apostolic Revival Center, Grand Rapids. She will be greatly missed by all her family and friends.

She is survived by a daughter, Dana Lewis, Grand Rapids; three sons, Travis (Megan) Doust, David Doust and Matthew Doust, all of Grand Rapids; three sisters, Dorothy Babcock, Deer River, Debra Gowell, International Falls, Darlene (Bob) Amundson, Hill City; three brothers, David (Millie) Holm, Palisade, Dennis (Lois) Holm, McGregor, Darrell (Marcia) Holm, Grand Rapids; and three grandchildren, Cameron, Cheyenne and Kaitlynn.

Preceding her in death were a daughter, Angel; a son, Martin; and a brother, Daniel.

Services: Friday, Dec. 13, at 2 p.m. at Apostolic Revival Center, Grand Rapids, with the Rev. Ron Lichtle officiating.

Burial: Itasca Calvary Cemetery.

Arrangements by Rowe Funeral Home, Grand Rapids.



GLORIA DALBOTTEN



Gloria Jean Dalbotten, 71, Ross Lake Township, died Wed. March 26, 2003 at her home.

She was born November 3, 1931, in Minneapolis, the daughter of Edmund John and Estrid (Hoff) Schommer Sr. She retired from Minnegasco of Minneapolis in 1986 and moved to Island Lake in Ross Lake Township in 1987.

She is survived by her husband, Arthur O Dalbotten; brother, Edmund John Schommer Jr; son, Kenneth Peter Nyquist; two daughters, Karen Ann Gallagher, Kathy Leigh Nelson; daughters-in-law Ann Olson, Niane Nyquist; sons-in-law, Brian Nelson, Charles Gallagher; seven grandchildren, Aaron, Adrian, and Antonia Olson; Chad and Stephen Gallagher; David Nyquist; Daniel Nelson; and one great grandson, Alexander Gerads.

She was preceded in death by her parents; husbands, Kenneth C. Nyquist and Glenn Olson and stepson David Olson.

A memorial service was held March 29, 2003, at the Westside Church in Aitkin with Reverend Dallas Smith officiating.

Arrangements were with the Sorenson-Root-Thompson Funeral Home in Aitkin.



ROGER DIXON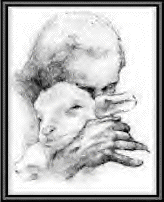 Roger Andrew Dixon, 20, Casper, Wyoming died June 16, 2003.

He was born November 11, 1982 in Jacksonville, Florida.

Funeral services were June 20 from Bustard's Funeral Home in Casper with Pastor Lynn Nikkel officiating. Pallbearers were Kelley Burroughs, Josh Elliot, Brian Dixon, Adam Dixon, James Stuart and Nick Ludwig. Interment was in Highland Cemetery in Casper.

He is survived by his mother and step father, Kelli and Kelley Burroughs, Jacksonville, Florida; brothers, Brian and Adam Dixon; sister, Megan; one niece and one nephew; grandparents, James and Ilene Dixon, Casper, Wyoming; and great grandfather, James Dixon, Palisade.

Arrangements were with Bustard's Funeral Home in Casper, Wyoming.



CAROL DUDLEY


Carol Dudley, 71, Aitkin, died August 22, 2003 at St. Joseph's Hospital in Brainerd.

She was born December 22, 1931 in Minneapolis to Joseph and Harriet (Knouse) Chelmo. She attended Jordan Schools in Minneapolis and worked over 30 years for Honeywell. She married Jerome Dudley on Januarey 21, 1950 in Minneapolis. They moved from Minneapolis to Cedarbrook where they raised turkeys.

Funeral services will be today, August 27, at 11 a.m. at the Sorensen-Root-Thompson Funeral Home in Aitkin with the Reverend Dallas Smith officiating. Burial will be in the Veterans Cemetery at Camp Ripley. Friends may call at the funeral home one hour prior to the service. Pallbearers will be grandchildren, Max Dudley, Jon Kallstrom, Genie Dudley, Kristen Kallstrom and Jaime Kallstrom. Vocalist will be Kim Schnitzer.

She is survived by her husband; daughter and son-in-law, Debra and Wayne Kallstrom, their son Jerry and his wife, Terri, Blaine; sister, and brother-in-law, Delores and Daryl Anderson, Crosslake; brothers and sisters-in-law, Jerome and Renee Chelmo, Nathan and Anita Chelmo and Paul and Lorena Chelmo all of Detroit Lakes.

She was preceded in death by her parents, a son, Danny, and grandson, Danny, Jr., a sister and two brothers.

Arrangements are with the Sorensen-Root-Thompson Funeral Home in Aitkin.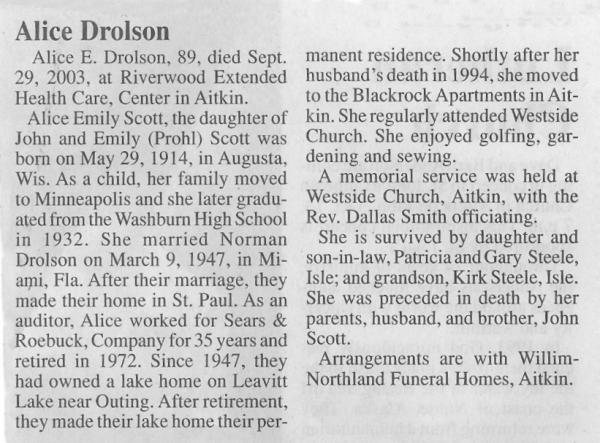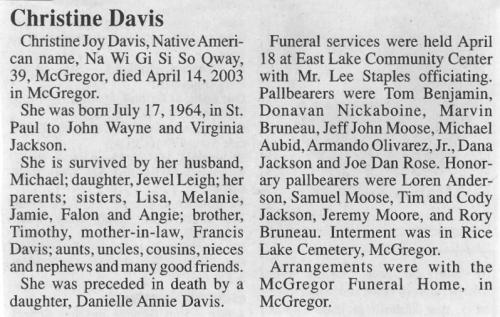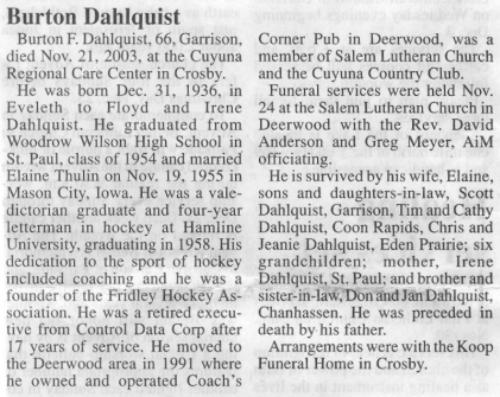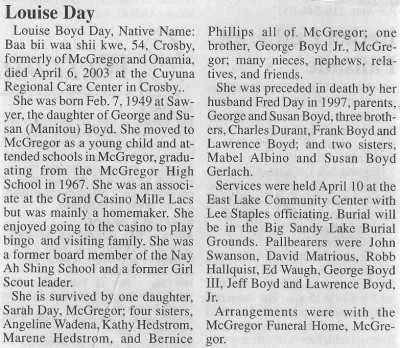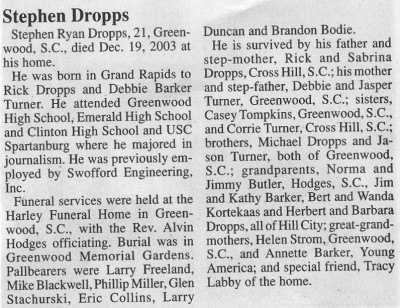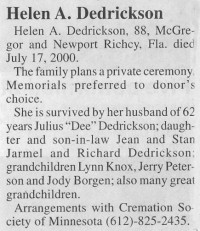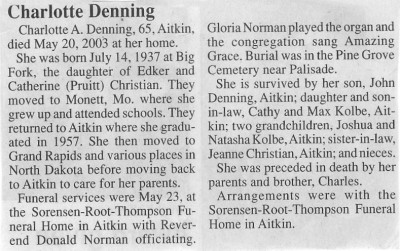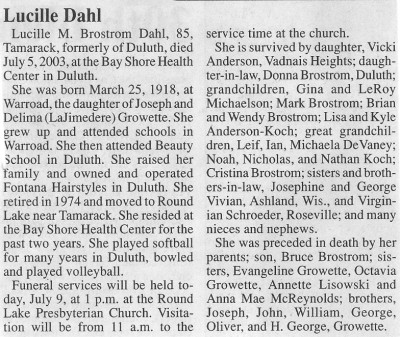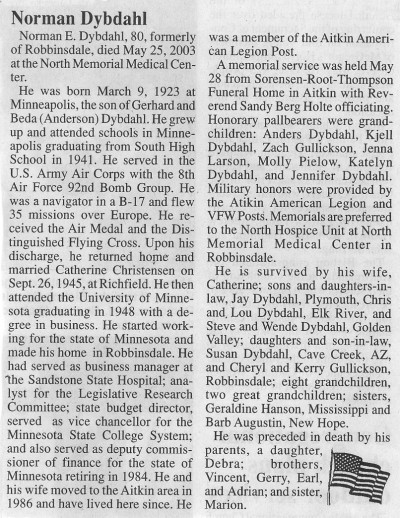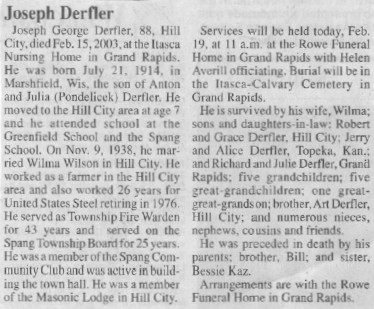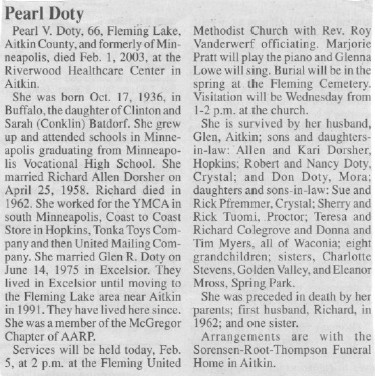 EVELYN DIXON



Evelyn Dixon, 91, Crosby, died Feb. 22, 2004, in Cuyuna Regional Medical Center in Crosby.

She was born July 27, 1912, in Emily to John and Fanny (Beardsly) Thomas. She attended country school in Waukenabo. On Aug. 8, 1929, she married Frank Dixon.

Funeral services were Feb. 28 in Sorensen-Root-Thompson Funeral Home in Aitkin with the Rev. Don Norman officiating. Burial was in Waukenabo Cemetery.

She is survived by sons and daughters-in-law, Billy and Emma, Frazee, and John and Louise, Waterloo, Iowa; daughters and son-in-law, Inez Pratt, Palisade, and Evelyn and Dennis Haag, Crosby; 28 grandchildren, many great-grandchildren, great-great-grandchildren and great-great-great-grandchildren; brother and sister-in-law, Blaine and Fran Thomas, Crosby; and many nieces, nephews and friends.

She was preceded in death by her husband Frank, on May 14, 2001; sons, Dallas, Ronald and Joe; son-in-law, Jasper Pratt; five sisters; three brothers; and her parents.

Arrangements were with the Sorensen-Root-Thompson Funeral Home in Aitkin.

Contributed by Florence Allen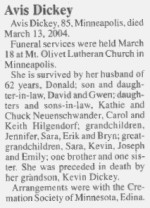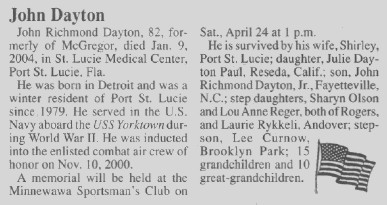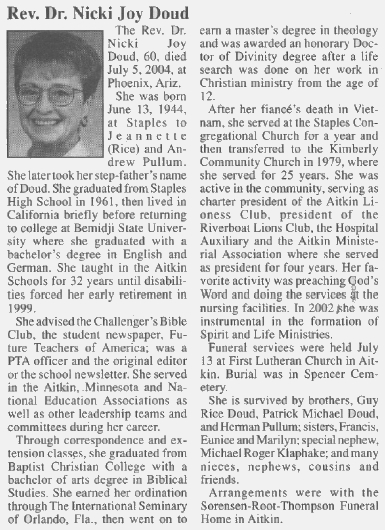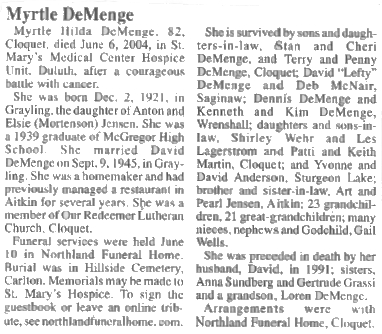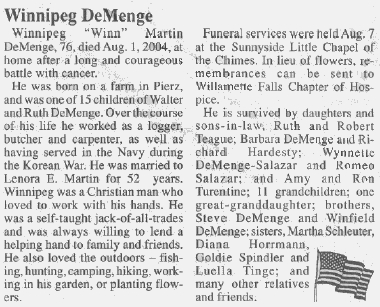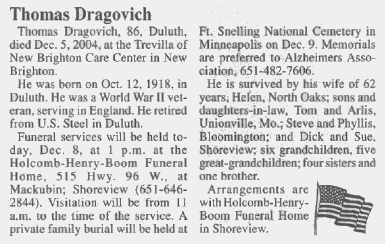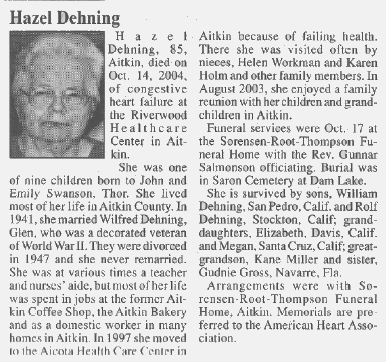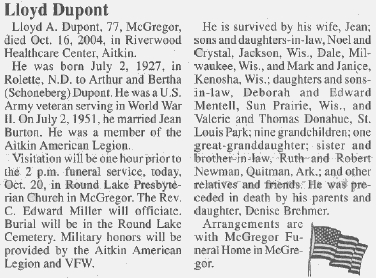 NEXT
BACK