Obituaries for Surnames Beginning With "E"
Aitkin County, Minnesota

Unless otherwise noted, these obituaries were contributed by
Karen Klennert
and are from the Aitkin Independant Age Newspaper.


DONALD ENBERG



Donald Enberg, 82, Aitkin, died Nov. 14, 2002, at the Riverwood Healthcare Center in Aitkin.

He was born July 27, 1920, in Farm Island Township, the son of Joseph and Dora (Nelson) Enberg. He attended Butts School and Aitkin High School. He served in the United States Navy Construction Battalion in the Seabees during World War II in the South Pacific. While serving, he began making watchbands for his fellow servicemen to earn extra money for his family back home. His buddies acquired a Japanese watchmaker's tool kit and brought it to him. This was to be the beginning of his watchmaking career that supported his family for many years. He married Helen Houwman on Aug. 22, 1942, in Aitkin. Television came on the scene in the 1950s. Soon he combined his watchmaking skills, his steady hands and understanding of electronics to begin his expanded business of radio and TV repair. To have an expensive television without a good TV signal soon had him installing antennas on rooftops around the area. He started Enberg's TV Shop in 1955 and retired in 1979. The shop is now operated by his son and grandsons. The Space Race came on the scene in the 1960s. Qualified electronics personnel with watchmaking skills were rare and in demand. Rosemont Engineering in Bloomington hired Donald to perform delicate testing under a microscope for the Apollo Moon Landing Project. Today, his grandson Jerron is employed at NASA Johnson Space Center Houston. During the 1970s and 1980s he was still expanding his skills. He built cabinets for the apartments above the television shops, learned the VCR and camcorder business and repaired electric organs. He was known as "the guy who could fix anything" including the "unfixable." He was a member of the Aitkin American Legion Lee Post 86 and the Aitkin VFW Roberts-Glad Post No. 1727.

Services were held Nov. 18 at the Sorensen-Root-Thompson Funeral Home in Aitkin with Pastor Ruth Hograbe officiating. Mr and Mrs. James Ware provided music and his grandchildren and great-grandchildren served as honorary pallbearers. Military rites were provided by the Aitkin American Legion Post 86 and the Aitkin VFW Post 1727.

He is survived by his wife, Helen; sons and daughters-in-law: Rodney and Lynn Enberg, Motley, and Gary and Jacquelyn Enberg, Aitkin; eight grandchildren; nine great-grandchildren; brother, Gordon Enberg, Palmdale, Calif.; and sister and brother-in-law, Jessie and William Langton, North Hills, Calif.

He was preceded in death by his parents, and brother, Milton.

Arrangements were with Sorensen-Root-Thompson Funeral Home, Aitkin.


CARL ENGEBRETSEN



Carl "Jim" Engebretsen, 74, Aitkin, formerly of Milaca, died June 25, 2003, at Hennepin County Medical Center. A memorial service was held June 30 at Bethlehem Lutheran Church in Aitkin, with a private interment following. He is survived by his wife, Ruth; sons and daughters-in-law, Jay and Cheryl Engebretsen, and Jac and Barb Engebretsen; daughters and sons-in-law, Jan and Dave Dailer, Jody and Rick Cox, and Jenna and Dave Wise; nine grandchildren; eight great grandchildren; brothers, Glen, Bob, Roy, Wes and Lee; sisters, Peggy Maxwell, Lil Vaughn, and Ruth Aydt; step children, Don and Bonnie Laufenberg, Deb and Don Thompson, Kris and Dave Hazelton; four step grandchildren; and two step great-grandchildren. He was preceded in death by his grandson, Jeremy Jack Engebretsen. Arrangements were with the Cremation Society of Minnesota in Minneapolis.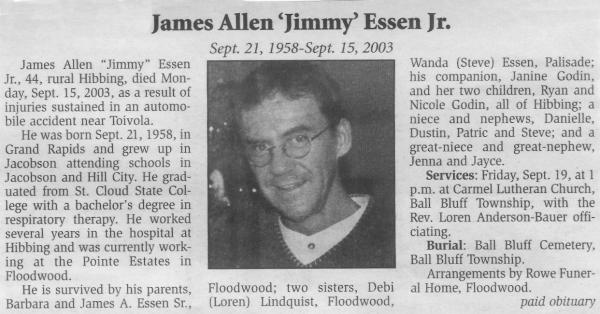 Contributed by Karen Klennert
Source: Grand Rapids Herald Review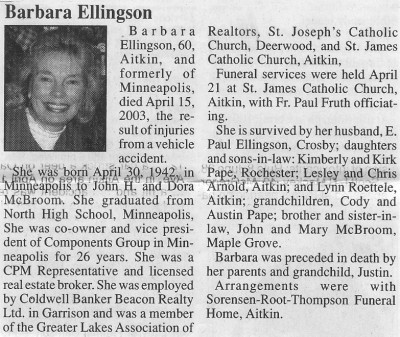 Contributed by Karen Klennert
Source: Grand Rapids Herald Review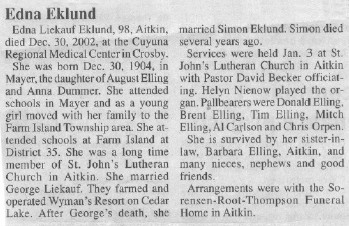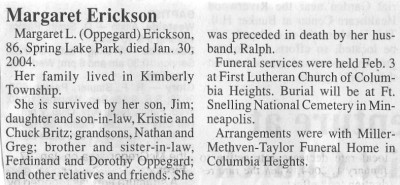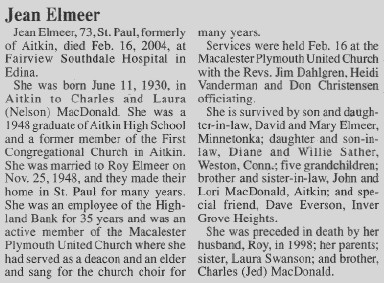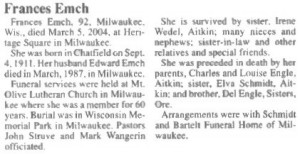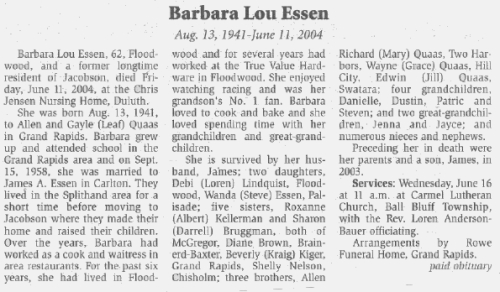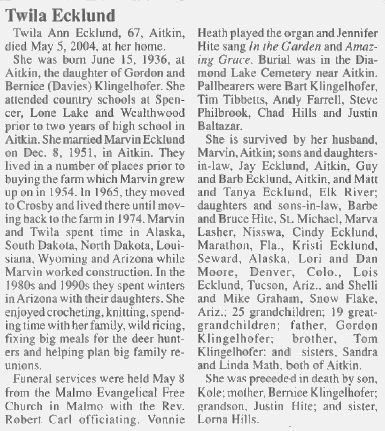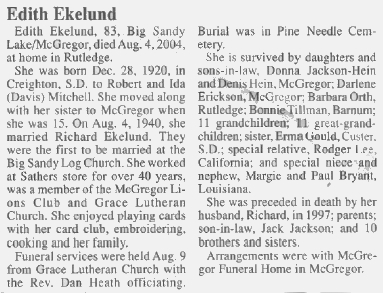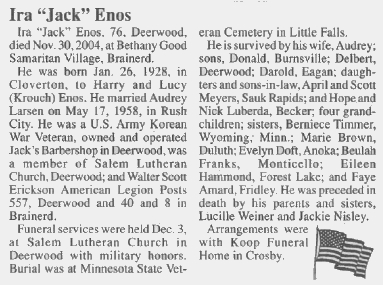 Mary Collins Ecklund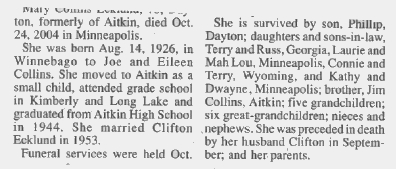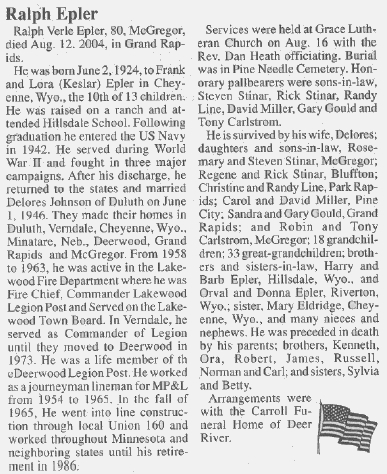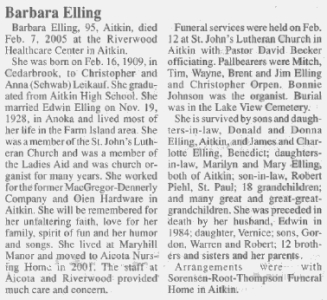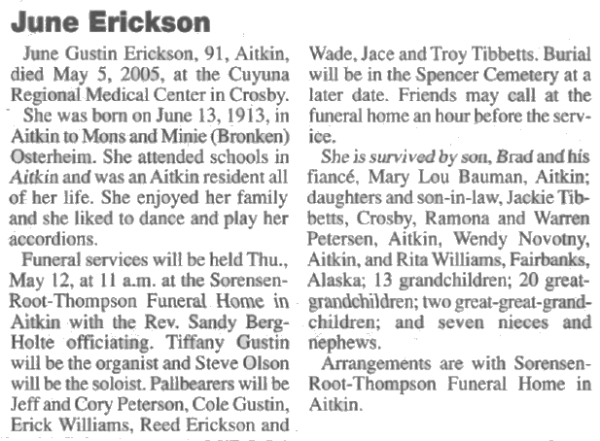 ROSE MARIE EVANS



Rose Marie Evans, 76, Aitkin, formerly of Coos Bay, Ore., died on April 17, 2007, at the Aicota Health Care Center in Aitkin.

She was born on March 16, 1931, to Marion and Bernice (James) Hollenbeck. She worked as a cook and hotel manager. She enjoyed gardening, flowers, sewing, reading, crocheting and singing. She was a member of the Order of the Eastern Star.

Memorial services were held on April 21 at the Sorensen-Root-Thompson Funeral Home, Aitkin, with the Rev. Lance Isaacson officiating. Burial will be in Lake View Cemetery at a later date.

Survivors are her husband, Fred, Coos Bay, Ore.; son, Vernon Ford, Roseburg, Ore.; daughters, Marion Adams, Hinesville, Ca.; Karen (Dale) Tibbetts, Susan (Michael) Roring and Sharon (Allen) Miles, all of Aitkin; eight gradchildren; 12 great-grandchildren and her best friend Rose Pirner, Aitkin. She was preceded in death by her parents, grandparents and a great-grandchild in infancy.


NEXT
BACK