Obituaries for Surnames Beginning With "G"
Aitkin County, Minnesota

Unless otherwise noted, these obituaries were contributed by
Karen Klennert
and are from the Aitkin Independant Age Newspaper.


AL GRAMER



It was with deep sorrow that the community heard of the death of its prominent businessman Albert W. (Al) Gramer, who passed away February 16 (1971) at the age of 68

Mr. Gramer had lived in Hill City for 35 years and owned and operated Gramers store. Active in community affairs he had served on the village council and presently as treasurer as well as the school board. He was a member of the Masonic Lodge.

Funeral services were held February 19 at the Rowe Funeral Home with Rev. John White officiating, Masonic rites were conducted by Hill City Lodge #283 AF&AM. Interment was in Hill Lake Cemetery.

Left to mourn his passing are his wife, Lillian and two daughters, June, Mrs. Ray Pattee of summer, Washington and Alexis, Mrs. John Wilkinson of Richfield.

Contributed by Mrs. Dale Amann

MARGARET GRATON



Margaret "Peggy" Zaffke Graton, 81, Remer, died Sept. 26, 2001, at the Itasca Medical Center in Grand Rapids.

She was born Feb. 8, 1920, in Shovel Lake, the daughter of Samuel and Margaret (O'Brien) Bailey. She was raised in Shovel Lake and graduated from Aitkin High School in 1938. She married Morris Zaffke in 1940 in Shovel Lake. She moved to Bloomington where she lived until 1963 when she moveed to Remer where she and her husband owned and operated a lumber yard. After Morris' death in 1968, she married Francis Graton who died in 1976. She was a member of St. Paul's Catholic Church in Remer.

Services were held Oct. 1 at St. Paul's Catholic Church in Remer with Rev. Fr.Roland Antus officiating. Burial was in the Fairview Cemetery in Remer.

She is survived by her sons and daughters-in-law; Robert and Launie Zaffke, St. Paul; Kenneth and Audrey Zaffke, Eagan; Gary Michael Zaffke, Osakis; Richard Zaffke, International Falls; Jerry and Lynn Zaffke, Buffalo; and John and Sandy Zaffke, St. Paul; daughters and son-in-law; Katherine Week, Peggy Zaffke, both of Remer; and Diane and Peter Larrabee, Princeton, 24 grandchildren; 18 great-grandchildren; brothers, Robert Bailey, St. George, Utah, and Thomas Bailey, Golden Valley; and sister, Ethel Kilde, Baudette.

She was preceded in death by her grandchildren, Christopher Schnaub and Bobbie Jo Zaffke.

Arrangements were with the Rowe Funeral Home of Grand Rapids and Remer.

HOWARD GRAHAM



Howard Graham, 86, McGregor, died December 28, 2002, at the Riverwood Healthcare Center in Aitkin.

He was born May 4, 1916, in St. Paul. He attended Van Buren School in St. Paul. He served in the Merchant Marine during World War II. He married Gladys Rosch in August 5, 1937, in Hudson, Wisconsin. He worked for Minneapolis Moline and later as a supervisor for White Motors. They moved from Minneapolis to Turner Township in 1972. He was a member of the Holy Family Catholic Church in McGregor and the Aitkin American Legion Lee Post 86.

Services were held January 1 at the McGregor Funeral Home with Fr. John Fleischhacker officiating. Burial was in the Calvary Cemetery in St. Paul.

He is survived by his wife, Gladys; son and daughter-in-law, Lawrence and Melanie Graham, Georgetown, Ontario, Canada; grandson, Shawn; granddaughters, Aimee and Alyssa; and four great-grandchildren.

Arrangements were with the McGregor Funeral Home.


HOWARD GUSTAFSON



Howard E. Gustafson, 80, Minneapolis, died Nov. 2, 2002.

He was a summer resident of Big Round Lake and North Roung Lake in Aitkin County.

Services were held Nov. 7. Burial was in the Fort Snelling Cemetery in Minneapolis.

He is survived by his wife, Lorraine; son, John "Gus," Grand Rapids; daughter and son-in-law, Sue and Grant Logan, Burnsville; grandchildren, Zach Gustafson and Nicky and Alex Logan; one sister; and nieces and nephews.


RUTH ANN GUSTAFSON



Ruth Ann (Johnson) Gustafson, 82, Eugene, Ore., and formerly of Palisade, died Nov. 20, 2002, in Eugene.

She was born Aug. 21, 1920, in Palisade, the daughter of Arvic and Signe Johnson. She attended school in Palisade and graduated from Aitkin High School in 1939. She married Algot Gustafson in 1941 and they moved to Eugene in 1946.

Services were held Nov. 25 at Emmaus Lutheran Church in Eugene, Ore.

She is survived by her husband, Algot; daughter , Sally McDonald; two grandchildren; two great-grandchildren; sisters and brothers-in-law; Margaret and Charles Weston, Palisade; Verna and Ray Kullhem, Aitkin; sister-in-law, Helen Gustafson, Aicota Nursing Home, Aitkin; and nieces and nephews.

She was preceded in death by her parents, infant son, one brother, and four sisters.


EMMA GREEN



Emma Jane Rizer, born September 11, 1866 in New Buffalo, Michigan died at her home in Balsam Township, Aitkin County on July 18, 1940. She married Clarence Green July 5,1885 in New Buffalo and lived there for five years, later moving to North Dakota. In 1904 they came to Aitkin County as pioneers, establishing their home north of Tamarack. She leaves her husband, three sons, six daughters and twenty-six grandchildren. A daughter, Mrs. Tweedy passed away last January. Services were held Monday at Round Lake."

Contributed by Laura Soleta

CLARENCE GREEN



The death of Clarence O. Green on Nov. 3, 1948, marked the passing of another of the early settlers in Balsam community. He was born in Joliet, Ill., on Sept. 26, 1860. He moved to Michigan, where he married Emma Jane Riser on July 5, 1885. They moved to North Dakota in 1889 and from there to Minnesota in 1904. From that date until his death at the age of 88, he made his home in Balsam.

He is survived by three sons, Ralph of Balsam, Howard of Tamarack, and Wilford of Mason City, Iowa, and six daughters, Mrs. Ed Hamel of Duluth, Mrs. Elwell, Mrs. Brand, Mrs. Boyd and Irma Green of Milwaukee, and Mrs. Cecil Booker of Balsam.

He was preceded in death by his wife and daughter, Mrs. David Tweedy, in 1940.

Mr. Green was laid to rest in Round Lake cemetery on Saturday, Nov. 6.

Contributed by Laura Soleta

RALPH GREEN



Funeral services for Ralph E. Green of Tamarack were held Monday, September 17, at 2 p.m. from the Presbyterian Church at Round Lake. Rev. Peters of Grand Rapids officiated and Chere Boelter sang. "God Understands" and "No Night There" with Mrs. Emery Mapes as accompanist. Pallbearers were Levi Tweedy, Gunnar Hartzberg, Herbert Larson, Charles Knutson, Reuben Thompson and Henry Nelson. Burial was at Round Lake cemetery.

Ralph E. Green passed away September 14, 1962 after suffering a stroke.

He was born at Three Oaks, Michigan in 1889 and was married to Olga Sundberg in 1928. He moved to North Dakota with the family at the age of three years and in 1914 came back to Minnesota settling in Balsam township, Aitkin county, where he made his home the remainder of his life.

Mrs. Green passed away in 1954.

Survivors are daughter, Mrs. Harvey Knutson, McGregor, Minn., two sons, Dennis, McGregor and Mac of St. Paul; two brothers, Wilford, North Dakota and Howard at Tamarack; four sisters, Irma Green, Mrs. Ernest Elwell, (Dora), Mrs. Irvin Brand (Gladys), all of Milwaukee and Mrs. Cecil Booker (Winnie) of Brimson, Minn.

Contributed by Laura Soleta

HOWARD GREEN



Funeral services for Howard Francis Green of Tamarack were held on Friday afternoon May 31, 1968, at two o'clock at the Round Lake Presbyterian Church with Pastor Herbert Peters of Grand Rapids officiating. Interment was in Round Lake Cemetery, where other members of his family are buried. During the service, Mrs. Eugene Peterson, accompanied by Mrs. John Jackman on the organ sang, "Rock of Ages" and "Abide With Me."

Pallbearers were Herbert Larson, Burton Anderson, Harvey Knutson, Norton Kelley, Jack Kelley and Robert Kelley. Howard was born on March 29, 1894, at Spring Valley, North Dakota. He moved with his parents, Mr. and Mrs. Clarence Green, two brothers and seven sisters, to Balsam around the year 1902 and lived on the place now owned by his sister and husband, Mr. and Mrs. Cecil Booker, (Winnie Green) until he moved to his own home near Round Lake around 1928.

He owned a large herd of Guernsey cattle and farmed for the next thirty-five years. Being a great lover of animals, he spent a great deal of time taming and training animals.

He was a natural gardener and even during the last years spent much time raising fruits and vegetables. Being naturally quiet and shy he spent much of his time alone.

Three years ago, he decided to move to town to be nearer neighbors and stores.

Since that time he has spent considerable time in the Aitkin hospital and in improving his home when not there.

Survivors include two sisters, Mrs. Dora Elwell of Milwaukee, Wisc., Mrs. Cecil Booker, (Winifred) of Balsam and a brother, Wilfred, of Gonvik, Minnesota, several nieces and nephews and many friends.

He was preceded in death by his parents, one brother, Ralph and five sisters. He was a veteran of World War One.

Attending the funeral were Mr. and Mrs. Cecil Booker of Balsam and Brimson, nieces and nephews from Milaca, Two Harbors, Duluth and Sandy Lake.

Coming from Duluth to attend the funeral of their uncle, Howard Green were Mr. and Mrs. Jim Ames, Gretchen and Kari, Mrs. Edith Clark, Mrs. Betty Tarro, Mr. and Mrs. Joseph Draxter, Mr. and Mrs. Lawrence Engel, Mr. and Mrs. Clifford Berglin. Coming from Milaca were Mrs. Glenn Olson and Kristen and Erika. Coming from Two Harbors were Mrs. Lawrence Johnson, Heidi, Brigettte and Dan

Contributed by Laura Soleta

IRMA GREEN



Irma Ruth Green was born to Emma Reiser Green and Clarence Green March 17, 1909, in Balsam Township, the youngest of a family of 10 children. She died July 30, 1965, in Milwaukee, where she had lived the last 25 years. She leaves to mourn two brothers, Wilford of Gonvick, Minn., Howard of Tamarack; and two sisters, Theodora Elwell of Milwaukee and Winifred Booker, Tamarack, and many nieces and nephews. Preceding her in death were sisters, Mabel Tweedy, Edna Hamel, Gladys Brand and Hazel Boyd, and a brother Ralph.

Services were held August 2 at Round Lake Presbyterian Church and interment in the Round Lake cemetery, Tamarack, Rev. Herbert Peters officiating.

Contributed by Laura Soleta

ARTHUR GOETZKE



Arthur L. Goetzke, 74, of Palisade, died March 17, 2003 at North Memorial Hospital in Robbinsdale.

He was born March 3, 1929, in Monticello, to Leroy and Sylvie (Miller) Goetzke. He graduated from Robbinsdale High School and joined the United States Army during the Korean Conflict. He married Deloris Morgan on May 5, 1951 in Millbank, South Dakota. They lived in Bloomington for many years where Arthur worked in the cement business, becoming a co-partner in Jesco Contracting. They retired to Palisade in 1987. He was a member of the Bethel Lutheran Church and was serving as church treasurer, the Palisade Lions the Super Sledders, Aitkin County Growth and the Palisade Co-op Society.

Funeral services were held March 21, at the Bethel Lutheran Church in Palisade with Reverend William Sass officiating. Tambrey Kullhem and Chuck Carlson were singers, Markell Vogt was organist and Jeanne Vogt was pianist. Pallbearers were Albert Lundeen, Jr., Gene Johnson, Robert Morgan, Dennis Morgan, Scott Morgan, Dwight Morgan, Burton Kullhem and Brandon Kullhem. Honorary Pallbearers were Kelly Goetzke, Brian Goetzke, Erik Goetzke and Luke Goetzke. Military rites were conducted by the Aitkin American Legion Post No. 86 and the Aitkin VFW Post No. 1727.

He is survived by his wife, Deloris; one daughter, Diane Goetzke Wade; sons and daughters-in-law, Michael and Delores, Rosemount, and Kurt and Leila, Northfield; sisters, Nancy Peters, Princeton, and Mary Lange, Mora; brother, Linsay, Eagan; grandchildren, Kelly, Brian, Erik and Luke Goetzke; nieces and nephews.


ARNOLD GRUENHAGEN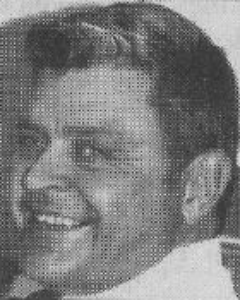 Arnold "Arnie" Gruenhagen, 62, Rochester, died April. 6, 2003 at Season's Hospice after a battle with cancer.

He was born June 28, 1940, in Rabbit Lake Township, Crow Wing County, to Edward and Hazel Gruenhagen. He was raised in Aitkin and graduated from Aitkin High School in 1958. He went on to be a surveyor from 1958-60, and then worked as a mining aide at Erie Mining in Aurora from 1960 to 1966. On sept. 18, 1962, he married Patricia Rukavena in Aurora. The couple lived in Aurora until moving to Duluth in 1966, when he went to work for IBM as a field engineer. They moved to Mankato in 1970, and to Rochester in 1983 where he worked as a systems analyst engineer specialist for IBM until he retired in 1996. He was a self-employed consultant after his retirement. Mrs. Gruenhagen works in Out-Patient Dialysis at the Mayo Clinic. He was a member of Trinity Lutheran Church and a Minnesota DNR Volunteer. He enjoyed wood-working, fishing, and hunting.

A memorial service is set for 2 p.m. today, Wednesday, at Trinity Lutheran Church in Rochester with the Rev. James L. Kroonblawd officiating. A grave side service will be Fri., April 11, at 2 p.m. at Emmanuel Lutheran Church Cemetery in Iron Hub.

Survivors include his wife; sons and daughters-in-law: Shanan and Deb, Kenyon; and Ray and Lori, Dexter; daughters and sons-in-law; Sheree and Rob Romundstad, Farmington; and Whitney and Christ Morris, Minneapolis; nine grandchildren; brothers and sister-in-law, Alvin, Bloomington; and Raymond and Kathy, Zim; and sister Kathleen and Roger Pearson, Aitkin. His parents preceded him in death.

Memorials are suggested to Trinity Lutheran Church or Season's Hospice.

Arrangements are with Mahn Family Funeral Home ~ Rochester Chapel.


KEVIN GRANHOLM



Kevin Bruce Granholm, 46, McGregor, formerly of Cromwell, died unexpectedly on March 13, 2003, in his home. He was born November 20, 1956, in Duluth to James and Sally (Wicklund) Granholm. He graduated from Cromwell High School in 1974. He was a Navy veteran serving during the Vietnam era. He was a member of Bethany Lutheran Church in Cromwell. He enjoyed hunting, fishing and spending time with his friends.

Visitation will be from 9 a.m. until the 11 a.m. funeral service on Saturday, March 22 at Bethany Lutheran Church in Cromwell with Pastor Matt Saarem officiatin. Military Honors will be accorded by the Cloquet Combined Honor Guard. To sign the guestbook and offer an online tribute see, northlandfuneralhome.com.

Kevin is survived by his mother, Sally (Harlan) Switzer, Cromwell; his father, James Granholm, Kettle River; brothers and sisters-in-law; Howard and Julie Granholm, St. Cloud and Brian "Bucky" and Pauly Granholm, Kettle River; sisters and brothers-in-law, Kim and Roger Suhonen, Wright; Tracey and Brent Goranson, Cromwell; and Lynn and Chris Odegaard, Cromwell; six step-brothers and one stepsister; 12 nieces and nephews, and one great-niece.

Arrangements are with Northland Funeral Home, Cloquet.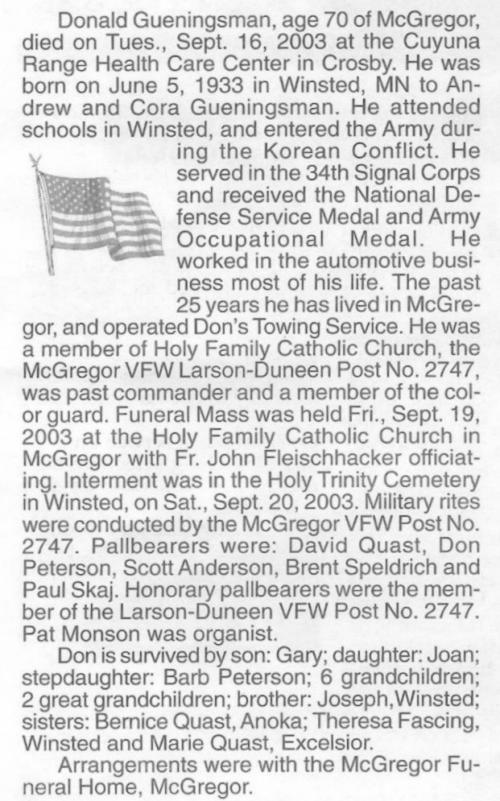 GEORGE GODSEY



George A. Godsey, 52, of Route 3, McGregor, died Monday, June 29, 1970, at the Mayo Clinic in Rochester, MN. Mr. Godsey was born on September 4, 1917, in Bloomington, Illinois. He was a veteran of World War II and owned and operated a grocery in Bloomington until five years ago, when he moved to the McGregor area and operated a tree farm.

Mr. Godsey was a member of the Church of Christ in Tamarack.

Funeral services will be on Thursday, July 2, 1970, at the Day Mortuary in Bloomington, Illinois, at 2:30 p.m. Friends who wish to make memorial offerings may contribute to the Cardiac Unit of Aitkin Community Hospital.

Surviving Mr. Godsey are his wife, Eva; daughter, Mrs. Jerry (Barbara) Prince of Bloomington, Illinois; sonk James of Duluth, Minnesota; sister, Mrs. Betty Dolan, Beth Plaines, Illinois; brother, Jack, Long Island New York; and two grandchildren.
and Voyageur Press of McGregor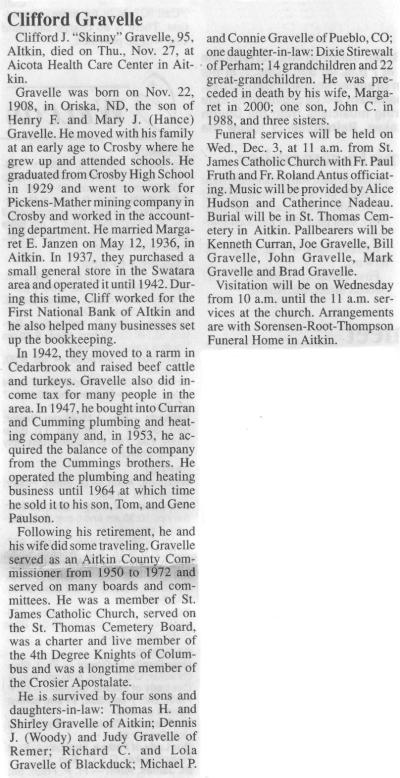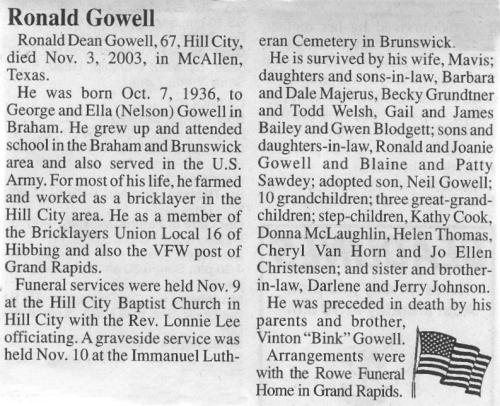 Contributed by Karen Klennert
Source: Grand Rapids Herald Review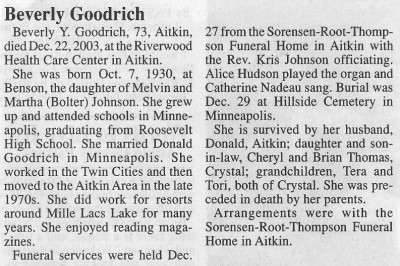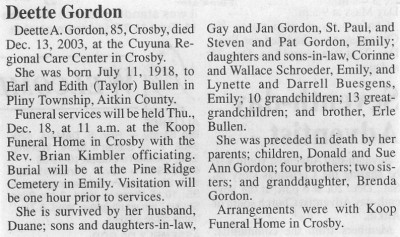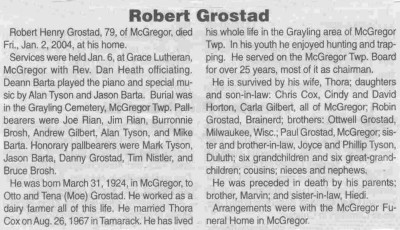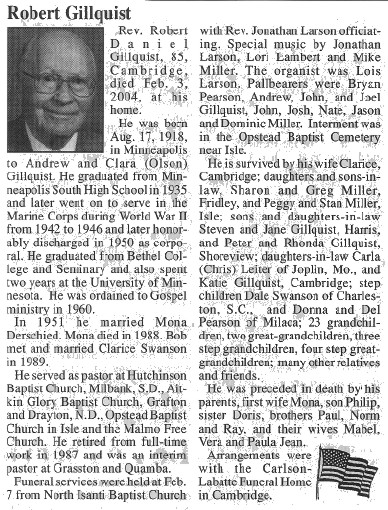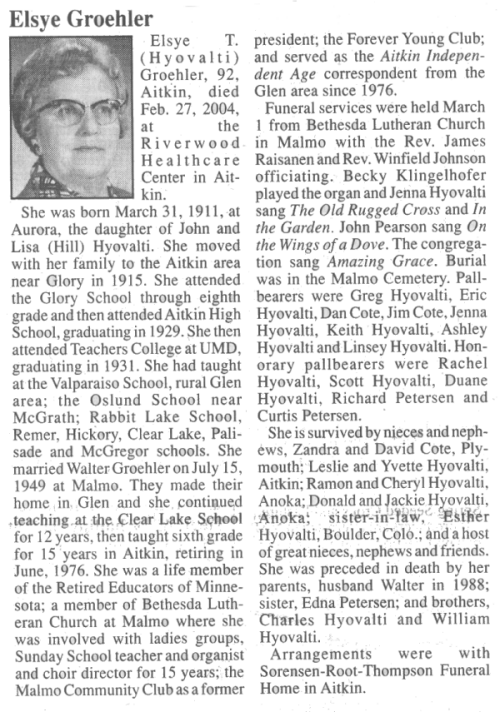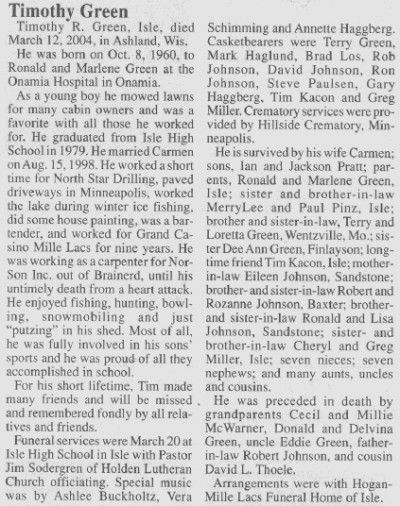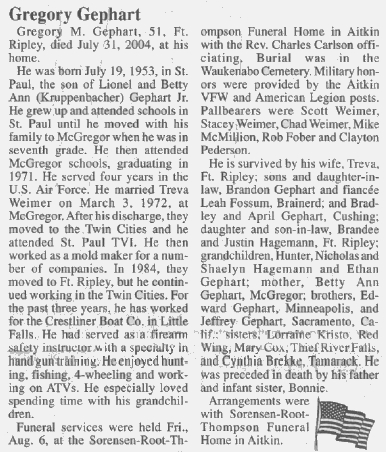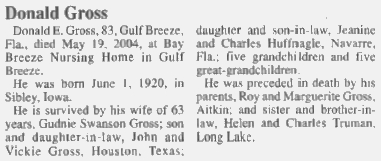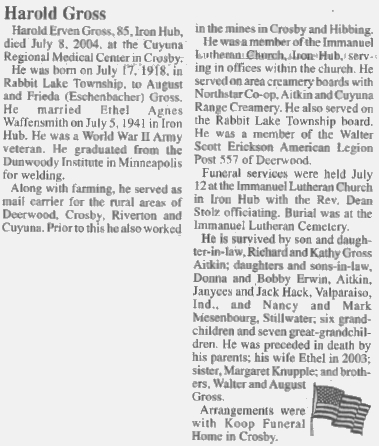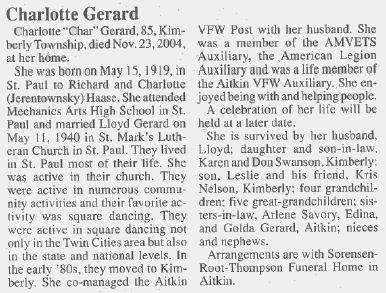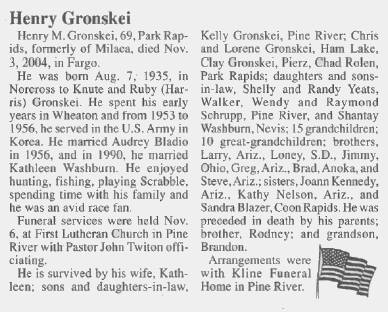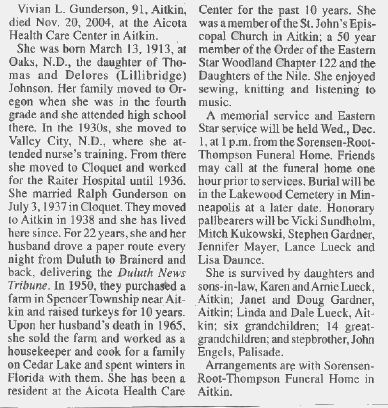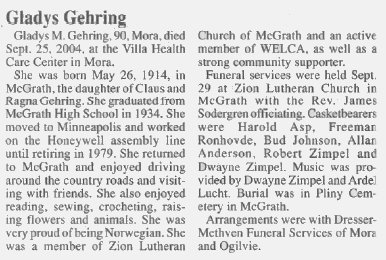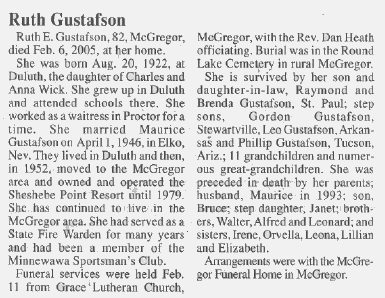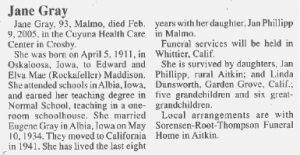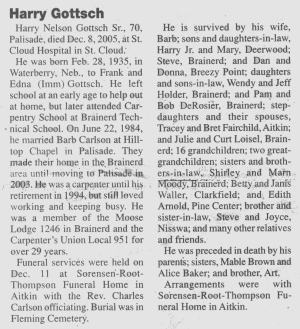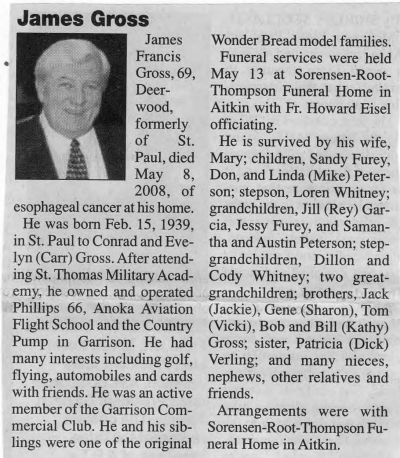 NEXT
BACK