Obituaries for Surnames Beginning With "Ha" through "He"
Aitkin County, Minnesota
Page H2, "HI" through "HU"

Unless otherwise noted, these obituaries were contributed by
Karen Klennert
and are from the Aitkin Independent Age Newspaper



ROBERT NICHOLAS HASLING ~ August 4, 1943




SUDDEN DEATH OF ROBERT HASLING [4 Aug 1943] IS SHOCK TO ENTIRE AITKIN AREA


Residents of Aitkin were stunned Wednesday morning as the news spread through the village of the death of Robert N. Hasling, 42, cashier of the First National Bank.

Mr. Hasling dropped dead as walked across the floor of the bank about 8:30 A.M., a half-hour before the doors officially opened for business. His business associates rushed to his side, but death was apparently instantaneous.

In the passing of "Bob" Hasling, the community loses a man who for more than twenty years had been the trusted financial adviser and confident for a good share of our population. Even while the tragic suddenness of his demise was not yet publicly announced, a client waiting outside the close doors of the bank, explaining to a friend, "I have to see Bob Hasling--he helps me with all my business affairs." (The remark was typical of Bob Hasling's life.)

He had been helping people in unnumbered conferences since he came to Aitkin and quickly won the confidence and esteem that he has carried so unassumingly through the years.

Robert Nicholas Hasling, was born in Cold Spring, Minn., on Jan. 5, 1901,the son of Mr. and Mrs. John Hasling. After attending high school in Cold Spring, he received academic business training at St. John's University at Collegeville, and came to Aitkin in the fall of 1918, as a bookkeeper at the First National Bank.

On June 17, 1924, he married Elsie Spalding of Aitkin. This union has been blessed with three children, Barbara, Robert, and Helen Claire. In 1936 he was promoted to the position of cashier.

His fellow citizens drafted him into numerous positions of leadership and responsibility, including service on the village council, member of the board of directors of the Junior Chamber of Commerce, member of St. James Church, member of Catholic Order of Foresters and Knights of Columbus. Since 1932 he has been treasurer of the Aitkin county agricultural association and one of the active promoters of the annual county fair. He was bankers representative on the War Finance Board of Aitkin county.

He was a member of the National Guard several years and served as company clerk.

Surviving are Mrs. Hasling and the three children; his father, John, and brother Louis, both of Cold Spring, and a sister, Mrs. Christine Steinhauser, in Chicago.



FUNERAL SATURDAY


Rosary will be held at the home at 8:00 o'clock Friday evening.

Funeral services are set for 9 o'clock Saturday morning at St. James church. Local business houses will close or operate on a limited service basis during the funeral so that as many as possible may be free to attend the last rites. Pallbearers are Richard Hassman, Otto Ellig, John Hanlon, Joe Galarneault, Dr. C. H. Eggers and Frank Ziske.

The body will lie in state at the Hariman Funeral Home until late Friday afternoon.

Contributed by William G. Black Jr.

C.J. HAZELTON ~ March 11, 1897


The Republican in its last issue noted that C.J. Hazelton of Cutler was stricken with apoplexy, and that on account of his advanced age, but little hope was felt for his recovery. The fears of his relatives was well founded, for he never rallied from the stroke, and Thursday evening the slender thread which bound him to this life was severed and he was relieved of his sufferings.

Mr. Hazelton had long since passed man's allotted time and for many years he had been in delicate health, but he bore his afflictions with resignation and patience and always had a cheerful word to say to those with whom he came in contact. The funeral was held from his late residence at Cutler on Sunday last, and was in charge of the Odd Fellows of which order the deceased was an honored member, being one of the charter members and the first past grand of Aitkin Lodge No. 164. Rev. Mr. Brown of this village made a few appropriate remarks after which the body was brought to Aitkin and escorted to the grave in Lakeview cemetery by the entire lodge. Mrs. Hazelton at the age of 81 years, still survives him, and the tenderest sympathy of a community which has held her husband in the highest esteem goes to her in the loss of him who has shared her joys and sorrows for over half a century.

Contributed by Lynn Wieczorek

PEARL HALL



Pearl Hall, died October 8, 2002, at the Methodist Hospital in Minneapolis.

Services were held at the Community Methodist Church in Columbia Heights.

She is survived by Jan (Hall) Johnson, Aitkin; Dennis Hall, Plymouth; grandson, Monte Hall and Judy, Aitkin; and many other grandchildren in the Minneapolis area.

She was preceded in death by Darrell Hall.

LYLE HALVORSON



Lyle J. Halvorson, 63, McGregor, died Oct. 13, 2002 at his home.

He was born March 1, 1939, in St. Paul. He grew up and attended schools in Springfield. He married Corrine I. Witz on Sept. 16. 1967, in Wright. They had lived in Moose Lake and then moved to McGregor about 12 years ago. He worked as an over the road trucker for many years. He had also worked at the Oasis Truck Stop at Carlton. He most recently was driving school bus for the Cromwell High School. He enjoyed working on motor bikes and cars, watching westerns and feeding the chipmunks.

Services were held Oct. 17 at the McGregor Funeral Home with Rev. Jane Mehlhoss officiating. Pallbearers were Rick Lahti, Dennis Olsen, David Burt, Dennis Burt, Guy Collier and William Witz. Burial was in the Lakeview Cemetery in Workman Township in Aitkin County.

He is survived by his wife, Corrine, McGregor; sons; Timothy Halvorson and Charles Halvorson, both of McGregor, and Terry Halvorson, Grand Marais; daughters and son-in-law: Cheri and Dwight Young and Melissa Halvorson, all of McGregor; and Beth Halvorson, Lawler; seven grandchildren; mother, Lucille Burt, Rogers, Ark.; brothers and sisters-in-law; Dennis and Doris Burt, Mahtowa, and David and Sue Burt, Rogers, Ark.; and sisters and brothers-in-law; Linda and Rick Lahti, Cloquet; Judy and Guy Collier, Kettle River; and Cheryl and Dennis Olsen, Ham Lake.

He was preceded in death by his stepfather, Wayne Burt, and granddaughter, Kayla Halvorson.

Arrangements were with the McGregor Funeral Home in McGregor.



JANICE HAUK


Janice A. Hauk, 66, Garrison, died Dec. 24, 2002, at her home.

She was born April 8, 1936, in Canby, the daughter of Lucine and Olga (Singsaas) Cole. She graduated from Canby High lSchool and married James Hauk on Nov. 10, 1956. They lived in Maple Grove for many years. She was employed by the Robbinsdale School District as a paraprofessional at Armstrong High School. She and her husband, Jim, retired to the Garrison area in the early 1990s.

Services were held Dec. 28 at the Shepherd of the Lake Lutheran Church in Garrison with Pastor Curtis Foreman officiating. Beth Ritter played the organ and Jessica Collison sang. Pallbearers were Merlin Cole, James Cole, Mark Cole, Gary Rausch, Brandon Rausch and Christopher Hauk. Burial was in the Lakeview Cemetery in Aitkin.

She is survived by her husband, Jim; daughters and son-in-law; Kathy Dawson and Kelly and Gary Rausch, all of Maple Grove; grandchildren: Christopher Hauk, Danielle Dawson, Brandon and Nikki Rausch; brothers, Merlin Cole, Grand Rapids, and James Cole, Canby; sister, Charlene Hootman, Cedar Rapids, Iowa; and several nephews and good friends.

Arrangements were with the Sorensen-Root-Thompson Funeral Home in Aitkin.



STELLA HALBERT


Stella M. Halbert, 93, Aitkin, and formerly of Minneapolis, died Oct. 15, 2002, at the Aicota Health Care Center in Aitkin.

She was born April 24, 1909, in Litchfield. She moved as a young girl to Minneapolis and attended Southwest High School. She worked at Armstrong-Cork Floor Company in Minneapolis for over 45 years as a secretary. She was a member of the United Church of Christ in Minneapolis.

A private family service will be held at a later date at the Lakewood Cemetery in Minneapolis.

She is survived by her nieces and their families; Hilen Wige, Maple Grove, and Nancy Wharton, Aitkin; and several other family members.

Arrangements are with the Sorensen-Root-Thompson Funeral Home in Aitkin.



EDNA GREEN HAMEL


Mrs. Edna H. Hamel, 63, died yesterday in the home of her daughter, Mrs. Christy Tarro, 22 East Winona Street. Born in North Dakota, she had been a resident of Tamarack, Minn., area before coming to Duluth 14 years ago. She attended the Homecroft Community church. She is survived by her husband, Edmond, Greenback, Wash.; seven daughters, Mrs. Vincent Clark, Saginaw, Minn.; Mrs. Clifford Berglin, Mrs. Lawrence Engel, Mrs. Christy Tarro and Mrs. Joseph Draxten, all of Duluth, Mrs. Edward Nelson, Seattle, Wash., and Mrs. Walter Redding, Kaiserslautern, Germany; Five sons, Thomas W., Milwaukee, Kenneth G. with the army in Georgia; Robert E. and Henry E., Duluth and Gerald K. Waukesha, Wis.; five sisters. Mrs. Cecil Booker, Tamarack, and Mrs. Irvin Brand, Mrs. Ernest Elwell, Mrs. Hazel Boyd and Miss Irma Green, all of Milwaukee; three brothers, Wilford C., Ralph E. and Howard F. Green all of Tamarack, and 20 grandchildren.

NOEL HASSKAMP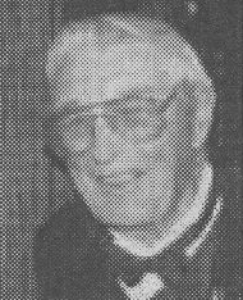 Noel Fellermann Hasskamp, 76, Aitkin, died Feb. 22, 2003, at the Cuyuna Regional Care Center in Crosby.

He was born Dec. 24, 1926, in Superior, Wis., the son of Arthur William and Paula Katherina (Fellermann) Hasshamp. He married Darlene Mae Stang on Oct. 19, 1968, in Deerwood. He was a World War II Army Veteran. He was past owner and operator of Hasskamp Well Drilling Inc. He was a member of St. John's Lutheran Church of Cedarbrook, Aitkin American Legion, 40 year board member of the Cuyuna Regional Medical Center and was chair of its building committee; served on the Soil and Water Conservation Board; he was a member of the Mystic Masonic Lodge, Aitkin and was instrumental in organizing the youth Shrine Circus trip. He was also a 4-H softball coach; past board member of Farms Township Mutual Insurance Board in Deerwood; Past Rabbit Lake Township supervisor; member of the Aitkin Wrestling Club; past committee person for the 4th of July fireworks in Crosby. He was an avid sportsman at the Fellermann Hilton.

Services will be held on Fri., Feb. 28, at 1 p.m. at St. John's Lutheran Church of Cedarbrook with Rev. Sandy Berg-Holte officiating. Military rites will be provided by the Aitkin American Legion. Burial will be in the St. John's Lutheran Church Cemetery. Friends may call on Thursday from 4-8 p.m. at the Koop Funeral Home in Crosby with a Masonic memorial service at 7 p.m. Friends may also call one hour prior to services at the church on Friday.

He is survived by his wife, Darlene; sons and daughters-in-law: Karl and Angie Hasskamp, Aitkin; Joseph and Stephanie Hasskamp, Ashland, Wis.; Matthew and Erin Hasskamp, Aitkin; daughters and son-in-law: Dianne and Dan Howard, Bellechester, and Lorna Clodfelder, Emily; grandchildren: Ashley papenfuss and Alyssa and Sarah Howard.

He was preceded in death by his parents.

Arrangements are with the Koop Funeral Home in Crosby.



GEORGE HAVERI


George A. Haveri, 89, Aurora, and formerly of Aitkin, died December 6, 2002, at the Skilled Nursing Facility of the White Community Hospital in Aurora.

He was born February 20, 1913, in Sebeka, the son of Esko and Eira (Aatoranta) Haveri. He attended Nordland Township Schools and was a farmer in the Aitkin area. On May 10, 1941, he married Margaret Mattson in Aitkin. In 1951 he began working for the Cuyuna Iron Range and later transferred to Erie Mining Company retiring from there in 1975 as a service truck driver. He was a resident of Aurora since 1965. He was a member of the Steelworkers Union No. 4108 in Aurora.

Services will be held today, December 11, at 10 a.m. at the Sorensen-Root-Thompson Funeral Home in Aitkin with Pastor Ruth Gangloff officiating. Burial will be in the Rabbit Lake Cemetery in Glen Township. Visitation will be one hour prior to the 10 a.m. service.

He is survived by his wife, Margaret; sons and daughters-in-law; Edwin and Debbie and Lester and Debbie, all of Aurora; daughter and son-in-law, Vickie and Jack Grahek, Embarrass; stepdaughter and son-in-law, Ruby and Wayne Hinton, Minneapolis; grandchildren: Christopher Haveri, Julie Gregorich, Jonathan Haveri and Jaime Moehlenbrock; great-grandchildren: Haliey, Hannah, Jocelyn and Autumn Gregorich, Gage and Abby Haveri and Casey Moehlenbrock; and several nieces and nephews.

He was preceded in death by his parents; children, Arnold, Rosemary and Alvina; brothers, Henry and Pete; and sisters, Elsie and Esther.

Arrangements are with the Ziemer-Moeglein-Shatava Funeral Home of Aurora.



MARGARET HANSON


Margaret C. Hanson, 84, Aitkin, and formerly of Minneapolis, died February 10, 2003, at the Riverwood Healthcare Center in Aitkin.

She was born August 17, 1918, in Minneapolis, the daughter of Louis and Nora (Faye) McGrath. She attended schools in Columbia Heights. She married Herman Hanson in April of 1937 in Minneapolis. They lived in the Minneapolis area most of their lives. She worked for the Itofca Trucking Company in Minneapolis. She moved to the Aitkin area in December of 2001 and lived at the Blackrock Terrace.

Services were held February 15 at St. Timothy's Catholic Church in Blaine with Fr. George Kolath officiating. A memorial service will also be held at the Riverwood Extended Care Center in Aitkin at a later date.

She is survived by her sons and daughters-in-law: Duffy and Joanne Hanson, Aitkin, and James and Joyce Hanson, Blaine; daughter and son-in-law, Lou and Thomas Burlager, Spring Lake Park; 11 grand children; 17 great-grandchildren; and sisters, Almeda Benson, Kalispell, Montana, and Carol Jean Hilling, Boardman, Oregon.

She was preceded ind eath by her parents; husband, Herman, in 1989; daughter, Karen Dallman, in 1991; three brothers; and two sisters.

Arrangements were with the Sorensen-Root-Thompson Funeral Home in Aitkin.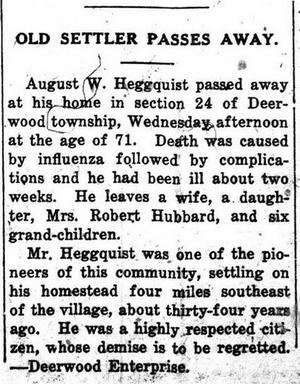 Contributed by Nancy Mateyka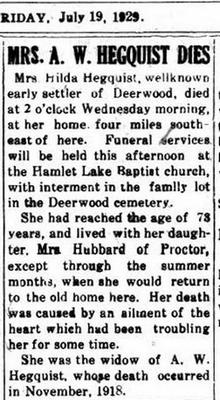 -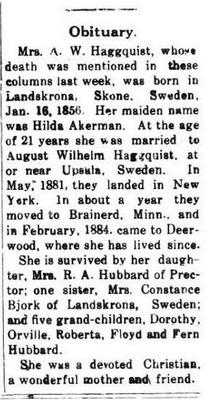 Contributed by Nancy Mateyka



MRS. ANNA HEMMILA


Funeral services for Mrs. Anna Hemmila of Spalding, were held on Friday, Aug. 30, 1946, at 1:00 o'clock with Rev. E. V. Niemi of Esko and Rev. C. O. Olson of Moose Lake officiating.

Pallbearers were her sons, Andrew, George and Joel, and grandsons, Larry, George and Hubert. Internment was in Rice River Cemetery. Mrs. Hemmila passed away early Monday morning, Aug. 26, 1946, at Moose Lake hospital, after a lingering illness of several years of sugar diabetes and heart ailment.

Anna Hemmila was born on August 31, 1872, in Oulu, Finland. Before coming to East Lake, she resided at Ironwood, Mich., and Duluth. She and her deceased husband bought a farm at Rice River and she has been a resident for the past 52 years.

Surviving are one daughter, Mrs. Aili Ally, of Duluth, and three sons, Andrew, of Superior; George and Joel at home, and 2 sisters, Mrs. Hannah Dixon, of Superior and Mrs. Mike Rahja, of Floodwood and six grandchildren.

Contributed by Alanna Johnson
Source: Aitkin Independent Age Newspaper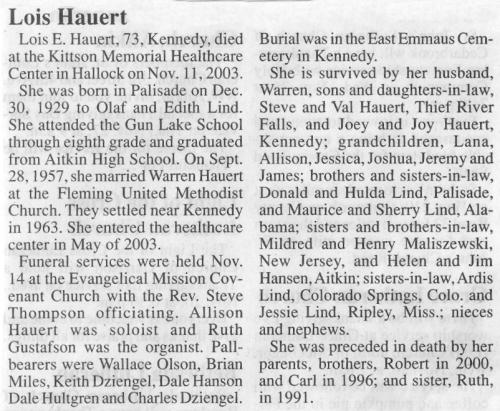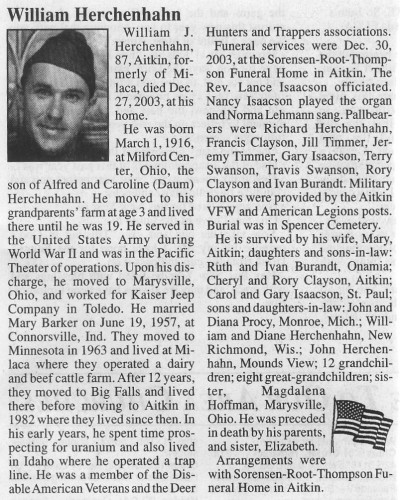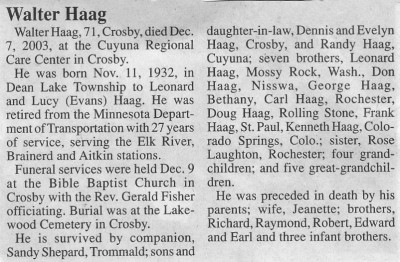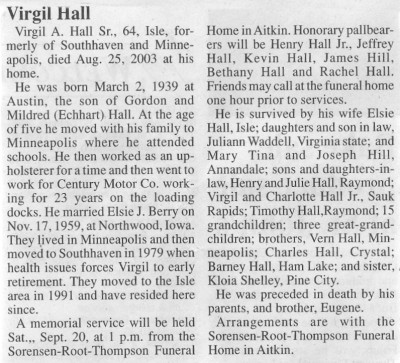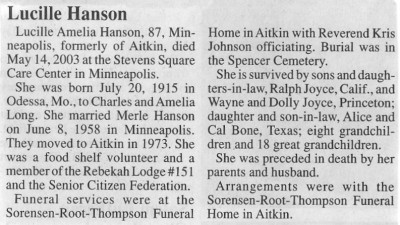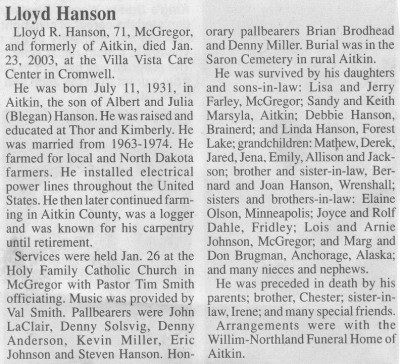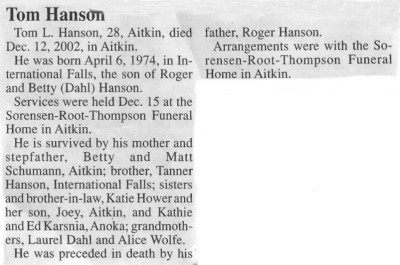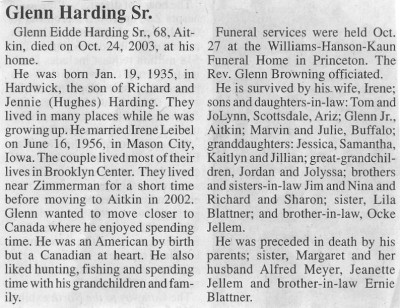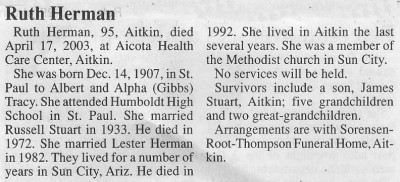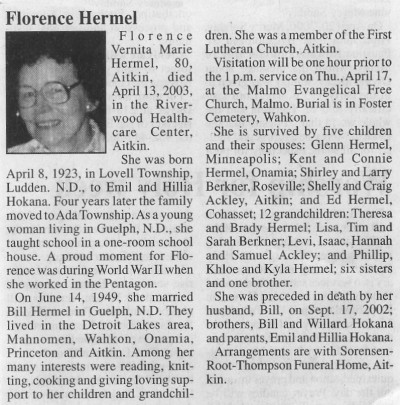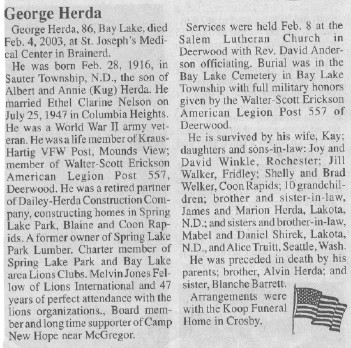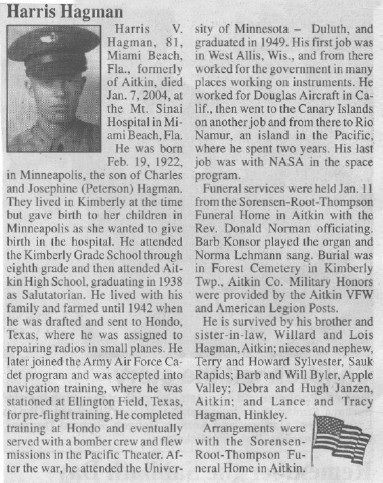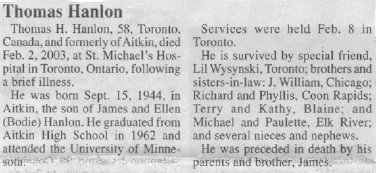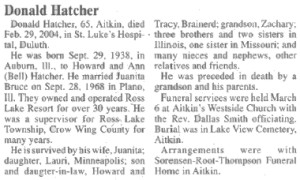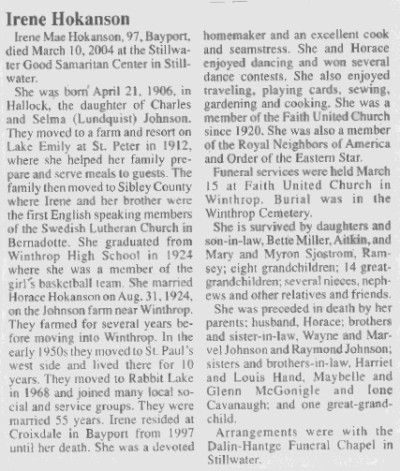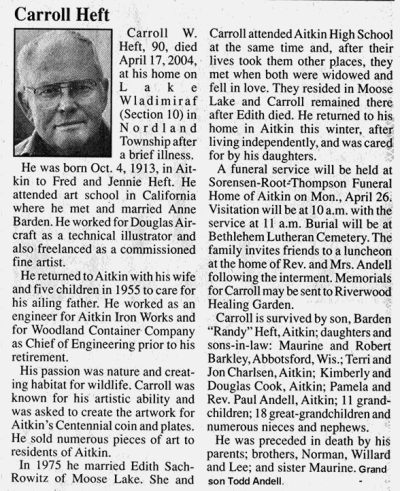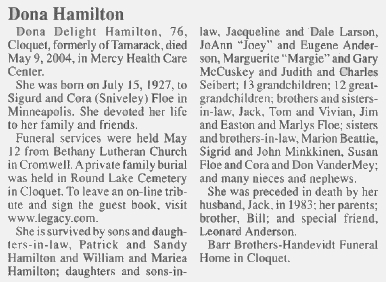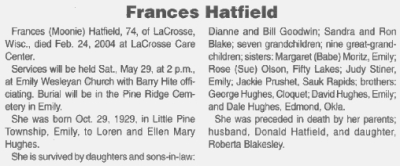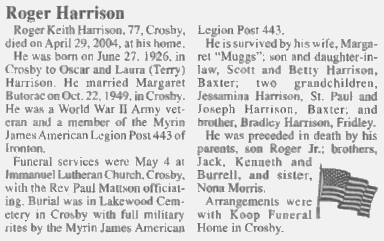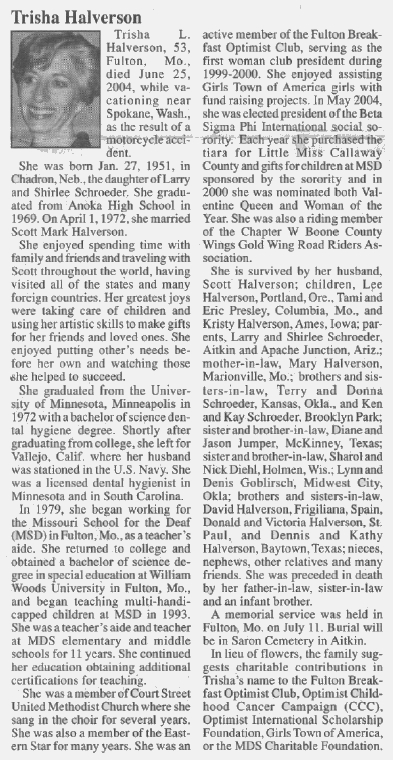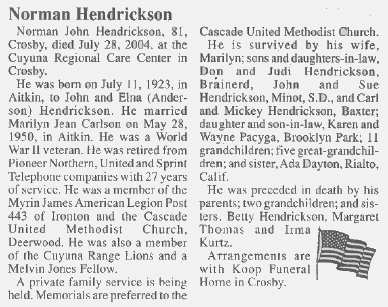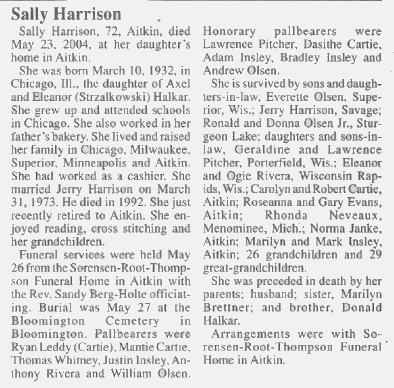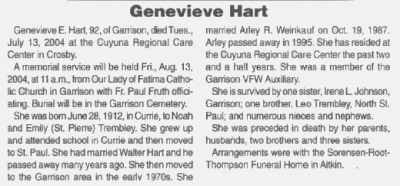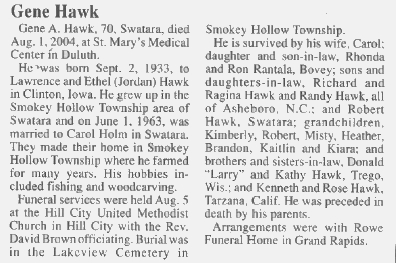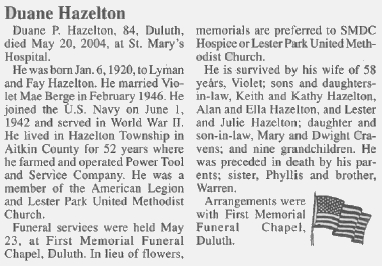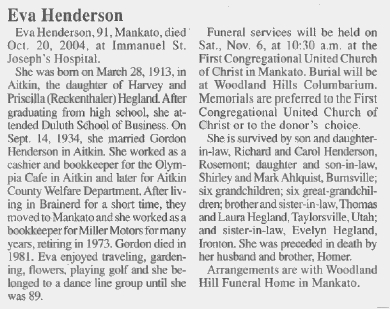 Margaret Hanson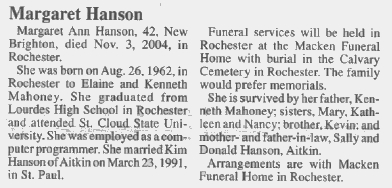 CUTLER JOHN HAZELTON


C. J. Hazelton, of Cutler, Aitkin county, Minn., died at his home on the evening of March 4, 1897, aged 75 years, 5 months and 7 days. The funeral service at the home, Sunday at 10 a.m. was conducted by the Odd Fellows, assisted by Rev. F.J. Brown, after which the remains were taken to Aitkin for interment. He had been in poor health for some time, but was able to be up part of the time until stricken down with apoplexy two days before his death. Mrs. Hazelton and three sons, F.C., E.S., D.C., were with him until the time of its death, but he never regained consciousness. F.L. Hazelton of Brainerd had been summoned to the bedside of his dying father and came soon after his death.

Cutler J. Hazelton was born at Nelson, N.Y., September 25, 1821. He was one of the early pioneers of eastern Wisconsin, having settled in Milwaukee county in his youth and was married at Wawatosa, February 22, 1842.

He was in a livery and sale stable in Milwaukee in the early '50's, but later moved westward, lived in some time in Iowa and at Lake Minnetonka and finally settled here in Aitkin County in 1882.

Mr. Hazelton first joined the order of the Odd Fellows in Neosho, Wisconsin in the winter of '62 and has ever been an active and conscientious member, fully and firmly believing that its elevating influence leads to a better and nobler life which is more to be considered than the temporal benefits to be derived from it.

He will be sadly missed by his family and his neighbors, by his children, grandchildren, who looked to him for sympathy and counsel, more than all by his aged widow who has been his faithful companion through joy and sorrow, through sickness and health for fifty-five years.

Contributed by Lynn Wieczorek, his Great-Great-Granddaughter
Source: Aitkin Republican, March 11, 1897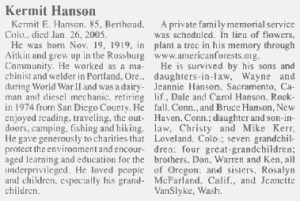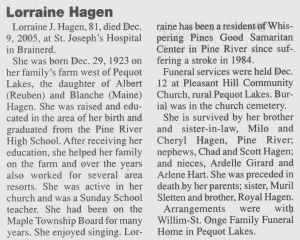 NEXT
BACK