Obituaries for Surnames Beginning With "I"
Aitkin County, Minnesota

Unless otherwise noted, these obituaries were contributed by
Karen Klennert
and are from the Aitkin Independant Age Newspaper.


BONNIE IVERSON


Bonnie I. Iverson, 89, Eagan, and formerly of McGregor, died Nov. 1, 2002, at NC Little Hospice in Edina.

She was born Oct. 12, 1913, in McGrath. She graduated from McGrath High School and the University of Minnesota-Duluth. She taught in the McGregor School System for many years. She was a collector of antiques and a member of the Aitkin Doll Club. She and Oscar loved to dance, entertain, travel and were dedicated to their family. She served as a founding director of the McGregor Clinic and also served on the boards of the Developmental Achievement Center in McGregor and the Arrowhead Regional Legal Aid Society. She was also active in the MCCL.

Services were held Nov. 5 at St. Peter's Historic Church in Mendota with Father John Fleischhacker of Holy Family Catholic Church in McGregor and Father Jerry Schick, formerly Pastor of Aitkin and McGregor Catholic Churches officiating. Burial was in the Resurrection Cemetery in Mendota Heights.

She is survived by her sons and daughters-in-law: Kenneth and Marie, Eagan; Gregory, Pass Christian, Miss.; Eric and Kitty, Eden Prairie; daughter and son-in-law, Romelle and Paul Cummings, Shoreview; nine grandchildren; sisters, Gertrude Becker, Clair Schwartzbauer; and numerous nieces and nephews.

She was preceded in death by her husband of 56 years, Oscar.

Arrangements were with the O'Halloran and Murphy Funeral Home in St. Paul.

MARGARET IAQUINTO


Margaret Sofie Barron Iaquinto, 93, Isle, died June 28, 2003, at the Mille Lacs Health System in Onamia.

She was born December 1, 1911 in Kidder County, Steele, North Dakota to the late Martha and Joseph Nelson. She lived on a farm in North Dakota until she was 5, then spent six months in Norway before returning to Minneapolis. She married John Iaquinto on January 29, 1927. He died in 1969. She married John Barron on August 26, 1973. He died in 1999. She was a member of the VFW Auxiliary Post 2816. She was a resident of the Mille Lacs Nursing Home when she died.

Funeral services were July 1 at Living Water Assembly of God Church in Wahkon with Rev. Joe Boeringa officiating. Burial was in Sunset City Cemetery in Isle. Pallbearers were Ray Iaquinto, David Iaquinto, Robert Iaquinto, Denny Iaquinto, Dude Iaquinto, and John Stifter. Honorary pallbearers were Becky Baget, Audrey Smith, Janell Porter, Debbie Wedebrernd, Julie Davis, Wendy Carlstrom, Mary Lange and Cynthia Bauer.

She is survived by son and daughter-in-law, Ray and Claudia Iaquinto; son, Bob Iaquinto; daughter and son-in-law, Rita and Willard Stifter; 25 grandchildren; 76 great grandchildren; and 21 great-great grandchildren; the Nelson family; and daughter-in-law, Lorraine Iaquinto.

She was preceded in death by husbands, John Iaquinto and John Barron; her parents; brother, Bill Nelson; sons, Russ and Sam Iaquinto; two grandsons, Steven and Russ Iaquinto; one granddaughter, Tina Iaquintop and one great grandchild, Russeth Iaquinto.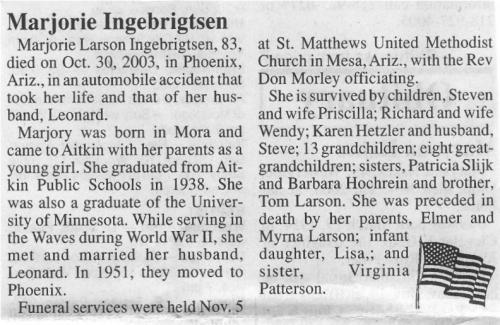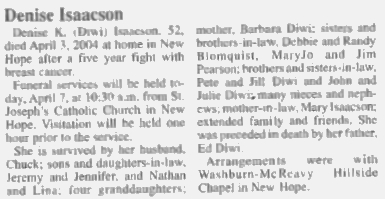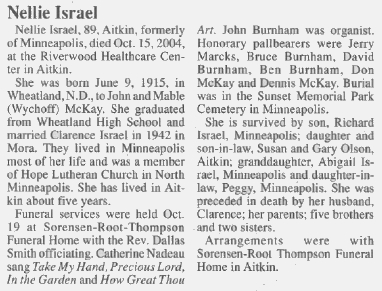 NEXT
BACK