Obituaries for Surnames Beginning With "J"
Aitkin County, Minnesota

Unless otherwise noted, these obituaries were contributed by
Karen Klennert
and are from the Aitkin Independant Age Newspaper.


ALEXANDER JOHNSON



Alexander Johnson, Dorris Resident, Died Last Friday
Alexander Johnson of Dorris, a man who had lived in Aitkin county for more than 40 years, passed away Friday, April 26th, in the Beecroft hospital after a long illness, in his 79th year. He was born in Varmland, Sweden, Sept. 7th, 1856, and at the age of 17 years went to Fredsikshal, Norway. It was there he married Mathilda Desidana Oldsdatter of Bohuslen, Sweden and lived there for two years. They moved to Bamle, Norway, which was their home for eleven years while Mr. Johnson worked in the mines. It was while there he embraced the Christian religion and immediately began Sunday school work. He came to America in 1892, locating at Superior, his family following a year. He took a great interest in church work and served as superintendent of the Sunday school and was a among the founders of the Lutheran Brethren of America.

Mr. Johnson moved his family to Aitkin county in 1903 and purchased a farm in Farm Island township, where he spent the remainder of his active life. He was a member of Bethel Lutheran church at Dorris and served as trustee and elder for many years. A fine farm was developed by Mr. Johnson, where he spent te best years of his life and with his wife they became one of the leading families of that community. They reared a family of 12 children, nine of whom are still living.

Mrs. Johnson passed away in 1932 and Mr. Johnson's health failed rapidly after that time as they had been a very devoted to each other.

A short funeral service was held Sunday from the Seavy Mortuary and later at the Dorris church. The Rev. Dan Erickson, who had officiated at the similar service for Mrs. Johnson, conducted the service. Burial was in the church cemetery by his wife's grave.

Survivors are John A. Johnson and Mrs. Joe (Annie) Hanson, Aitkin; Mrs. Louis (Marie) Larson, Superior; Chas. O. Johnson, Detroit, Mich.; Axel Johnson, California; Phillip and Mrs. N.A.(Inga) Nelson, Aitkin; Mrs. R.B. (Alvina) Erickson, Minneapolis; Mrs. A.W. (Agnes) Blackberg, Duluth; and Alec E. Johnson, Aitkin. There are 33 grandchildren and six great grandchildren.

Contributed by Dorothy Blackberg Stafford

WADE JOHNSON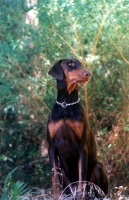 Wade M. Johnson, 28, Apple Valley, and formerly of McGregor, died November 2, 2002, of Hodgkins Lymphoma Disease at Rochester Methodist Hospital in Rochester.

He was born September 28, 1974, in Minneapolis, the son of Donald and Sandra (Blazevic) Johnson.

He is survived by his wife, Joy (Bozell) Johnson; son, Brandon T. Johnson; mom, Sandra Blazevic-Johnson; dad, Donald Michael Johnson; brother, Justen Johnson; and his dog and companion, Champ.

Arrangements were with the Johnson Funeral Home in Rochester.



VITO JORDAN





Born: August 15, 1845 in Teggiano, Salerno, Italy
Died: June 6, 1929 in McGregor, Aitkin County, Minnesota


Vito Jordan, one of McGregor's oldest citizens, died in the village hospital Thursday, June 6. Had he lived until August 15, he would have been 84 years of age. He was born in 1845 in Italy and came to New York in 1878, bringing his wife and three children. From there they moved to Chicago and nine years later settled on a homestead near McGregor. Mr. Jordan was in the employ of the Northern Pacific Railway nearly 30 years and was a highly respected citizen of the community in which he lived.

Surviving their father are four children: Mike of Minneapolis; Mrs. Mamie Liebert, Coffyville, Kansas; Mrs. Pontliana and Mrs. Perfetto, Duluth, and several grandchildren.

Rev. Father Mochlar officiated at the funeral service in the McGregor Catholic church last Saturday morning with burial in the village cemetery.

Contributed by Pam Bautista, who writes: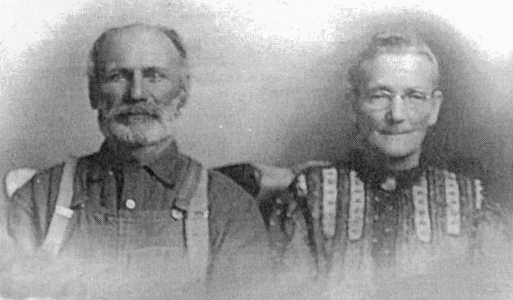 "This is a picture of Vito and Ida Jordan who settled in McGregor in approximately 1900. This picture, I believe, was taken approximately 1915. Ida died in 1918 and Vito died in 1929. They are both buried in the village cemetery. The family arrived from Italy in 1878, lived in New York a few years and in Chicago for about 9 years before settling in McGregor. Their daughter, Barbara Jordan, is my great-grandmother. She married Nick Jeanetta who also came from Italy. The family's name was originally spelled Giordano and they came from Teggiano, Salerno, Italy."

HENRITTA JOERGER



Henritta "Joyce" Joerger, 65, Palisade, died Nov. 24, 2002, at her home.

She was born July 24, 1937, in Detroit, Mich., to John and Lydia Devor. On April 14, 1956, she married Harold Joerger in Detroit. They lived in South Dakota and moved to Minnesota where they farmed and raised their nine children in Waukenabo Township.

She was a member of the Aitkin VFW Auxiliary and St. Joseph's Catholic Church, Deerwood.

Funeral services are today, Dec. 4, at 10 a.m. at St. Joseph's catholic Church, Deerwood, with Fr. Howard Eisel officiating. A prayer service begins one hour before the service at the church. Burial will be in St. Thomas Cemetery, Aitkin.

She is survived by her husband, Harold; children and spouses: Henritta and Jim Berg; John; James and Debbie; Mary and Greg Handt; John and Rosann Bray; Brenda Lehman and Dave Hofstede; Joseph; Suzann and Don Everson; Joshua; nine grandchildren; one great-grandchild; brothers and spouses: Harry and Dee Devor; Marty and Margaret Devor; Kenny and Bell Devor; and sisters and spouses: Carol and Joe Tipinski; Margie McDonald and Juanita Jackson.

She was preceded in death by her parents; and brothers, John and Dick Devor.

Arrangements were with Sorensen-Root-Thompson Funeral Home, Aitkin.



CHARLOTTE JYLHA



Charlotte Ruth Jylha, 75, Cloquet, died January 29, 2003, at St. Mary's Hospital in Duluth.

She was born July 6, 1927, in Palisade, the daughter of Elmer and Gertrude (Larsen) Andrews. She attended the Fleming Grade School and was a 1945 graduate of Aitkin High School. In 1987, she furthered her education by attending Fond Du Lac Community College. She married Herbert Jylha on October 5, 1974. She was a member of the Arrowhead Art Club, Artists of Minnesota, and A.A. On May 19, 2002, she celebrated 32 years of sobriety in A.A. She enjoyed painting and won many ribbons on her paintings at the county fair.

Services were held February 3 at the Northland Funeral Home in Cloquet. Burial will take place at a later date in the Fleming Lake Cemetery in Palisade.

She is survived by her children and their spouses: Michael and Bonnie Fish and Linda and Joseph Isaacson, all of Carlton; Allen and Paulette Fish, Cloquet; Patrick and Sue Brookshaw, White Bear Lake; John Savela, Rome; Georgia and Renee Polsson, Duluth; stepson and daughter-in-law, John and Brenda Jylha, Orr; 23 grandchildren; 14 great-grandchildren; brothers and sister-in-law, Duane and Dorane Andrews, Merced, California; sisters; Phyllis Mihalik, Superior, Wisconsin; Muriel and Fred Knott, Janet Johnson and Judy Andrews, all of Lebanon, Oregon; June and David Scott, Modesto, California; sisters-in-law, Resi Andrews, Modesto, California; Elaine Andrews, Cannon Falls; and Donna Andrews, Superior, Wisconsin; and many other relatives and friends.

She was preceded in death by her parents; husband, Herbert; daughter, Gale Duvall, on February 15, 2002; and five brothers and sisters.

Arrangements are with the Northland Funeral Home in Cloquet.



WALTER JACOBSON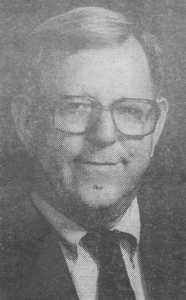 Walter P. "Jake" Jacobson, 73, Sun City, Huntley, Ill., formerly of Jacobson, died Friday, Feb. 14, 2003, in Elgin, Ill.

He was born June 28, 1929, in Pontiac, Mich., to Walter and Ruth (Lodmill) Jacobson. He married Esther Stefan on June 21, 1952, in Crosby. He was a graduate of the University of Minnesota and a member of the Alumni Association. He was an executive with the Amoco Chemical Company in Chicago for 34 years. Through his association with Amoco, he became a plant manager and resided in Morris, Ill., Munster, Ind. And Decatur, Ala., before returning to the Joliet and Plainfield area. He and his wife were some of the first couples to call Sun City Huntley their new home. He was a member of the Elks of Joliet, the Moose of Joliet and the Eagles Club in Grand Rapids. He was a member of the Westminster Presbyterian Church of Joliet where he served as an elder.

He is survived by his wife of 50 years, Esther; three sons, Paul (Mary) Jacobson, Fountain Hills, Ariz., Dr. Mark (Tracy) Jacobson, Lexington, Ky., and Jay (Lisa) Jacobson, Naperville, Ill.; eight grandchildren, Michael and Joey Jacobson, Damian Peets, Eric and Gina Jacobson, Alexandra, Lauren and Drew Jacobson; a sister, Carol (David) Gabriel, Bigfork; and a brother, Dr. Gerald (Naomi) Jacobson, Overland Park, Kan.

Preceding him in death were his parents and his daughter, Dr. Linda Jacobson in 1992.

Memorials may be directed to the Walter P. Jacobson Memorial Fund c/o Harris Bank, 1399 E. State Street, Geneva, IL 60134.

Services: Saturday, Feb 22, at 11 a.m. at Libbey Funeral Home. Visitation is from 10 a.m. until the service.

Burial: Ball Bluff Cemetery, Jacobson.

Arrangements by Libbey Funeral Home, Grand Rapids.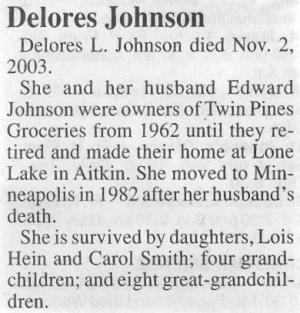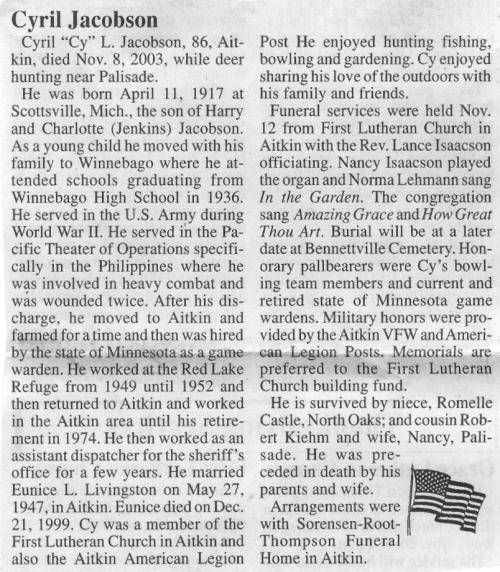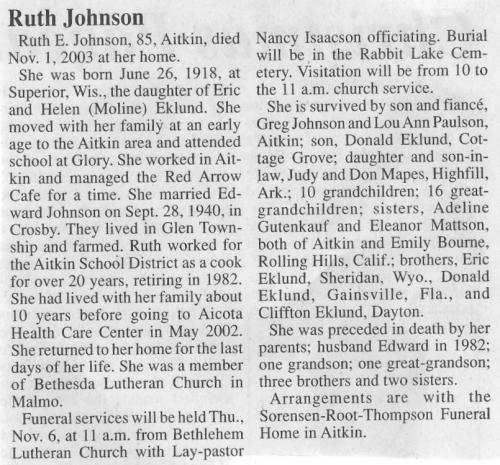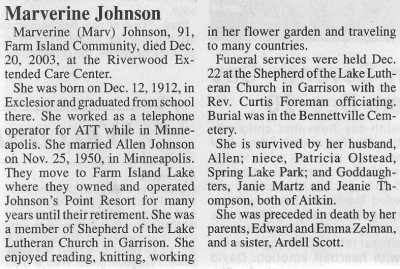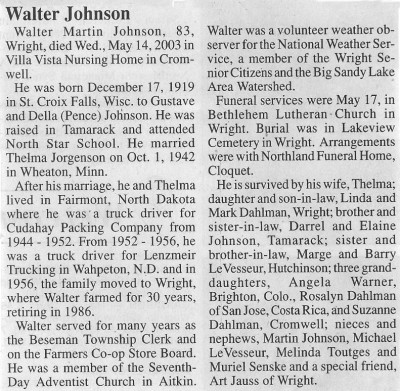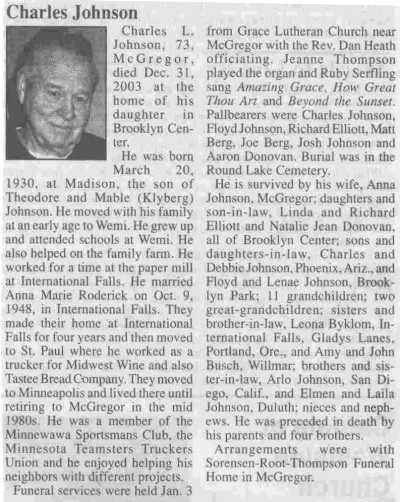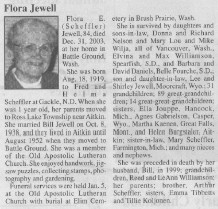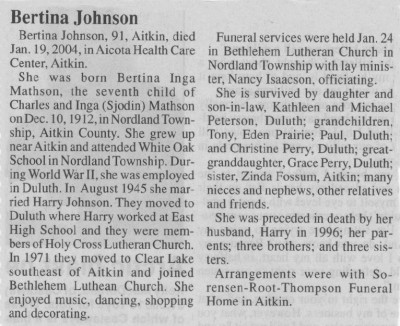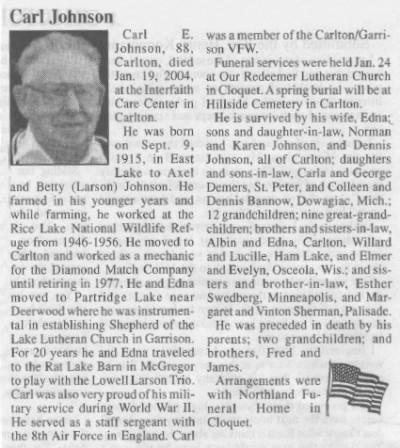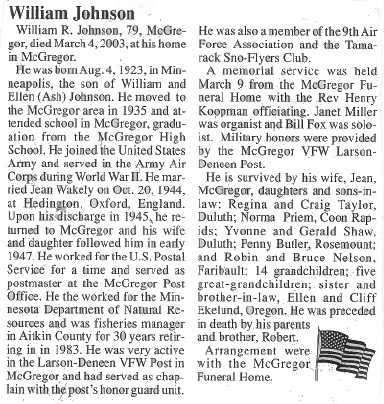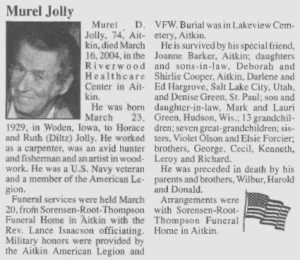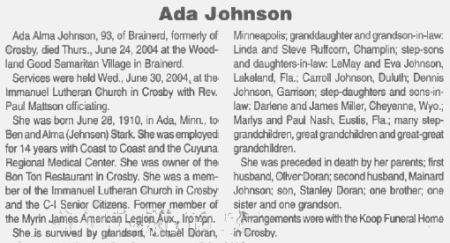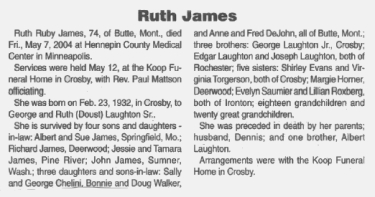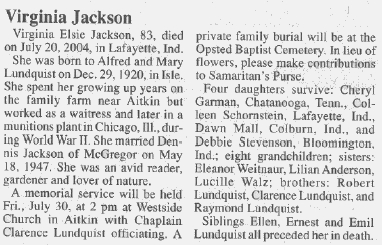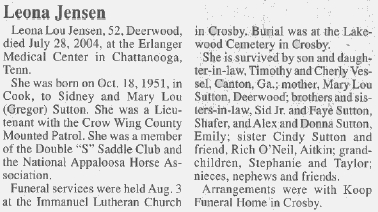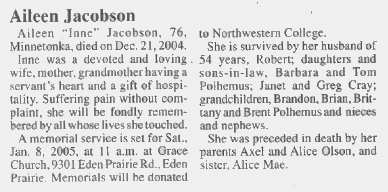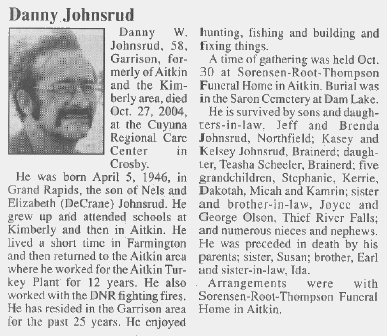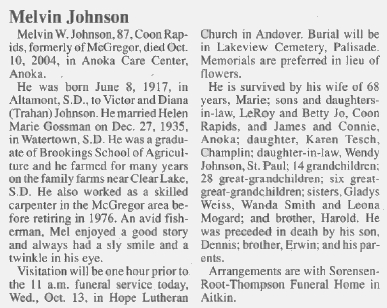 ANTONIO AND DONATA JEANETTE





Antonio "Benedetto" Jeanette, born 11-29-1858 in Boiano Italy.
Murdered 3-15-1895 in McGregor, Aitkin County, Minnesota

Donata Barile Jeanette, born 3-1-1859 in Boiano Italy.
Murdered 3-15-1895 in McGregor, Aitkin County, Minnesota


Ben and Donata were born in Boiano Italy. They were married September 24, 1881 in Boiano and immigrated to the US. Two children, Michael and Mary, were born in New York before they moved to McGregor. Ben and Donata were among the early Italian settlers in McGregor in 1891. Three children were born in Minnesota: Theresa, Thomas and a baby who died a few weeks after the murder. After the murder the children were cared for by Dan and Mary Lozway. After the trial, Michael lived with the interpreter in St. Paul. Mary and Thomas lived with Ben's brother, Nick Jeanetta, in Duluth. Thomas eventually moved to Michigan. Theresa was adopted by the Sallisbury family and lived in MIchigan.

Ben and Donata were murdered by Nicholas and Archangel Cristello because of a dispute over ownership of some logs. Many articles about the murder were found in the Aitkin Age, the Aitkin Republican and the Duluth Evening Herald. Archangel and Nicholas were sentenced to life in prison. Archangel Cristello died in prison in 1900. Nicholas Cristello was pardoned in 1911 and died in 1961.

This story evolved over many years with the investigation started by Michael, Thomas and Theresa finding each other and has been carried on by the great-grandchildren of Ben and Nick with the connection finally being made that Ben and Nick were brothers. The only part left to find out in this story is where Ben, Donata and the baby are buried and hopefully the family can put a stone on the graves to honor them.

Contributed by Pam Bautista
Source: Aitkin Independent Age Newspaper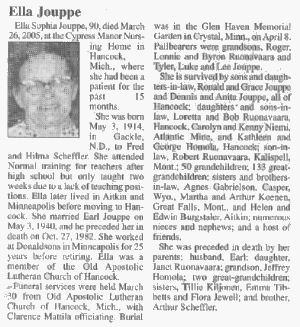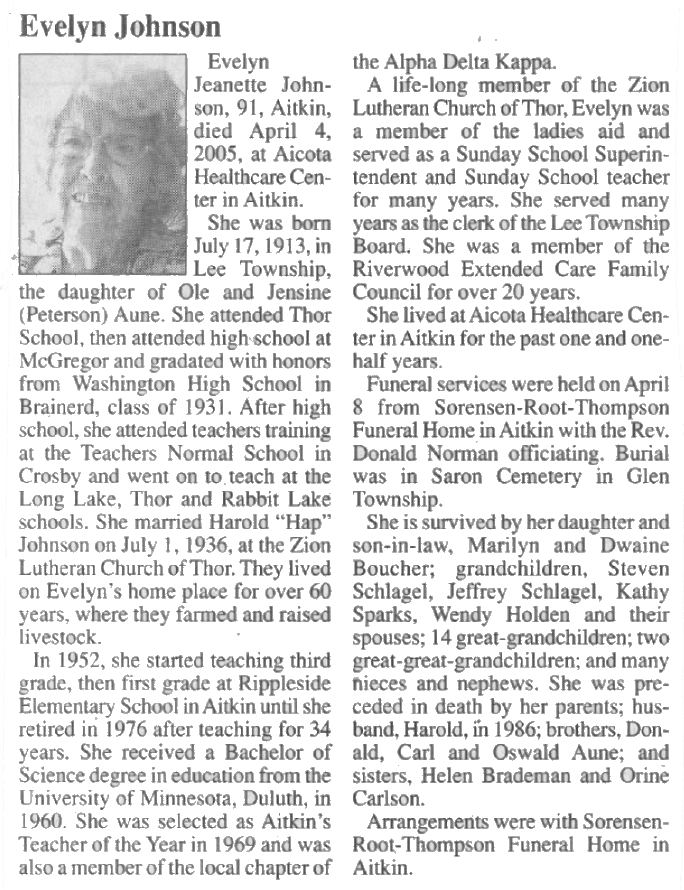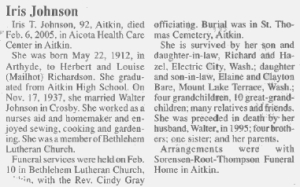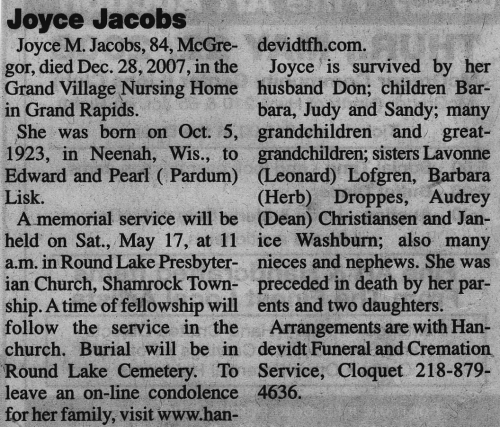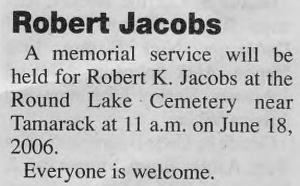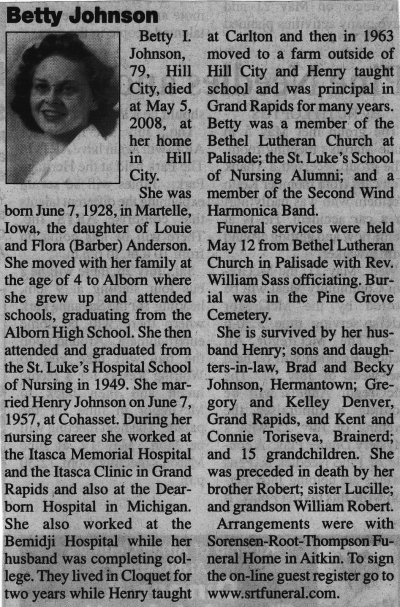 NEXT
BACK