Obituaries for Surnames Beginning With "N"
Aitkin County, Minnesota

Unless otherwise noted, these obituaries were contributed by
Karen Klennert
and are from the Aitkin Independant Age Newspaper.


RALPH NELSON


Ralph E. Nelson, 88, Brainerd, died Dec. 21, 2002, at Brainerd Manor.

He was born April 13, 1914, in Waukenabo Township, Aitkin County, the son of Alfred C. and Amy (Maydole) Nelson. He married Pearl Gregersen on Feb. 20, 1937, in Aitkin. He worked for Cummings Oil in Aitkin and Brainerd as a bulk driver from 1939-1956. He relocated to Oxnard, California, and worked as a maintenance supervisor in a fruit packing plant from 1956- 1979, Upon his retirement, he moved to Pocatello, Idaho to be closer to family, and worked as a part-time handyman until 1995, when he moved back to Brainerd.

Services were held Dec. 26 at the Halvorson-Johnson Funeral Home in Brainerd with Pastor David Holte officiating.

He is survived by his sons, Richard Nelson, Nisswa, and Robert Nelson, Twin Falls, Idaho; daughter, Shirley Ellis, Valley Park, Mo.; 11 grandchildren; 19 great-grandchildren; brothers, John Nelson, Brainerd; Elmer Nelson, Wyoming; George Nelson, Grants Pass, Ore.; and Clarence Nelson, San Bernadino, Calif.

He was preceded in death by his parents, wife, grandson, Mark Nelson, four sisters and nine brothers.

Arrangements were with the Halvorson-Johnson Funeral Home in Brainerd.


MAY EVELINE NEARY
May 29, 1913 ~ December 20, 2002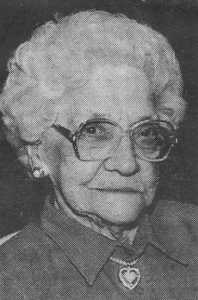 May Eveline Neary, 89 of Grand Rapids, formerly of Jacobson, died Friday, December 20, 2002 at Itasca Nursing Home.

She was born May 29, 1913 near Jacobson to Peter and Albertina (Norberg) Lundin. She married William A. Essen. They farmed at Jacobson and raised six children. William died in 1968. In 1971 she was married to Elmo "Bud" Neary. He died in 1990. She was a homemaker and a farmer and a member of Carmel Lutheran Church.

She is survived by one daughter, Dorothy Siukola, Duluth; four sons, Albert Essen, Coon Rapids, Elmer Essen, Pengilly, Robert Essen, Pine City, and James Essen, Floodwood; three stepsons, James Neary, William Neary and Terrence Neary; four sisters: Dorothy Kukkonen, Grand Rapids, Jue Kailer, Coon Rapids, Emma Lindstrom, St. Paul, Clara Roles, Arizona; one brother, Robert Lundin, Jacobson; 35 grandchildren, 31 great-grandchildren, and numerous great-great-grandchildren.

Preceding her in death were her husbands; parents; a daughter, Elizabeth Juell in 1999; five sisters, and two brothers.

Services: Thursday, December 26 at 1 p.m. at Carmel Lutheran Church, Jacobson. Visitation is from noon until the service at the church.

Burial: Ball Bluff Cemetery, Jacobson.

Arrangements by Libbey Funeral Home, Grand Rapids.

Contributed by Karen Klennert
Source: Family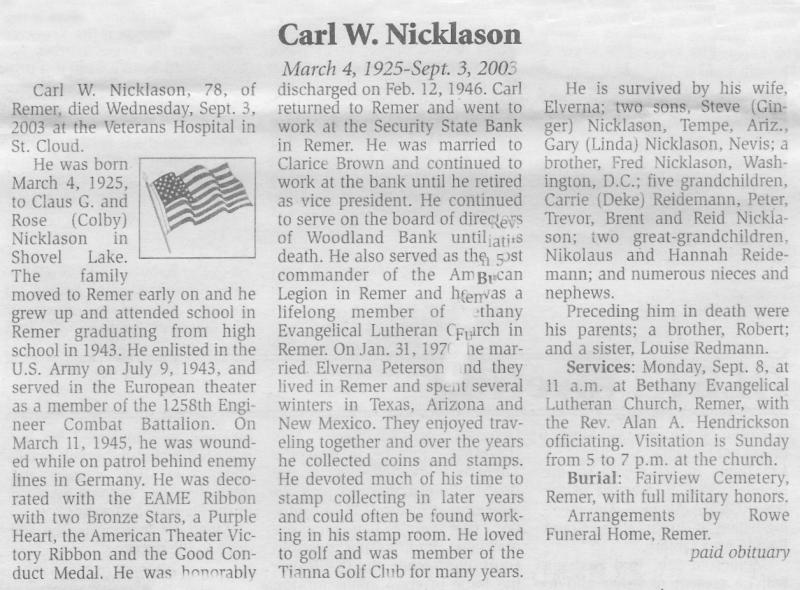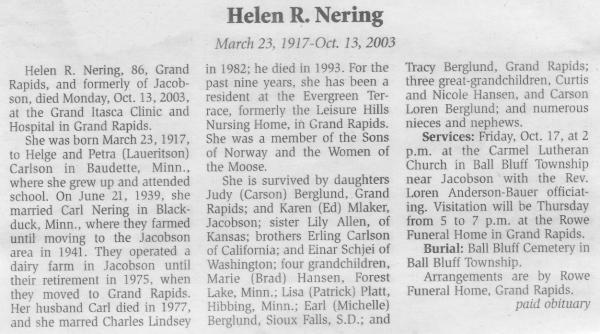 Contributed by Karen Klennert
Source: Grand Rapids Herald Review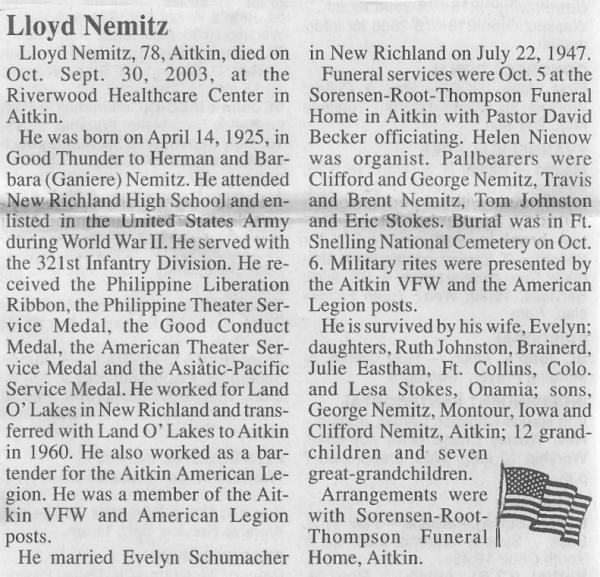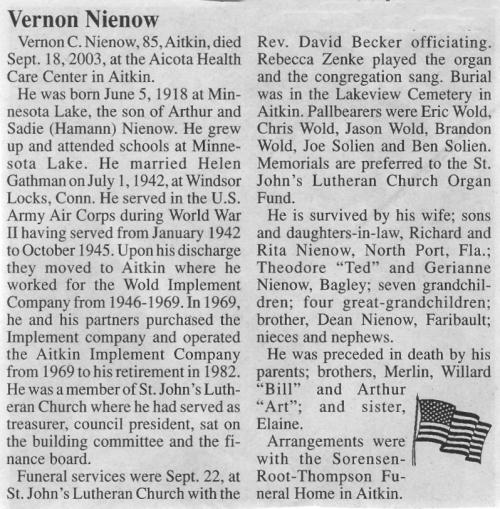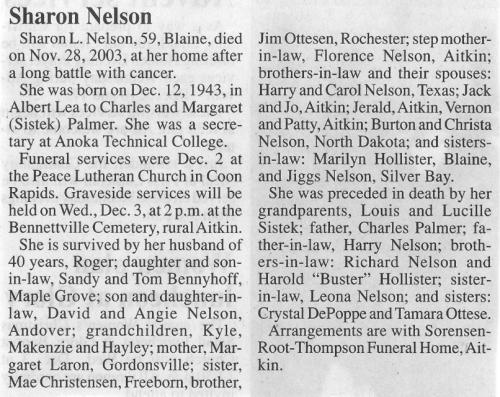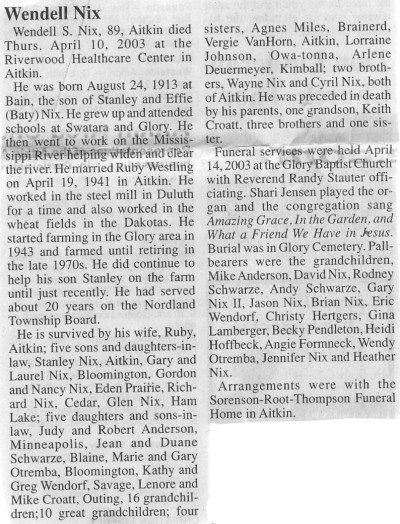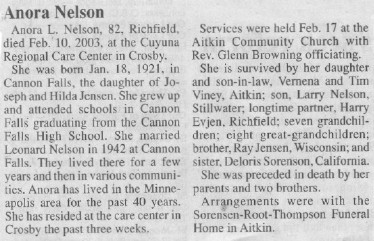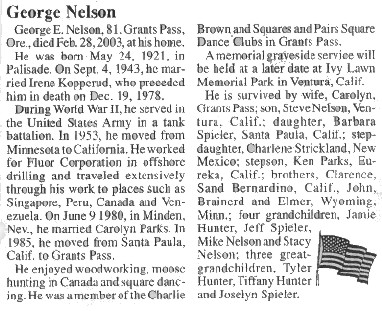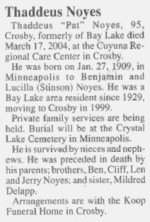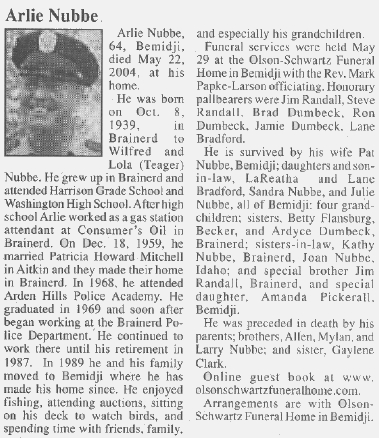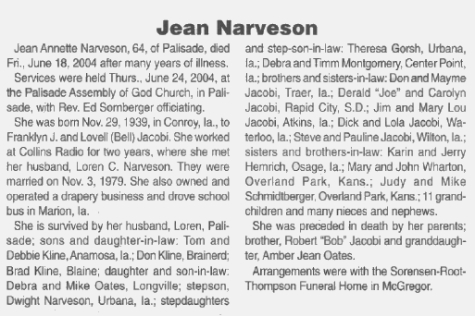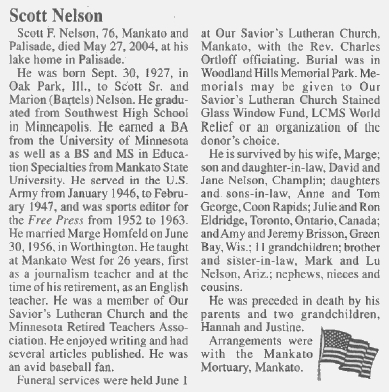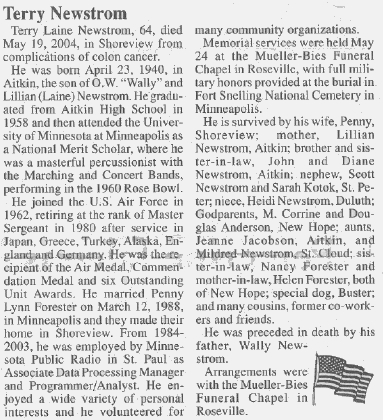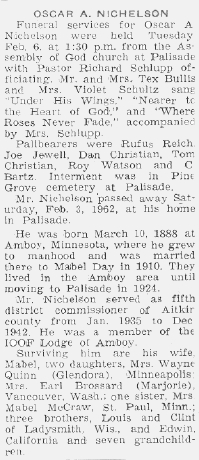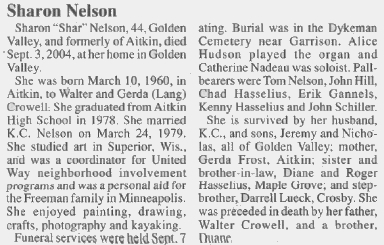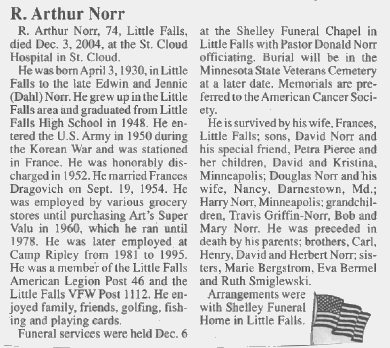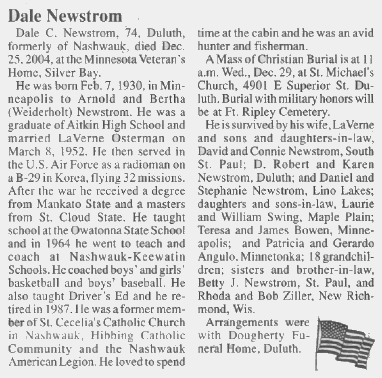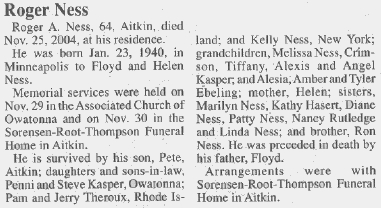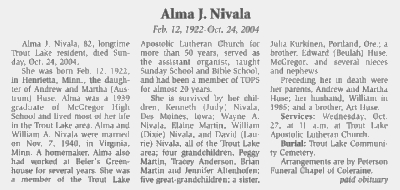 Contributed by Karen Klennert
Source: Aitkin Independent Age and Grand Rapids Herald Review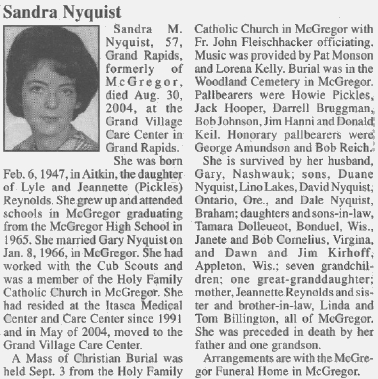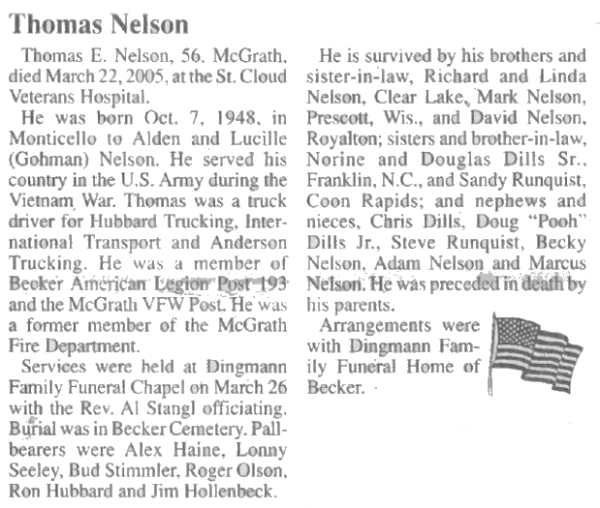 NEXT
BACK