Obituaries for Surnames Beginning With "O"
Aitkin County, Minnesota

Unless otherwise noted, these obituaries were contributed by
Karen Klennert
and are from the Aitkin Independant Age Newspaper.


FLOYD E. OLSEN


Floyd E. Olsen, 85, Minneapolis, died September 30, 2002.

He worked for United States Steel for 21 years and Maxon Corporation for 20 years. He was a kind and loving man, and was always generous with his time and talents to those in need. He was a wonderful husband, father, grandfather and friend and will be missed by all who knew him.

Services were held October 3, at the Miller Funeral Home in Fridley. Burial was in the Bethlehem Lutheran Cemetery in Aitkin.

He is survived by his wife, Mildred; children and their spouses; Marlene and Larry Johnson, Barbara Trano, and Bill and Barbara Olsen; 14 grandchildren; brother and sister-in-law, Rudolph and Fran Olsen, sister, Luella Julum; and other relatives and friends.

Arrangements were with the Miller Funeral Home Fridley Chapel.

MYRON OLSEN


Myron K. Olson, 46, Crosby, died Friday, March 28, 2003.

He was born January 29, 1957, at Cloquet, the son of Rodney "Bill" and Irene (Anderson) Olson. He grew up and attended schools in Anoka and graduated from the Anoka High School in 1975. He then worked various jobs in the Twin Cities. He lived a few years in Colorado, then moved back to Minnesota and made his home in Aitkin where he worked for the Aicota Health Care Center and Oakridge Homes. He has most recently lived in Brainerd and Crosby.

He is survived by his parents, Rodney and Irene Olson, Tamarack; two sisters and brothers-in-law, Diane and Joe Lehn Eide, Champlin, and Lynn and Keith Peterson, Carlton; three brother and sisters-in-law; Rick and Kathy Olson, Cromwell, Mike and Heidi Olson, McGregor, and Mark and Danni Marie Olson, Big Lake; nieces, nephews, aunts, uncles and cousins.

He was preceded in death by his grandparents and two brothers, Larry, in 1994 and Bill, in 1998.

Funeral services will be held today, April 2, at 11 a.m. from Bethlehem Lutheran Church in Wright with Reverend Matt Saarem officiating. Ruth Smith will play the organ. Burial will be in the Lakeside Cemetery in Lakeview Township of Carlton Co. Pallbearers will be: Mike Olson, Rick Olson, Mark Olson, Keith Peterson, Joe Eide and Gerald Ellsworth. Visitation will be one hour prior to services at the church.

Arrangements are with the McGregor Funeral Home in McGregor.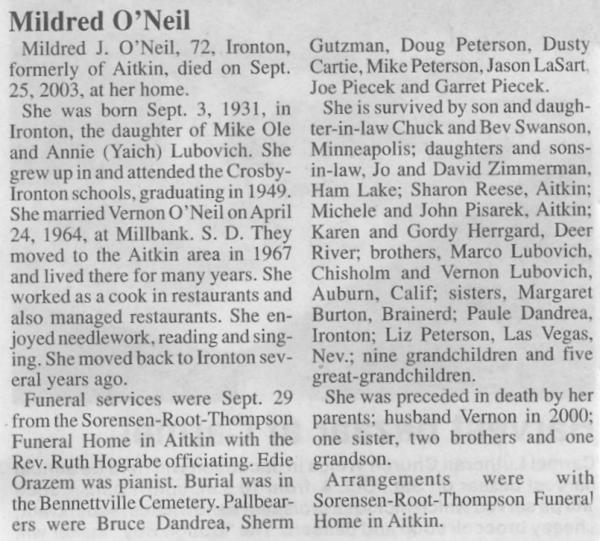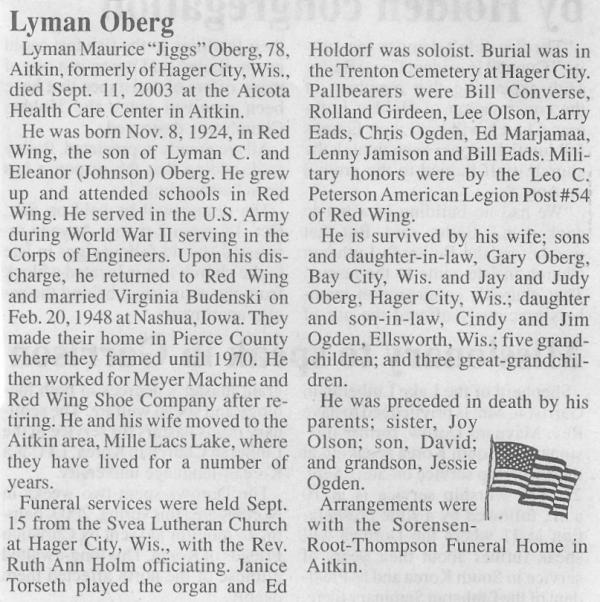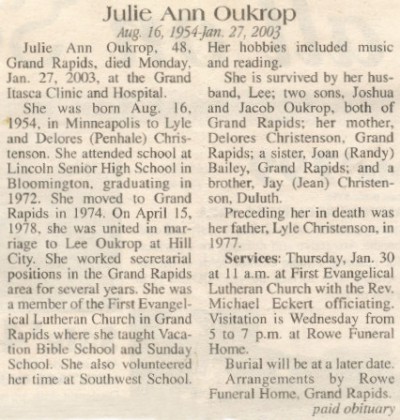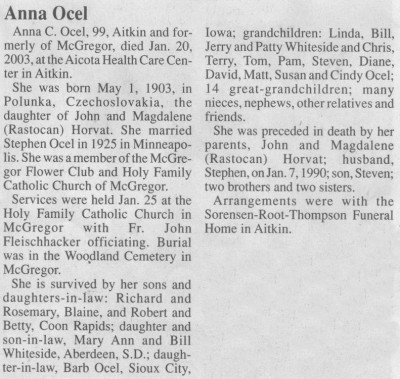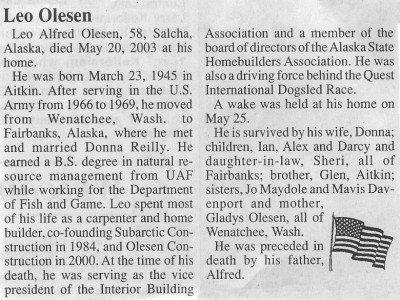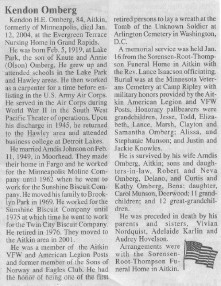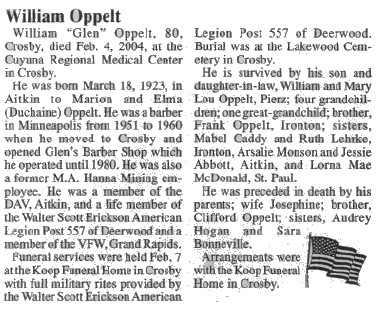 DORIS MAE ONSTAD


Doris Mae E. Onstad, 69, Tamarack, passed away Sunday, November 29, 1992, at the Itasca Nursing Home in Grand Rapids.

She was born Saturday, January 20, 1923 in Minneapolis, the daughter of Henry and Minnie Anderson. She moved with her family at the age of 3 to Balsam township, Aitkin County where she grew up and attended schools. She was a 1941 graduate of the Aitkin High School. She married William Onstad on June 11, 1949, at the Log Church at Big Sandy Lake near McGregor. She lived most of her life in the Tamarack area. She was a member of the First Presbyterian Church of Tamarack, the Church Guild and the Tamarack Golden Age Club.

Funeral services were held Wednesday, December 2, 1992, at 2:00 p.m. from the First Presbyterian Church of Tamarack with Rev. Donald Bump officiating. Joanne Mapes played the organ and Margaret Hawkinson played the piano. Lorena Kelley sang "Sweet Hour of Prayer" and the congregation sang "In The Garden."

Pallbearers were Robert Laucamp, Thomas Anderson, Roger Butler, David Jackman, Robert Kelley and Dennis Peet. Burial was in the Round Lake Cemetery.

Survivors include her husband, William (Bill) of Tamarack, four daughters and sons-in-law: Althea and Craig Thimmesch, Valerie Onstad, Lucille Onstad, Janet and Todd Owens, all of Minneapolis; two sons: Kenneth and friend Laurie Tarnowski of McGregor and James of Minneapolis; two grandchildren: Brian and Nathan Thimmesch; brother and wife: Burton and Margie Anderson; sister and husband: Frances and John Laucamp of Wilton, Iowa; nieces, nephews and cousins.

Contributed by Laura Soleta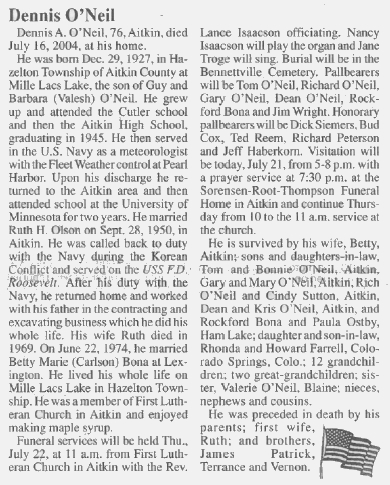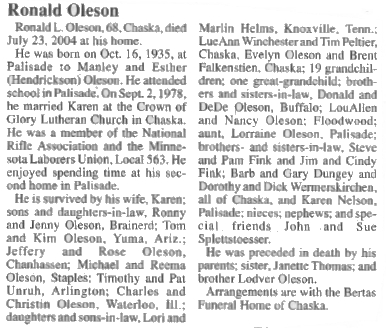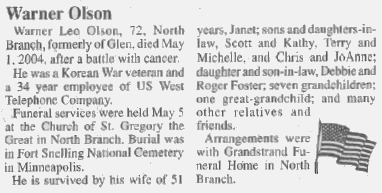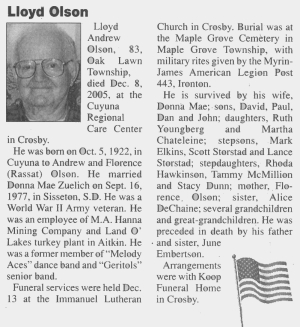 NEXT
BACK